Apache Creek Wilderness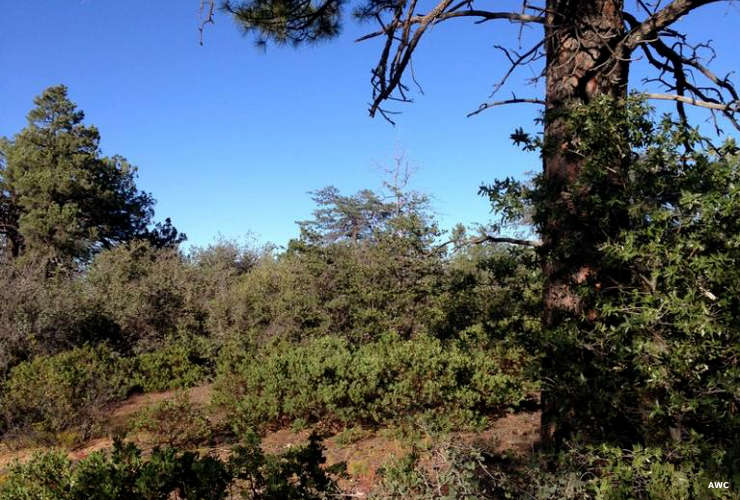 A hillside in Apache Creek Wilderness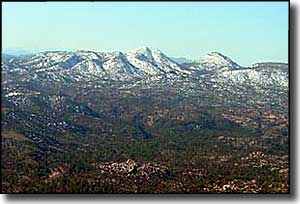 Apache Creek Wilderness is a rugged and remote 5,628-acre property in the southeastern section of the Santa Maria Mountains in the Chino Valley Ranger District of Prescott National Forest. Elevations vary from a low around 5,280 feet to a high around 6,970 feet. The property is forested mostly in juniper, piñon and Ponderosa pine, typical in semi-arid higher elevation countryside.
There are three good natural springs that surface in the wilderness and their watercourses are excellent riparian zones supporting large cottonwoods, willows and walnut trees. Apache Creek itself is a relatively stable perennial stream but is not large enough to support a fishery of any sort. One thing to be aware of: granite outcroppings that sometimes restrict the creek into extremely narrow defiles. But there are large granite outcroppings everywhere on the property.
There are plenty of mule deer in the woods, the number of mountain lions around says so. Most folks who visit Apache Creek are there for the hunting. Apache Creek Wilderness is surrounded by Forest Service roads but there aren't any designated access points to the wilderness. Supposedly, there are two developed trails but nothing is guaranteed, especially given the funding the Forest Service has for trail construction and maintenance these days. The reports I've seen say to bring a good map, a compass or GPS device and be prepared for lots of bushwhacking to get anywhere. Volunteers from the Arizona Wilderness Coalition spent a couple days in late September 2012 on the property pulling the non-native invasive tamarisk that was spread along the southern part of the Apache Creek watercourse. That route is now probably the closest thing to a recently maintained trail in the wilderness.
Juniper Mesa Wilderness is just to the north, across North Fork Creek in the southern Juniper Mountains.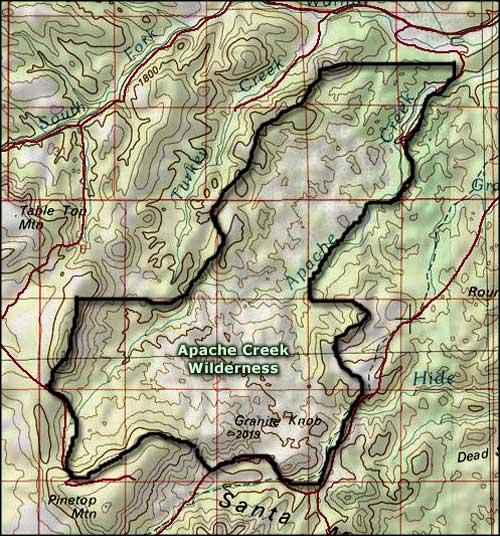 Apache Creek Wilderness
Apache Creek Wilderness
Prescott National Forest -

US Forest Service
Upper photo courtesy of the Arizona Wilderness Coalition
Upper left photo courtesy of Josh Keith, via Wilderness.net
Map courtesy of National Geographic Topo!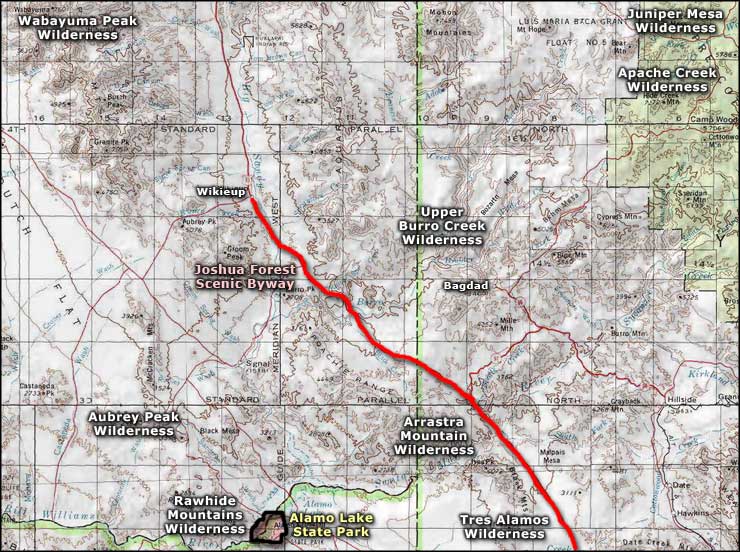 Related Pages
Map courtesy of National Geographic Topo!