Tracy Arm-Fords Terror Wilderness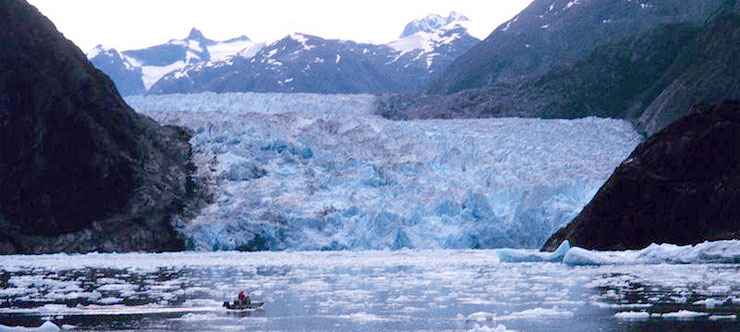 An NOAA whaler in the water at the foot of Sawyer Glacier, Tracy Arm-Fords Terror Wilderness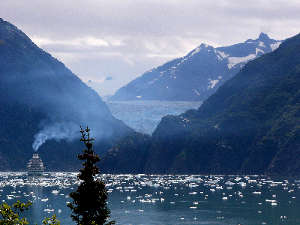 On Tracy Arm
Tracy Arm-Fords Teror Wilderness is a 653,179-acre property on the eastern side of Stephen's Passage, part of Alaska's Inland Passage. Most folks visit either by boat or by floatplane. The property is about 50 miles southeast of Juneau, about 70 miles north of Petersburg.
A large part of the wilderness is buried under glacial ice but the two most prominent features of the wilderness are Tracy Arm and Endicott Arm, two deep and narrow fjords carved into the mountain rock by long-time glacial action. Today, the glaciers are retreating and summer sees considerable floating ice in the waters of both more-than-30-miles-long channels.
The area is part of Tongass National Forest, an area dominated by rugged mountains rising almost vertically from the ocean waves. The mountains have been heavily carved by glaciers over the millenia and the walls of the valleys sparkle with the stream waters flowing over many high waterfalls. The tree cover is mostly a thick temperate-zone rainforest of spruce and hemlock that thrives up to an elevation of about 1,500'.
The eastern boundary of Tracy Arm-Fords Terror Wilderness is against the ridgeline crest that defines the US-Canada boundary. The southwestern boundary is against the Chuck River Wilderness.
Sea kayaking in the area is very popular and there are a few primitive campsites along the coastal zone. Visitors will need to practice extreme "bear country" discipline when traipsing around, and especially when camping and cooking. Some of the tour boat operators in Juneau will drop kayakers off at Harbor Island for a fee, of course. From there, you're on your own. The closer you get to the glaciers, the more dangerous the ice gets. Something else to be aware of: the fjords are so narrow that tidal surges often rip through and drive everything in or out before them (Fords Terror got the name from a seaman named Ford who got trapped in a heavy tidal surge up Endicott Arm for six hours back in 1899).
Commercial cruise and tour vessels like Tracy Arm as a destination/stop along their normal tour routes as the views and the ice presence are spectacular. The area is also teeming with wildlife including brown and black bear, gray wolf, Sitka black-tailed deer, mountain goat, marten and other small fur-bearing mammals and large numbers of arctic terns, pigeon guillemots, bald eagles and migratory shorebirds. Among the ice floes you'll find harbor seals rearing their young and lots of whales and sea lions fishing the waters.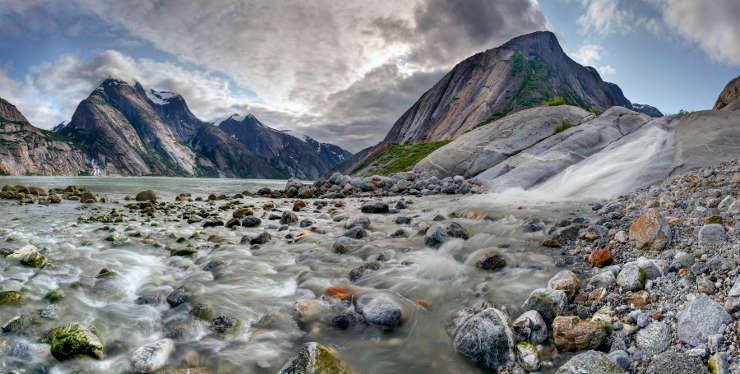 A view in Tracy Arm-Fords Terror Wilderness
The photo was a winner in the Scenic Landscape, Pro Division of a Smithsonian Magazine contest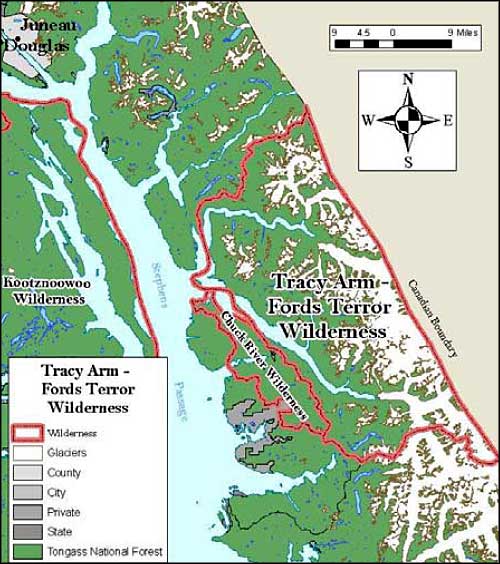 Tracy Arm-Fords Terror Wilderness
Tongass National Forest -

US Forest Service
Federal Building, 648 Mission Street

,

Ketchikan

,

AK

99901
907-225-3101
Upper photo courtesy of NOAA
Upper left photo and map courtesy of the US Forest Service
Lower photo courtesy of Irene Owsley, via Smithsonian Magazine online