Tamarac National Wildlife Refuge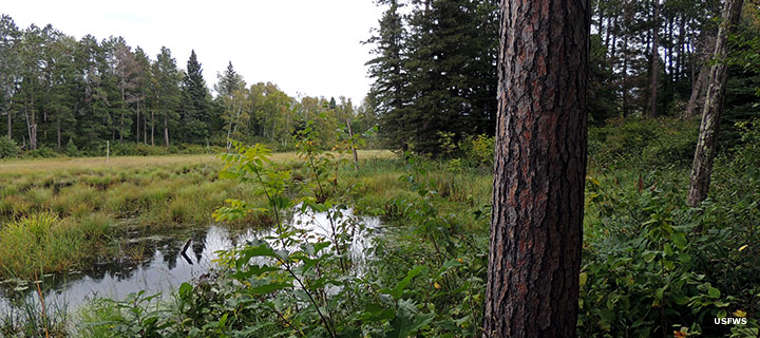 Thick forest and wetlands in Tamarac Wilderness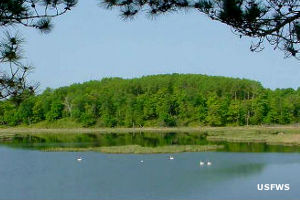 Tamarac National Wildlife Refuge is a 42,724-acre property in the glacial lake country of northern Minnesota. The refuge was established in 1938 as a breeding area for migratory waterfowl and other wildlife. The northern half of the property overlays part of the White Earth Reservation and activities on that part of the property are subject to their tribal regulations, too (this especially applies to hunting and fishing).
The landscape is a mix of rolling forested hills with shallow ponds, lakes, rivers, marshes and tamarac-spruce bogs. This is in the climate zone where Northern coniferous forest meets Eastern deciduous hardwood and Western tallgrass prairie. That mix sees tall red and white pines interspersed with aspen in old-growth forest.
More than 300 species of birds have been seen on the refuge. Among the larger wildlife found in the area are black bear, white-tailed deer, gray wolf, mountain lion, bobcat, coyote, raccoon, porcupine, mink, fisher, otter, beaver and red fox.
Trumpeter swans were once a native species in Minnesota, then they were hunted out and disappeared in the 1880's. That disappearance has been traced to efforts to satisfy the demand created by a fashion for feathers in ladies' hats. 100 years later, Tamarac NWR worked with the state of Minnesota to release several young adult swans on the refuge. Today there are more than 30 nesting pairs on the refuge and more than 5,500 trumpeter swans spending time in Minnesota every year. The best time to see them is from April through October.
In 1976 2,180 acres of Tamarac NWR became designated wilderness. More than 2,100 acres of that wilderness is in the northwest corner of the refuge, but there are three small islands (about 65 acres total) that are designated wilderness areas on Tamarac Lake. The greater part of the wilderness is open to the public from September through February but there are no established hiking trails and camping is not allowed. The wilderness area also has a significant population of tall pines, favorite nesting places for the many bald eagles that visit every year.
The refuge is open from dawn to dusk every day of the year. The office is open year round from 8:30 am to 4 pm Mondays through Fridays except closed for most Federal holidays (open on the 4th of July). The office also opens on Saturdays and Sundays, 10 am to 5 pm, from mid-May through mid-October and 1st and 3rd Sundays, 10 am to 5 pm, from the 1st of November to mid-May. There are no fees to visit but the refuge is day-use only.
The refuge is crossed by the North Country National Scenic Trail.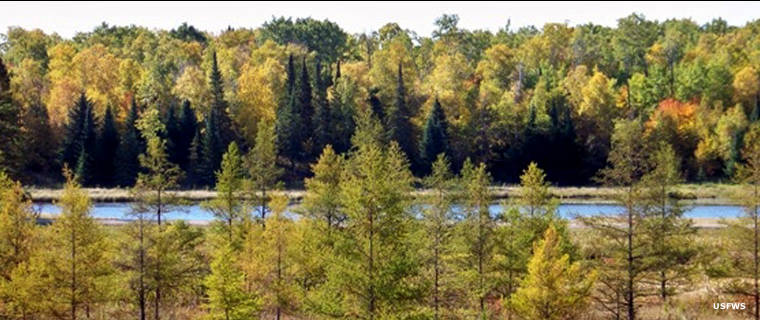 A river view at Tamarac NWR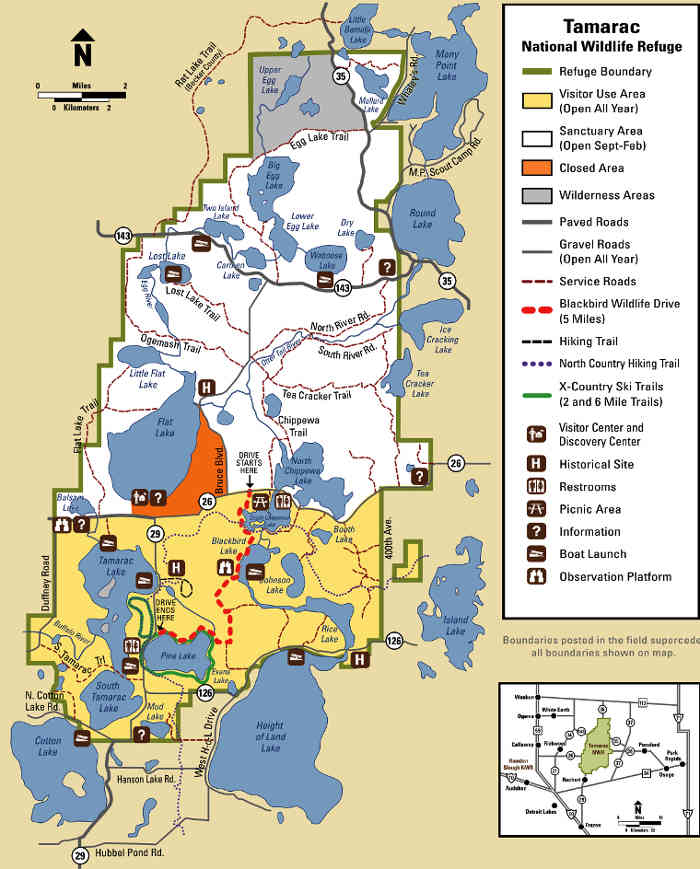 Tamarac National Wildlife Refuge
US Fish & Wildlife Service

Upper photo courtesy of Dennis Mudderman, USFWS volunteer
Other photos and map courtesy of the US Fish & Wildlife Service