Dos Cabezas Mountains Wilderness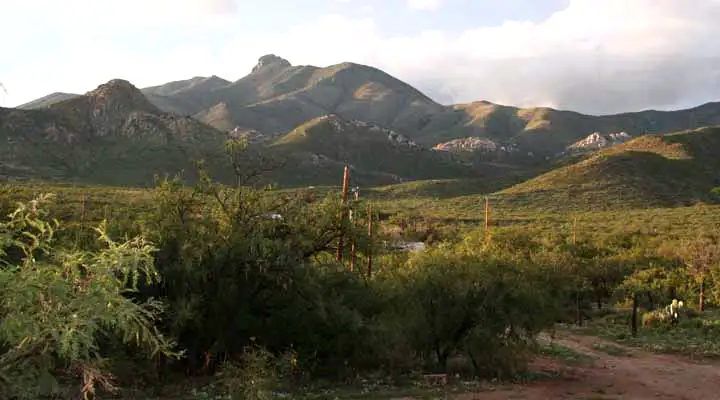 The Dos Cabezas Mountains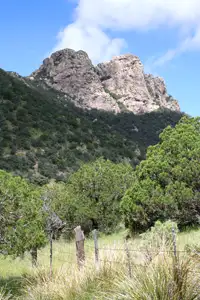 Dos Cabezas Mountains Wilderness is an 11,700-acre property in the Dos Cabezas Mountains of southeastern Arizona. The wilderness is about 7 miles south of Bowie, about 20 miles east of Willcox. The name reflects the "two-headed" granite rock that tops the highest peak in the area. Elevations on Dos Cabezas Mountains Wilderness vary from 4,080 feet to about 7,500 feet atop the granite of Dos Cabezas Peak. The peaks and upper ridges offer spectacular views across most of southeastern Arizona.
The countryside is rugged and vegetated with pinon and juniper woodlands. There is plenty of cactus, sagebrush and desert grassland, too. There are several perennial natural springs in the Dos Cabezas Mountains Wilderness and they provide enough water to support riparian corridors and lots of wildlife. Among the animals you might find mule deer, javelina, white-tailed deer, bobcat, mountain lion, coyote, skunk, porcupine, bald eagle, peregrine falcon, golden eagle, jackrabbit and many other smaller mammals, plus the usual assortment of reptiles, snakes, insects and arachnids Arizona is so famous for.
The Chiricahua Apaches used to call the Dos Cabezas and Chiricahua Mountains home. In the early 1870's they were included in the Chiricahua Apache Reservation but in 1874, the federal government rescinded the title to the reservation because miners trespassing on Apache land discovered gold in the Dos Cabezas. That change led to war between Geronimo and his Chiricahuas and the US Army. That war wasn't over until 1886 when Geronimo finally surrendered. He and his people were immediately rounded up and shipped to Alabama and Florida. At that point, the "American" gold miners felt safe to work their diggings.
To get there: From Bowie go south on the Apache Pass Road, then turn west on the dirt road leading to Happy Camp Canyon on the eastern edge of Dos Cabezas Mountains Wilderness. The BLM maintains a picnic area at Happy Camp Canyon and an abandoned road leads from there up through Happy Canyon to Howell Canyon and past the remains of the ghost town of Dos Cabezas and some turn-of-the-century gold mining works.
7.5-Minute Topo Maps: Dos Cabezas, Bowie Mountain North, Luzena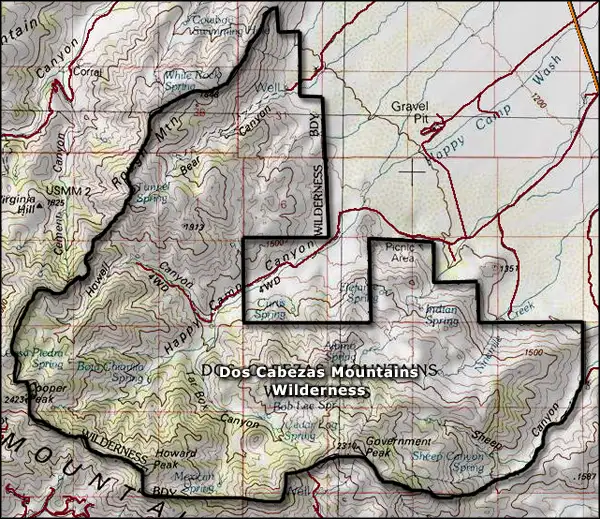 Dos Cabezas Mountains Wilderness
Bureau of Land Management

- Safford Field Office