Clifty Wilderness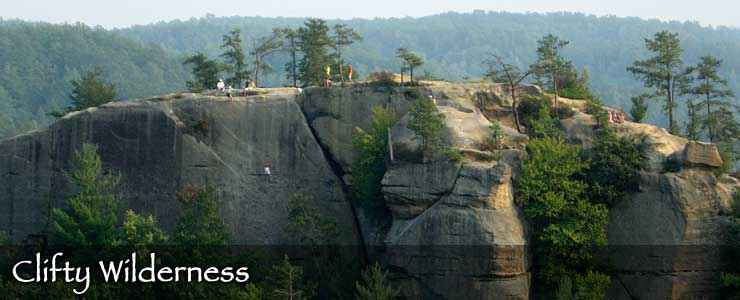 Half Moon in Clifty Wilderness
Clifty Wilderness is located on Daniel Boone National Forest in eastern Kentucky. The entire wilderness area is located within the Red River Gorge Geological Area, a designated National Natural Landmark.
This is an intricate canyon system where you'll find rock shelters, high sandstone cliffs and more than 100 natural sandstone arches. The Red River Gorge has become a major draw for rock climbers in eastern Kentucky with difficulties ranging from 5.2 (2) to 5.14c (8c+) in the Yosemite Decimal System.
On the 12,646 acres of Clifty Wilderness you'll find at least 15 rare, sensitive or endangered plant species among the more than 170 species of moss and 750 species of flowering plants. The Red River bisects the Clifty Wilderness, that 9-mile section of the river being designated as Wild & Scenic. Folks do raft the river in this area, usually from late December to late May when there is enough water flow to provide reasonably safe Class II and III rapids.
The Forest Service maintains three trails in the Clifty Wilderness. There are other trails, usually old logging roads or trace roads that were there before the Forest Service owned the land. You'll know the difference because the maintained trails have signs and markers, the un-maintained trails don't.
This is designated wilderness: all land travel is by foot or horseback only, all water travel is non-motorized. Backpacking, hiking and primitive camping are allowed everywhere, just be careful of the cliffs.
A view across Clifty Wilderness, Double Arch in the center of the photo
Clifty Wilderness
Daniel Boone National Forest