Mokelumne Wilderness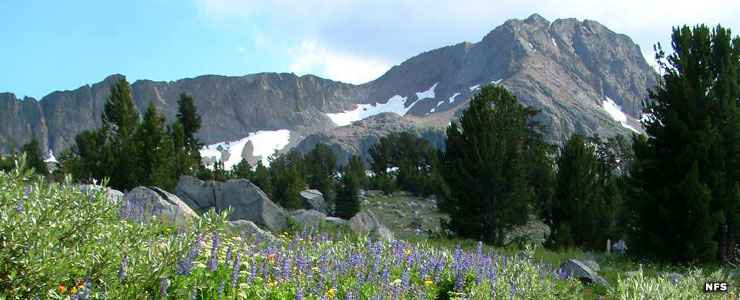 Mokelumne Wilderness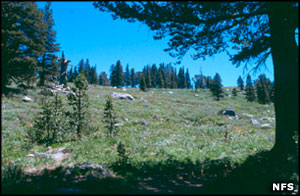 Mokelumne Wilderness is a 105,165-acre property split between Stanislaus, Eldorado and Humbodt-Toiyabe National Forests as it straddles the crest of the Sierra Nevada Mountains between Ebbetts Pass on the south and Carson Pass on the north. The wilderness is bisected by the Blue Lakes Road and an Off-Road Vehicle corridor. Mokelumne Wilderness is bordered by State Highway 88 on the north and State Highway 4 on the south. Carson-Iceberg Wilderness is to the southeast across State Highway 4.
West flowing water feeds into the Mokelumne River drainage, east flowing water into the Carson River drainage. The western slopes generally see about 50 inches in precipitation per year while the eastern slopes usually get about 15 inches, and about 80% of that is snow which often lingers into June around Round Top and on the Mokelumne Plateau in the south. Late summer often sees thundershowers develop and freezing temperatures can happen overnight year round.
Elevations range from about 3,900 feet near Salt Springs Reservoir to 10,365 feet on the summit of Round Top (a remnant volcano on the eastern side of the Sierra Crest). The eastern slopes are covered with volcanic soils and materials while the western slopes have been eroded by water and glaciers down to the granitic bedrock in most areas. The landscape is a mix of alpine heights and deep canyons with more than 200 glacier-carved lakes and tarns. Tree cover consists of whitebark pine, Ponderosa pine, western white pine, lodgepole pine, mountain hemlock, western juniper and subalpine fir with mountain and white alder, western azalea, bitter cherry and creek dogwood populating riparian areas along the waterways. The wilderness offers many black bear and large herds of mule deer, too.
The ancient volcano at Round Top is surrounded by the Round Top Botanical and Geologic Areas, special interest areas because of the diverse plant life and geology. The Mokelumne River Canyon is a prominent geological feature on the property: deep, extremely rugged and filled with massive groves of poison oak.
Fishing, hiking and camping are popular activities on the wilderness with most folks accessing the property via trails from Carson Pass. The Emigrant Summit Trail, Tahoe-Yosemite Trail and Pacific Crest National Scenic Trail all have significant mileage on Mokelumne Wilderness. Overnight visitors are required to obtain wilderness permits year-round. Fires are banned above 8,000 feet, in the heavily-traveled Carson Pass Management Area and on the north and east sides of Salt Springs Reservoir. The trail system is prolific but most use occurs in the Carson Pass Management Area and around the shores of Round Top, Fourth of July and Winnemucca Lakes.
Mokelumne Wilderness
Stanislaus, Eldorado & Humboldt-Toiyabe National Forests -

US Forest Service
Photos and maps courtesy of the US Forest Service