San Gabriel Wilderness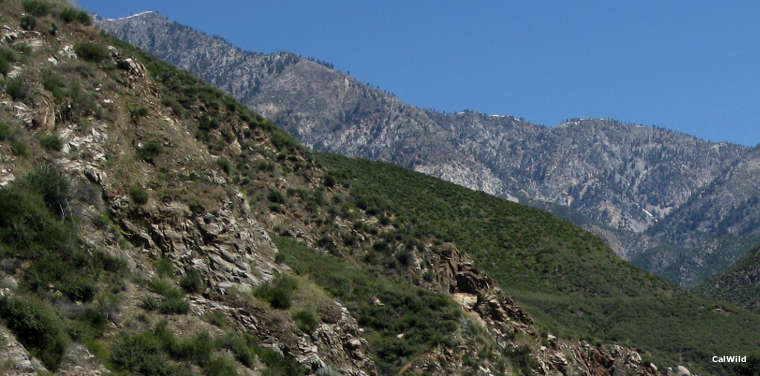 A view in the San Gabriel Wilderness area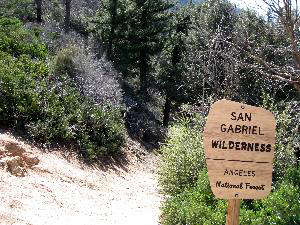 San Gabriel Wilderness is a 36,118-acre property in the San Gabriel Mountains in Angeles National Forest. The wilderness area rises from the canyon of the West Fork of the San Gabriel River on the south to the edge of the Angeles Crest Highway road corridor on the west and north. Pleasant View Ridge wilderness is across the Angeles Crest Highway to the north, Sheep Mountain Wilderness is across a valley to the east.
The landscape is very rugged with deep, V-shaped canyons and granite outcrops everywhere. Elevations vary from about 1,600 feet to about 8,200 feet. The lower landscape is covered in a dense chaparral while the upper areas are covered in a mixed pine and fir forest until you emerge into the subalpine meadows and peaks region. In the forested upper areas you might come across black bear, deer, wild turkey, bighorn sheep, mountain lion, bobcat, skunk, raccoon and fox. I'm told the fishing is pretty good in most streams.
Three main trails enter the wilderness area: the Bear Creek Trail (11 miles, with trailheads along California Highway 39 near the Rincon and Coldbrook Ranger Stations), the Devils Canyon Trail (a four-mile drop into the rugged canyon), and the Mount Waterman Trail (10 miles, from Buckhorn to Three Points). The Mount Waterman Trail also offers a 1-mile side trip to Twin Peak Saddle. Camping is allowed everywhere except within 200 feet of water. Campfires are always banned. Permits are not required.
San Gabriel Wilderness
Angeles National Forest -

US Forest Service