Cedar Roughs Wilderness

Fire in Cedar Roughs Wilderness, seen from the east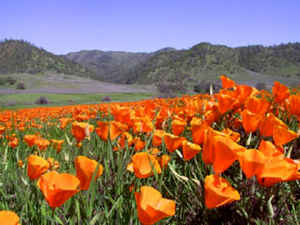 California Poppies at Cedar Roughs
Cedar Roughs Wilderness is a 6,287-acre property in Napa County, west of Lake Berryessa. The property is mostly a large mound of serpentine soil.
Serpentine is California's official mineral. Usually it's bluish-green but sometimes it's reddish. Either way, serpentine soil is especially nutrient poor because it contains mercury and other heavy metals. To most plants it's poisonous but this area is overflowing with plant life that actually thrives on the soil. One local species is the rare Sargent cypress. Depending on the degree of poison in the soil, the cypress varies from being a small shrub to specimens up to 60 feet high. It was the tall trees that caused early pioneers to name the area "Cedar Roughs."
Cedar Roughs is where the last known black bear population in Napa County exists. There are also mountain lions, mule deer, coyotes and other animals in the woods.
In the fires of 2020, Cedar Roughs took a direct hit.

Another view of the fire in Cedar Roughs, from the Pope Valley
Cedar Roughs Wilderness
Bureau of Land Management