Santa Rosa-Paradise Peak Wilderness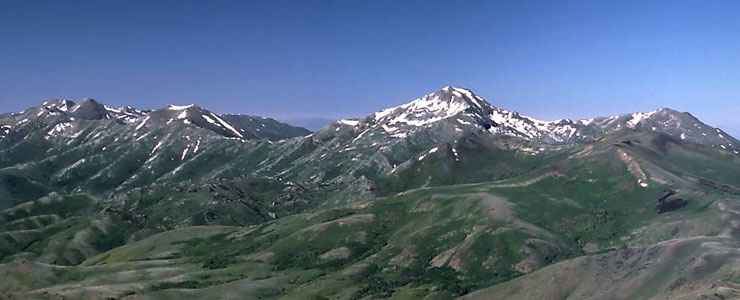 Santa Rosa-Paradise Peak Wilderness
The Santa Rosa-Paradise Peak Wilderness contains about 32,020 acres in the southern part of the Santa Rosa Mountains of north central Nevada. Paradise Peak sits in the southern portion of the Wilderness with Santa Rosa Peak (9,701') in the northern portion. Paradise Peak looks down on rugged granite ridges rising above large basins with pockets of aspen. There are no alpine meadows, no lakes, no large coniferous forests, just basic, empty, rarely visited "basin and range" country. You'll find mountain lions, bighorn sheep and bobcats hiding out. There are some streams that support a good population of trout, but you want to watch out for the hornets and rattlesnakes in the summer.
This remote wilderness area has several good hiking trails. The Summit Trail has a trailhead at Singas Creek on the eastern side of the mountains. It winds its way along the crest of the mountains across the northern section, then exits the wilderness for a bit and re-enters further south to cross the southern section. The Buffalo Canyon Trail works its way up through great rock outcroppings for 4.5 miles from the west side of the mountains to the intersection with the Summit Trail at the top of the ridge. The Falls Canyon Trail is only 1.5 miles long but passes a nice little waterfall about 1/2 mile in. And if you want to summit Santa Rosa Peak, the 2-mile McConnell Creek Trail leads to a great view before ending at the beginning of an unmarked strenuous and rugged hike to the top.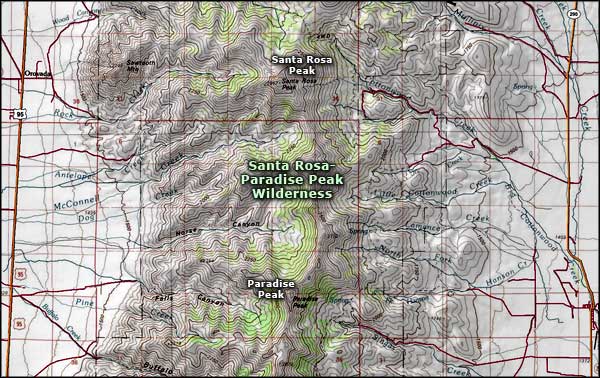 Map of the Santa Rosa-Paradise Peak Wilderness area
Santa Rosa-Paradise Peak Wilderness
Humboldt-Toiyabe National Forest - Santa Rosa Ranger District
1200 Winnemucca Boulevard

,

Winnemucca

,

NV

89445
775-623-5025
Photo of the Santa Rosa Mountains courtesy of G. Thomas
Map courtesy of National Geographic Topo!