Mount Thielsen Wilderness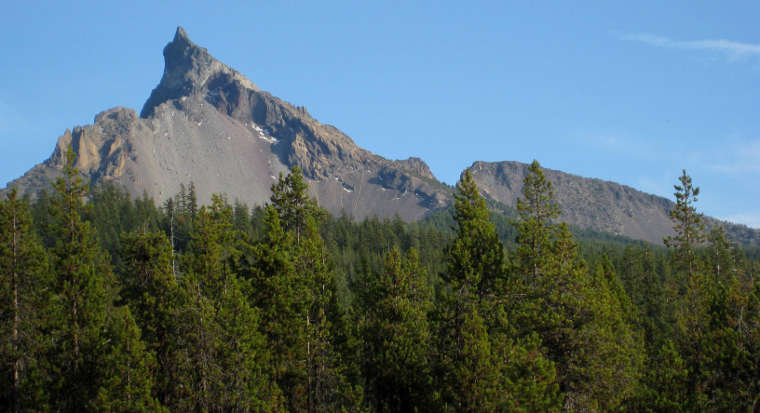 Mount Thielsen, centerpiece of the Mount Thielsen Wilderness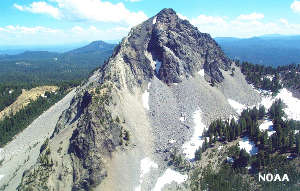 Mount Thielsen Wilderness is a 54,914-acre property on the north side of Crater Lake National Park. The wilderness area straddles the crest of the Cascades and parts are administered by Deschutes, Fremont-Winema and Umpqua National Forests.
Mount Thielsen (9,182 feet) is the highly eroded remnant of a Cascades Range shield volcano that ceased activity between 290,000 and 100,000 years ago. Since then the mountain has been severely eroded by water and glacial ice until all that's left of the original caldera is a high rock spire rising above very steep talus slopes. It has the nickname of "Lightning Rod of the Cascades." While volcanic activity under Mount Thielsen ceased long ago, the area has most recently been affected by events at nearby Mount Mazama.
There are about 78 miles of trails in the wilderness, 34 miles of which are included in the Pacific Crest National Scenic Trail, running north-south between Summit Rock and Tolo Mountain. Another 5 miles of trail enter the wilderness from the west and scale Mount Thielsen to about 300 feet below the summit. From there 200 feet of hand-over-hand scrambling will get you to the bottom of the horn and an incredible 360° view.
The wilderness begins in the west as rolling forested countryside, then turns to very steep canyons and knife-edge ridges as it approaches the crest of the Cascades. East of the crest is some of the most pristine land in Oregon.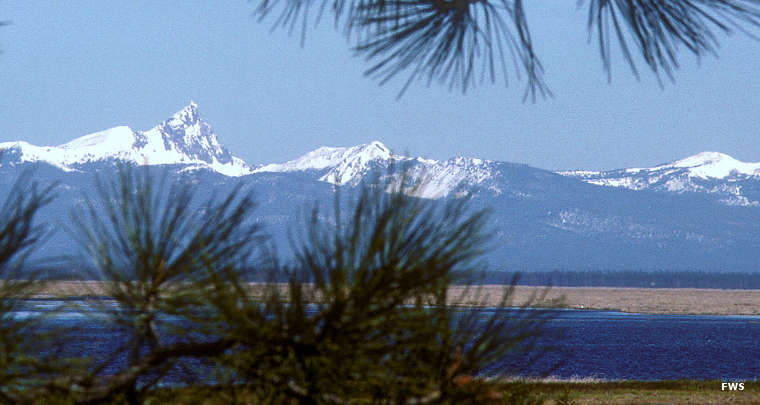 Mount Thielsen from Klamath Marsh National Wildlife Refuge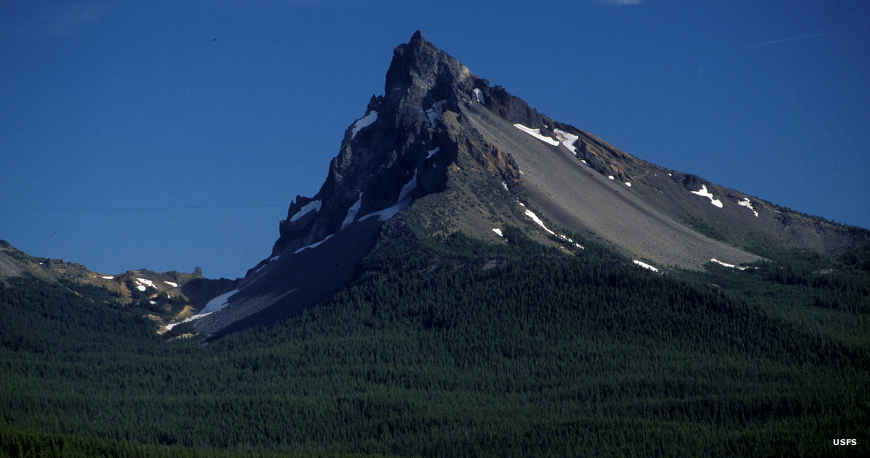 Mount Thielsen Wilderness from the area of Crater Lake
Mount Thielsen Wilderness
Deschutes National Forest -

US Forest Service
Upper photo courtesy of Flickr userid brewbooks,
CCA 2.0 License
Upper left photo is courtesy of NOAA
Lower photo is courtesy of the US Fish & Wildlife Service
Bottom photo is courtesy of the US Forest Service