Fremont-Winema National Forest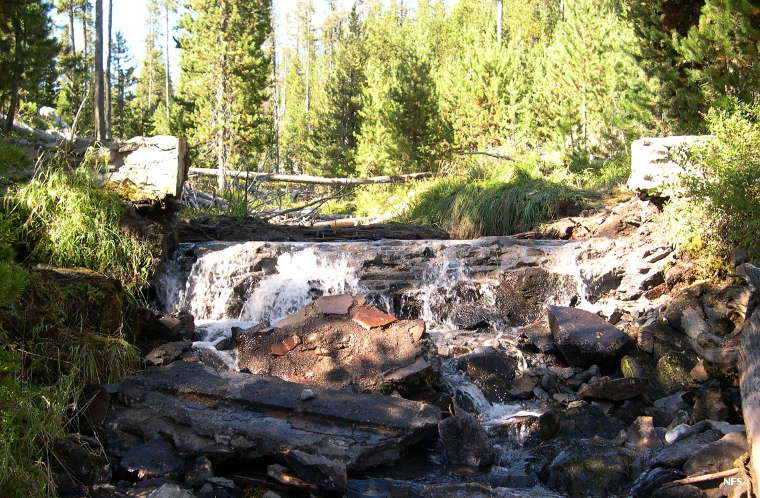 A typical stream in the Cascade Mountain section of Fremont-Winema National Forest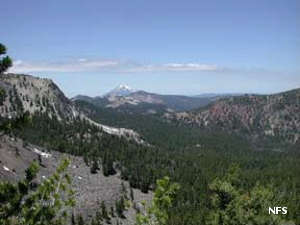 In Mountain Lakes Wilderness
Fremont National Forest contains some 1,207,039 acres. Winema National Forest contains another 1,045,548 acres. The forests were administratively combined in 2002. The forest area extends eastward from the crest of the Cascades on the south side of Crater Lake National Park to non-contiguous areas in Oregon's Outback, in the Warner Mountain Range and above the Klamath Valley Marshes. About 50% of Winema National Forest is land bought back from the Klamath Indian Tribe. In the sale, certain rights on their former land (hunting, fishing, trapping, gathering materials, etc.) were reserved to the tribe.
More than 900 species of plants have been documented on the forest, and about 300 species of animals and fish. Along two major migratory flightways, the forest sees hundreds of thousands of birds passing through in season.
There are more than 100 miles of hiking trails on the Fremont-Winema, including the 50-mile Fremont National Recreation Trail that runs northwest-southeast across the whole of Fremont National Forest. To be aware of: black bear, mountain lion, bobcat, Rocky Mountain elk, coyote, pronghorn, mule deer, etc.
The forest also contains the remains of two former uranium mines, now Superfund sites.
Fremont-Winema National Forest
US Forest Service

Photos courtesy of the US Forest Service