North Algodones Dunes Wilderness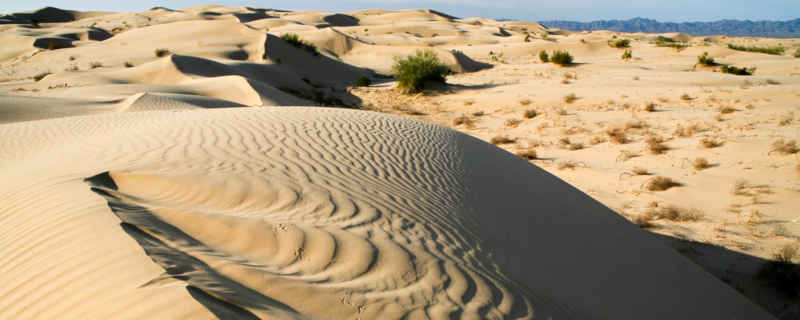 North Algodones Dunes Wilderness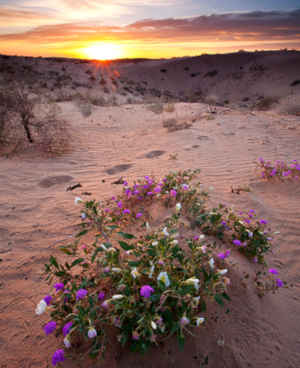 Flowers among the dunes
The North Algodones Dunes Wilderness is a 25,895-acre property in the northern part of what's also known as "the Imperial Dunes." The wilderness area is in that part of the dunefield that is north of California Highway 78.
There are two distinct areas in the dunefield: the western side and the eastern side. The western side dunes tend to be larger and higher and made up of coarse sand partices. The eastern side is made up of finer sand particles, testifying to the dunes being built by wind forces. The eastern dunes also shift and move more in the prevailing winds. The eastern dunes are also marked by small basins with smoke trees, mesquite, palo verde, ironwood and desert willows growing. Runoff from the Chocolate Mountains to the north reaches the edge of the dunes and feeds the water underneath.
The largest wildlife you'll likely see in the area is the desert tortoise. Other than that it's lizards and beetles. Hiking around you'll want plenty of water and perhaps a compass or GPS device: there are no trails and things change with the breeze.

More flowers in the dunes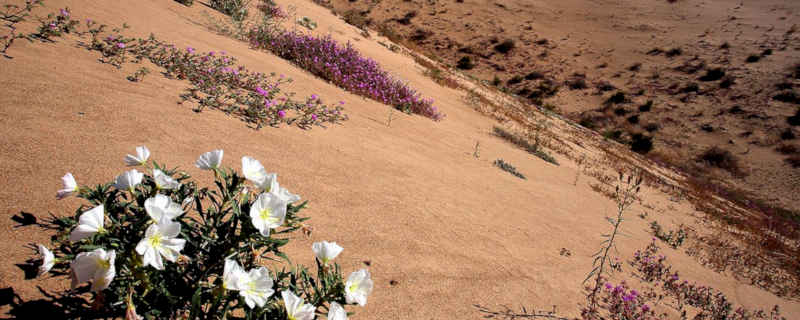 North Algodones Dunes Wilderness
Bureau of Land Management