Fire Island National Seashore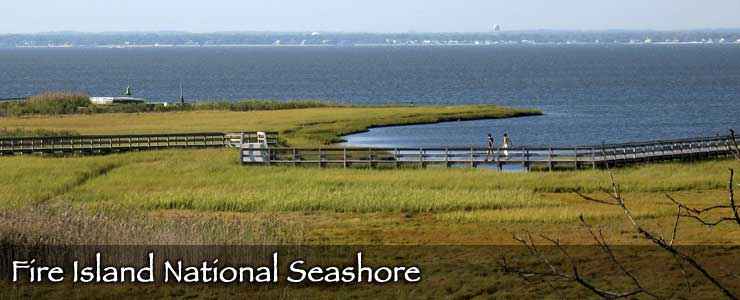 Boardwalks line the marsh on the north side of Fire Island National Seashore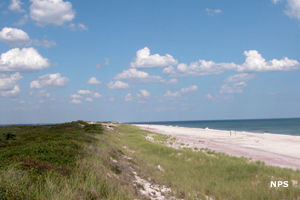 Fire Island is a 32-mile long barrier island off the coast of Long Island. The island varies from maybe 200 yards to one-half mile wide. The ocean side is mostly a long, sandy beach while the bay side is characterized by salt marsh, tidal flats and pine barrens.
Fire Island National Seashore is accessible year-round but most folks visit in the summer when all the facilities are open and the weather is on its best behavior for beach-related activities. Part of the experience in visiting Fire Island National Seashore is the half-hour ferry ride from Sayville to Sailors Haven or from Patchogue to Watch Hill but those parks of the National Seashore are only open from mid-May through mid-October. Robert Moses State Park and Smith Point County Park are at opposite ends of Fire Island and both are accessible by road and open year-round. July and August are by far the busiest months.
Park headquarters in Patchogue is open year-round, Mondays through Fridays (except for Federal holidays) from 9 am to 4:30 pm. Everything else varies with the seasons and with staff availability. There is no entrance fee to Fire Island National Seashore but you will usually either have to deal with parking fees and/or ferry fees. There are also concessionaire-run marinas on Fire Island at Sailors Haven, Barrett Beach/Talisman and Watch Hill. The marinas tend to be open from mid-May through mid-October and usually keep half their slips available on a first-come, first-served basis.
The Otis Pike Fire Island High Dune Wilderness is a 1,380-acre piece of land on the eastern part of Fire Island National Seashore that was designated as wilderness by Congress in 1980. The property extends west from the wilderness visitor center to Watch Hill, from the bottom of the primary dune north across the pine forest to the marshes on Great South Bay. It does not include any of the human-frequented sandy beaches against the Atlantic Ocean. There is a short, universally accessible boardwalk from the wilderness visitor center that extends a short way into the southern part of the designated wilderness but most folks who walk here, walk along the old Burma Road which traverses the seven-mile length of the property. Back country camping is allowed but you'll need to get a permit from the park rangers (the number of people allowed on the property overnight is limited) and you need to make special arrangements for parking your vehicle. Back country camping permits are free and available on a first-come, first-served basis only. The wilderness visitor center is adjacent to Smith Point County Park at the southernmost end of William Floyd Parkway. Bellport Beach is a private property that bisects the wilderness. The wilderness property has significant amounts of poison ivy on it and summer sees lots of mosquitoes, ticks and deer flies.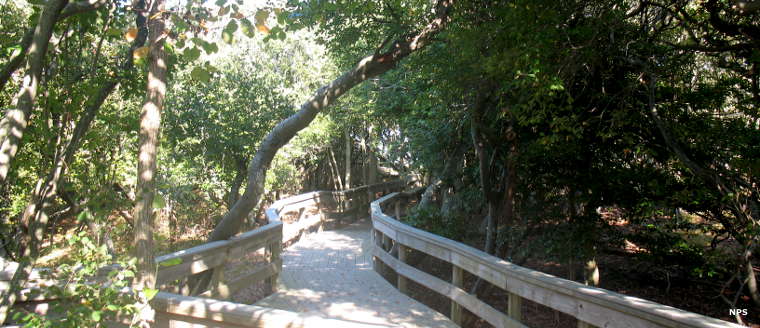 The Nature Trail boardwalk at Watch Hill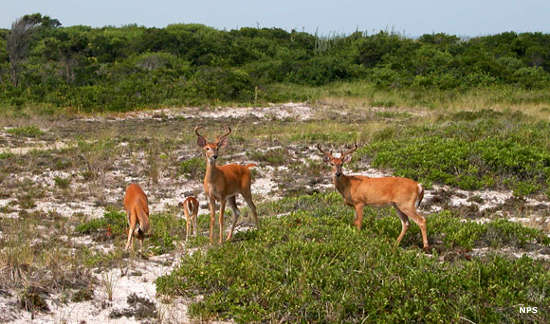 Local wildlife at Fire Island National Seashore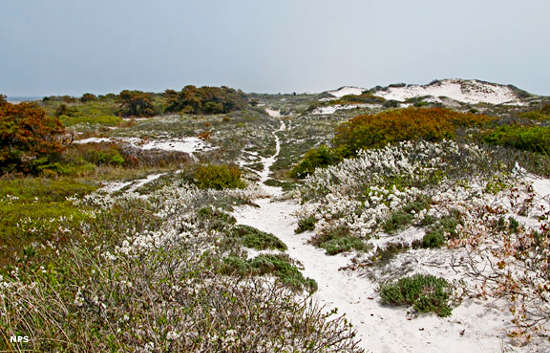 Otis Pike Fire Island High Dune Wilderness
Fire Island National Seashore
Photos of white-tail deer and Fire Island Wilderness courtesy of Diane Abell, National Park Service
Other photos and map courtesy of the National Park Service