Red Rock-Secret Mountain Wilderness
A fire burns in Red Rock-Secret Mountain Wilderness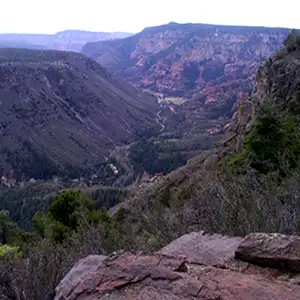 Red Rock-Secret Mountain Wilderness is a 43,950-acre property squeezed in between Sycamore Canyon Wilderness to the west and Oak Creek Canyon to the east. This is an area of incredible colorful rock formations along the southern edge of the Mogollon Rim. The red, pink, yellow and white sandstones and limestones here have been enduring water and wind erosion for 65 million years now and this area is world-famous for the results of that action. Some folks call this wilderness one of Mother Nature's finest masterpieces.
The high mesas of Wilson and Secret Mountains extend out into the lower country, separated from each other by tan, buff and red-rock cliffs as much as 1,500 feet high. The mesa tops are cooler and wetter, the canyon bottoms hot and dry (except for those areas where streams create lush riparian corridors in the otherwise dry desert).
The topography is very rugged in many areas, preventing the construction of more hiking trails and stopping folks from just walking everywhere. The canyons are often a maze, too. Many of the canyon walls sport ancient cliff dwellings, complete with petroglyphs and pictographs created by the ancient Sinagua people 800 or more years ago. There are many good trails in the area, though. A favorite is the Secret Canyon Trail: it wanders 4.2 miles through Secret Canyon, slowly scaling the heights to the mesa top on Secret Mountain. Another is the 0.9-mile Devil's Bridge Trail leading to a natural red sandstone arch. As close as Red Rock-Secret Mountain Wilderness is to the big population centers in Arizona, it's still not hard to find some peace and quiet in these canyons.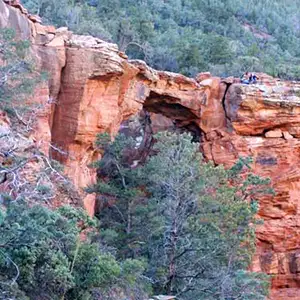 The lower areas tend to favor the mixed chaparral types of vegetation: mesquite, catclaw, manzanita, paloverde and scrub oak. The riparian corridors offer plenty of grasses under the willows, cottonwoods and sycamores. Northern exposures will find junipers and pinions while the upper areas might offer a few Ponderosa pines. The further north you get and the higher up, the more Ponderosas and Douglas firs you'll find.
For wildlife there's mule deer, elk, white-tailed deer, mountain lion, bobcat, ring-tailed cat, coyote, gray fox, badger, javelina, black bear, jackrabbit, skunk and various other smaller mammals. Don't forget the various species of rattlesnake and scorpion who love this countryside, too. The cliff walls provide nesting space for eagles, hawks, owls and other raptors.
A narrow power line corridor is all that separates Red Rock-Secret Mountain Wilderness from Sycamore Canyon Wilderness to the west. The eastern edge of Red Rock-Secret Mountain Wilderness is along State Route 89A (the Sedona-Oak Creek Canyon Scenic Road). The famous Slide Rock State Park is located there. Between 1946 and 1954, Hollywood filmed several famous Westerns in this area. Among them were movies like "Gun Fury," "Drum Beat" and "Broken Arrow." John Wayne came in 1946 and filmed a scene for "Angel and the Badman."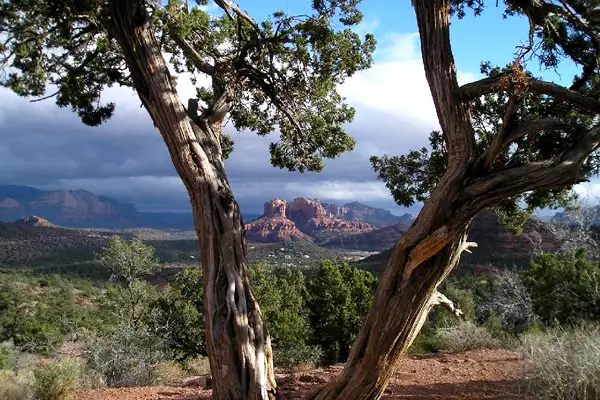 Red Rock-Secret Mountain Wilderness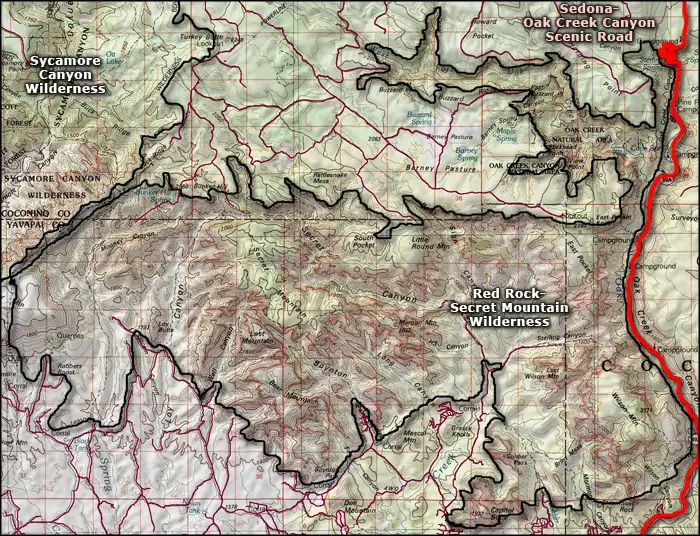 Red Rock-Secret Mountain Wilderness
Coconino National Forest -

US Forest Service
1824 South Thompson Street

,

Flagstaff

,

AZ

86001
928-527-3600

Photos courtesy of the US Forest Service
Map courtesy of National Geographic Topo!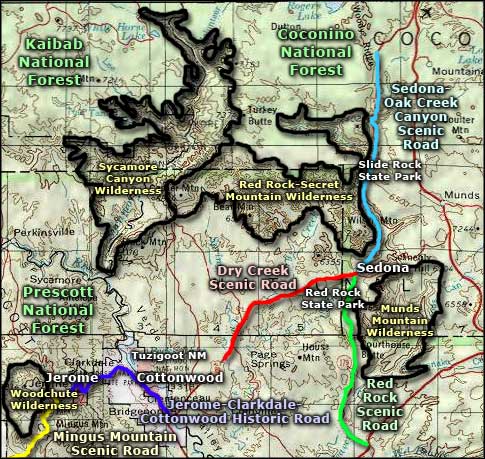 Related Pages
Map courtesy of National Geographic Topo!