Slide Rock State Park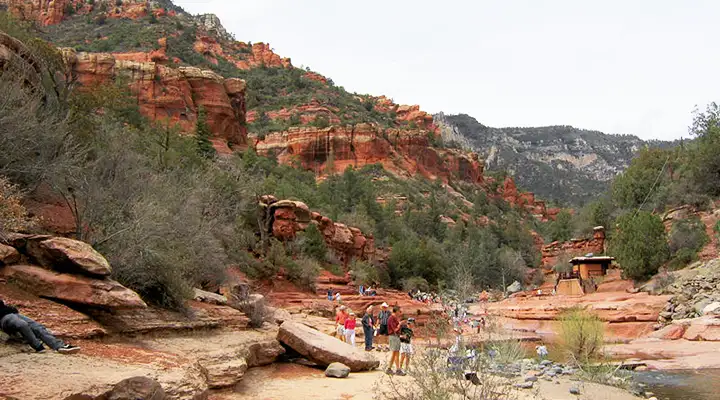 Slide Rock State Park
Slide Rock State Park is mostly a water enthusiasts haven offering wading, swimming, fishing (no glass bait jars), birdwatching and picnicking. There several short hiking trails in the park and a volleyball court. The State Park is also very close to several campgrounds and trail heads in the Coconino National Forest.
Originally, Slide Rock State Park was 43-acres homesteaded by Frank Pendley around 1907. He came into actual ownership of the land under the 1910 Homestead Act. He installed a rather unique irrigation system and turned a good part of the place into an apple orchard. He also kept some livestock and grew lots of garden produce. The Oak Creek Canyon Road was completed through the canyon in 1914 but wasn't paved until 1938. In 1933, seeing more and more recreational and tourist traffic on the road, Pendley built several rustic cabins to cater to the folks driving through who might want to stay and explore the gorgeous countryside a bit.
Adjacent to the homestead on this property is the famous Slide Rock, a stretch of slippery creek bottom where visitors can slide down a slick water chute, or just wade in the water and sun along the creek. The swimming area is part of Coconino National Forest and is jointly managed by the Forest Service and Arizona State Parks.
Between 1946 and 1954 Hollywood made several famous Westerns here, movies like "Broken Arrow," "Gun Fury" and "Drum Beat." John Wayne even filmed a scene here for "Angel and the Badman" in 1946.
Slide Rock State Park is located 20 miles south of Flagstaff on State Route 89A (Sedona-Oak Creek Canon Scenic Road), or 7 miles north of Sedona on State Route 89A, in the famous Oak Creek Canyon. Summer hours are from 8:00 AM to 7:00 PM, Winter hours are from 8:00 AM to 5:00 PM and Fall and Spring hours are from 8:00 AM to 6:00 PM. Slide Rock State Park is one of the most heavily visited attractions in Arizona.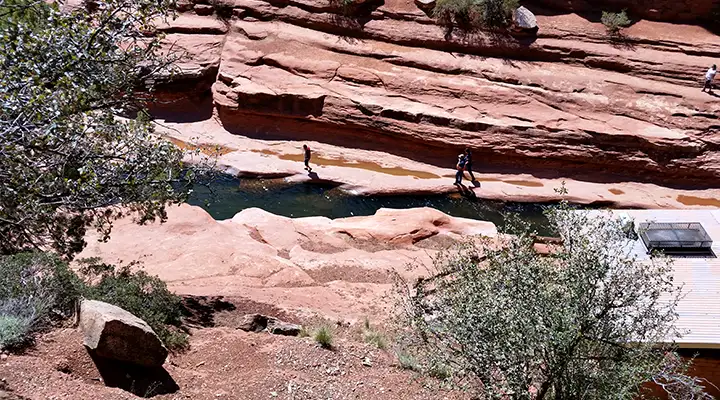 Looking down on part of Slide Rock State Park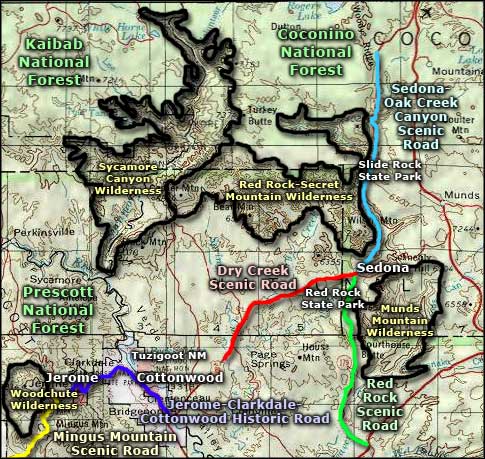 Related Pages
Map courtesy of National Geographic Topo!