Mingus Mountain Scenic Road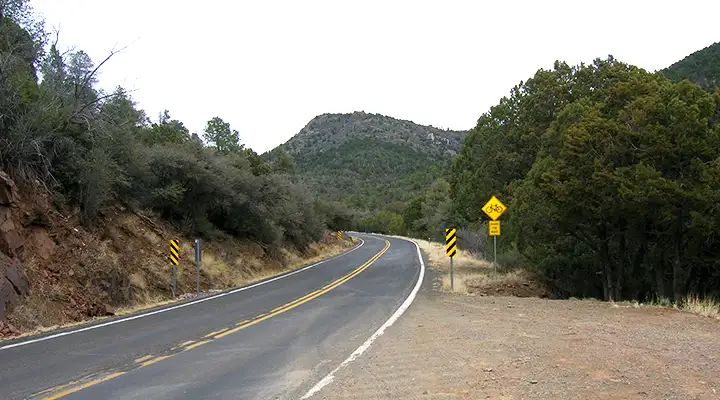 At the southern terminus of the Mingus Mountain Scenic Road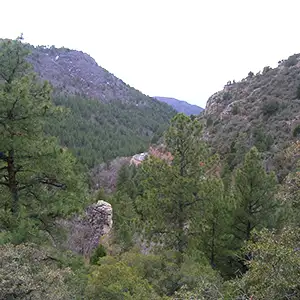 Mingus Mountain Scenic Road is an 11.5-mile route following State Road 89A over Mingus Mountain and into the town of Jerome. This is the Black Hills area: heavily vegetated, abundant wildlife and all kinds of historic mining assets.
The southern terminus of the Mingus Mountain Scenic Road is in Yeager Canyon: a deep, dark, closed-in canyon where the road enjoys several sharp switchbacks as it climbs up and over the pass. The photo above has a sign in it that implies there is room for mountain bikes along the road. At the same time, the road I found is usually more narrow than what you see in the photo. There are almost no shoulders over the entire trip.
The drive to the top of the mountain is pretty enclosed because of the density of the vegetation. At the top of the hill, things open out and there is an overlook and a National Forest campground up there (Potato Patch Campground). You'll also find the trail head for the trail leading to Woodchute Wilderness on the north side of the pass.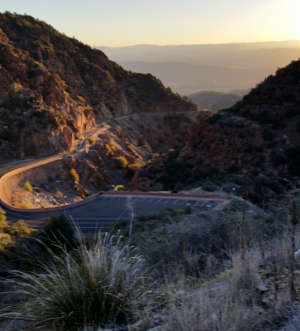 The descent into the Verde Valley is more open and you'll often get views into the immense open area ahead: Verde Valley, Red Rocks Country, Mogollon Rim, San Fransicso Peaks. The road still twists and turns as it descends through this mostly red-colored canyon but you'll also find a few more turnouts and increasing signs of old mining activities. At one point, you'll see the old wooden water flume that carried water from the mountain top to the city of Jerome in the old days. As soon as it looks like the road might straighten out, you'll be arriving in Jerome. The route ends in Jerome at the beginning of the Jerome, Clarkdale & Cottonwood Historic Road.
Along most of the Mingus Mountain Scenic Road you'll be driving with steep cliff on one side, steep drop-off on the other. Look out for the folks who try this route on a bicycle.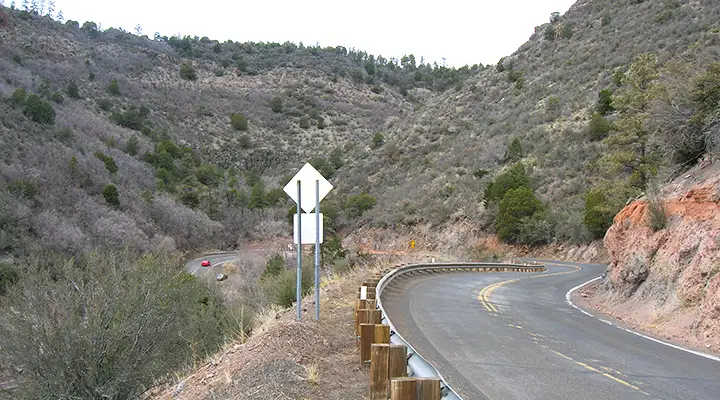 A switchback along the way
, notice the big pines in places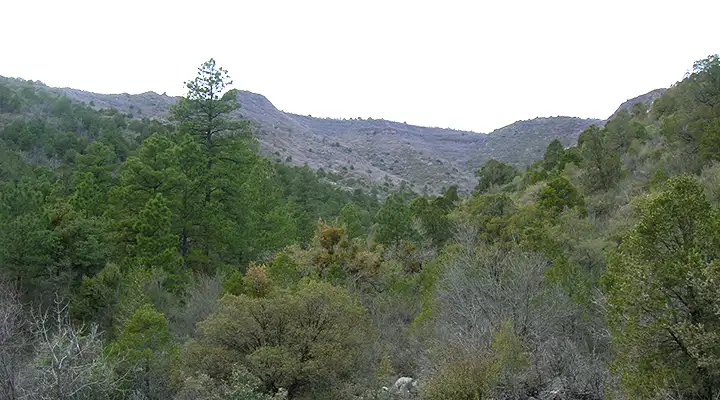 A look up through a valley to the top of the Black Hills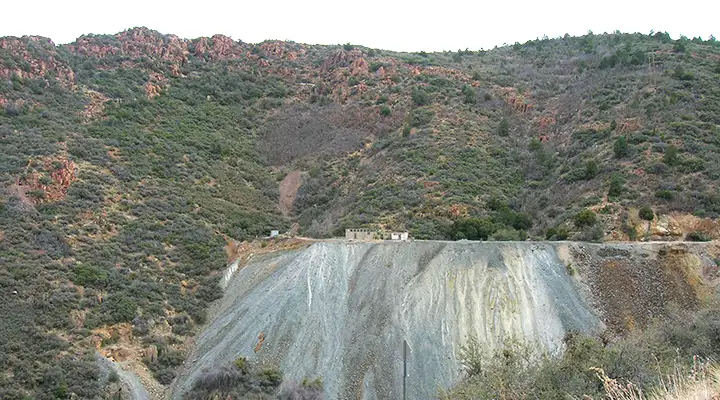 An old mine site on the south side of the canyon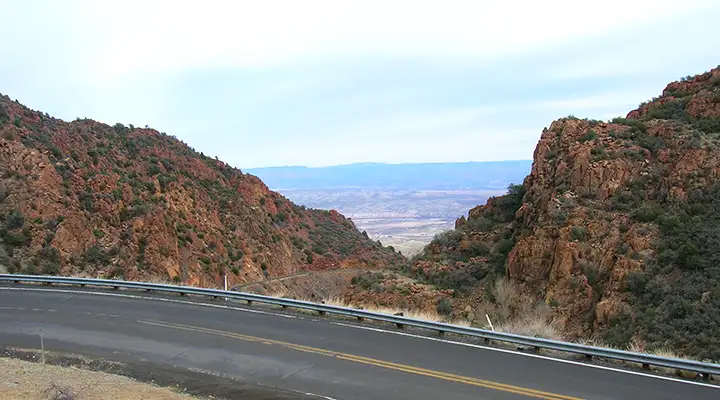 A view of the Verde River Valley through the canyon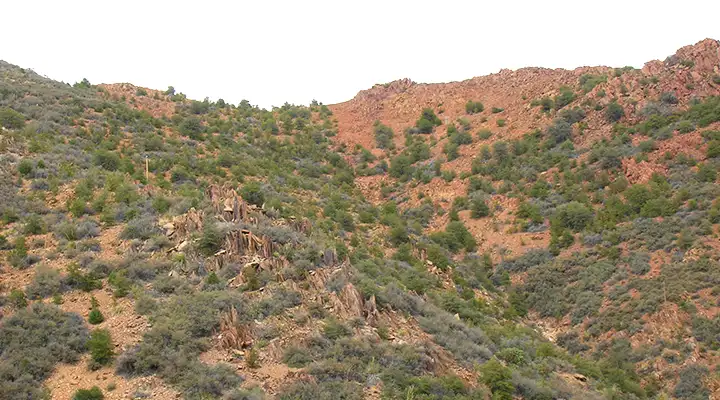 Woodchute Wilderness is up there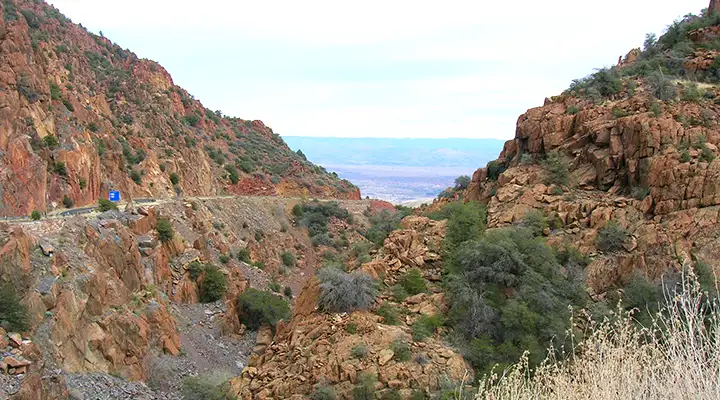 Another view of the Verde River Valley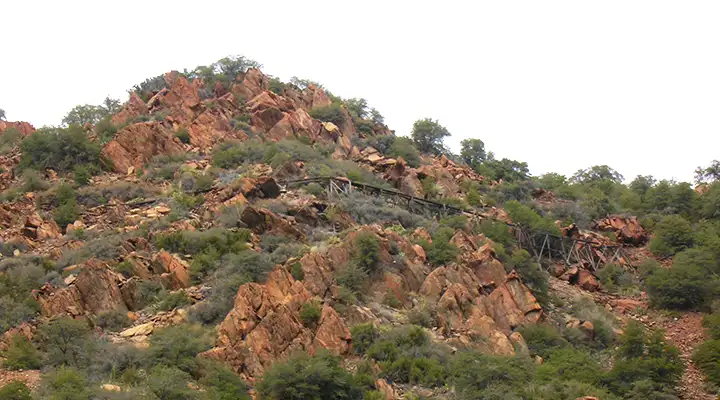 The old water flume on Mingus Mountain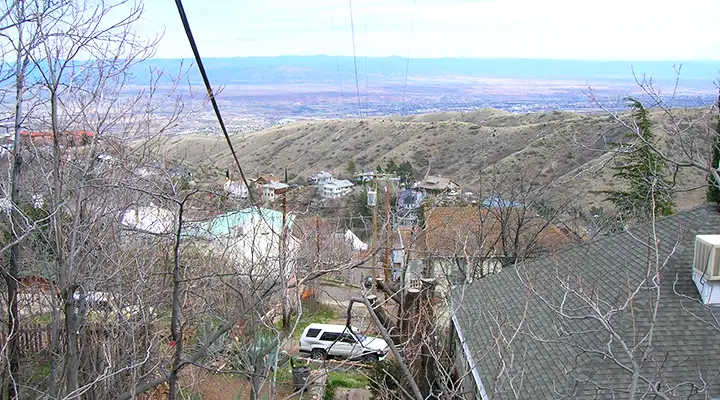 Just coming into Jerome at the end of the Mingus Mountain Scenic Road
Mingus Mountain Scenic Road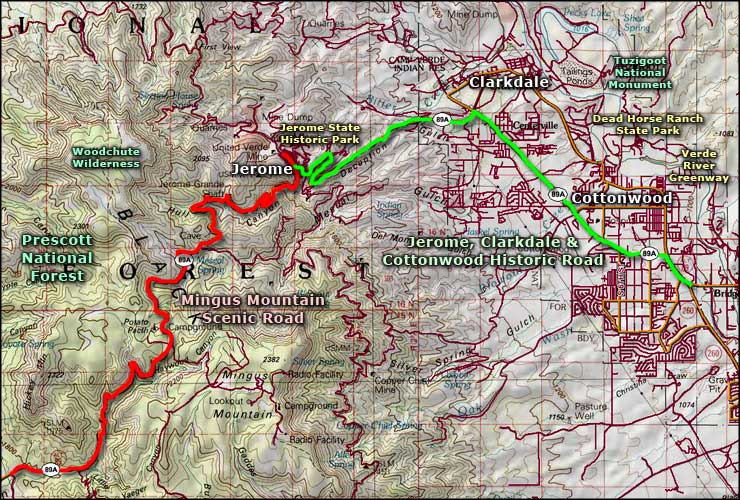 Related Pages
Map courtesy of National Geographic Topo!