Woodchute Wilderness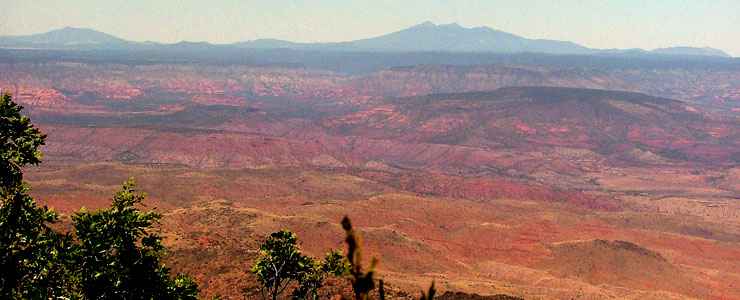 The view north from the upper part of Woodchute Wilderness
Woodchute Wilderness is a small (5,923 acres) property that sits on the mountain top just to the west of the old mining town of Jerome. There are former copper mines to the east and south but all Woodchute was ever mined for was timber back in the days when all the local mining was underground. The mine operators constructed a chute on the northern slope of the mountain to deliver the timber to the mines below, hence the name. The mountain was essentially logged off and the forest that you see now is virtually all second growth. When the mountain collapsed into the mines, the mining operations changed over to an open pit system and the smelter was relocated down the hill to Clarkdale.
Elevations on the property range from a low around 5,500 feet to a high on Woodchute Mountain around 7,800 feet. From the top of the wilderness there are 360° views. The lower elevations are covered with a pinon and juniper woodland while the upper areas sport Ponderosa pine and Douglas fir.
Most folks access Woodchute Wilderness by parking their vehicles at the parking area near Potato Patch Campground (on the summit ridge of Mingus Mountain next to Route 89A) and hiking the well-marked and relatively easy trail along the ridge from there to Woodchute Mountain.
From the parking area to the top of Woodchute Mountain is about 2.75 miles with a 600' elevation gain. If you should choose to continue on and descend the northern side of the mountain, it's about 3.5 miles down (and a 2,260' drop) to FR 318, which follows the route of the old narrow gauge railroad line that brought timber down from the mountain to Jerome in the old days.
This northern section also has some serious switchbacks along the way. There is an old cattle-watering "tank" you'll pass along the trail to the top of Woodchute Mountain (this mountain is more of a mesa than a peak) but it is fed by run-off water only and tends to be dry most of the year. The tank was dug by a bulldozer, probably the same bulldozer that made the original trail.
Best time to make the hike: spring and fall. Along the way you might see mule deer, white-tailed deer, black bear, javelina, mountain lion, bobcat, coyote, fox, badger, cottontail and golden and bald eagles.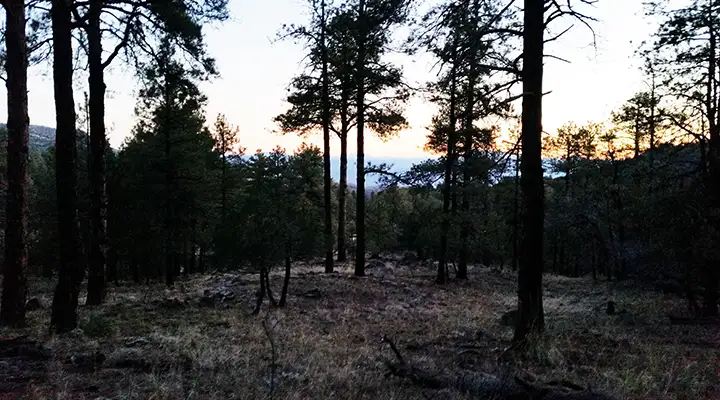 Sunrise on the path to Woodchute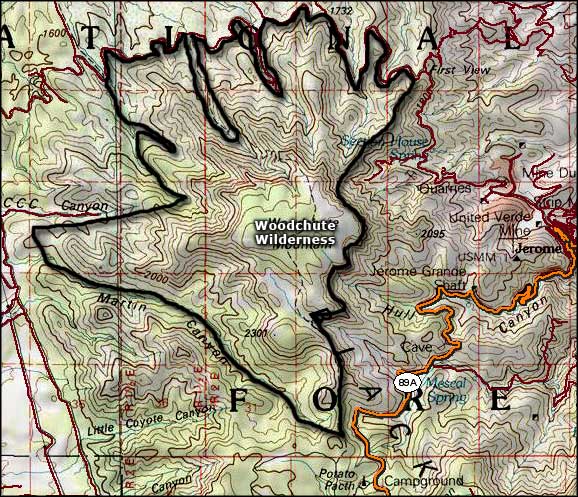 Woodchute Wilderness
Prescott National Forest -

US Forest Service
Top photo courtesy of James LaJocies
Bottom photo courtesy of TheArmchairExplorer,
CCA-by-SA 4.0 License
Maps courtesy of National Geographic Topo!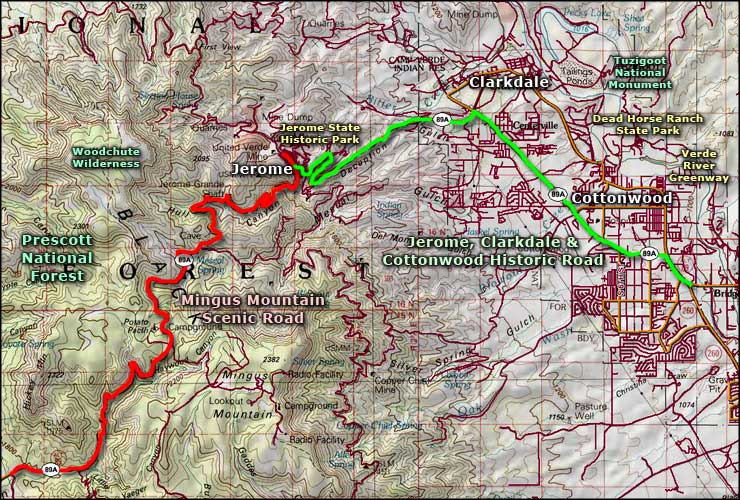 Related Pages
Map courtesy of National Geographic Topo!