Sycamore Canyon Wilderness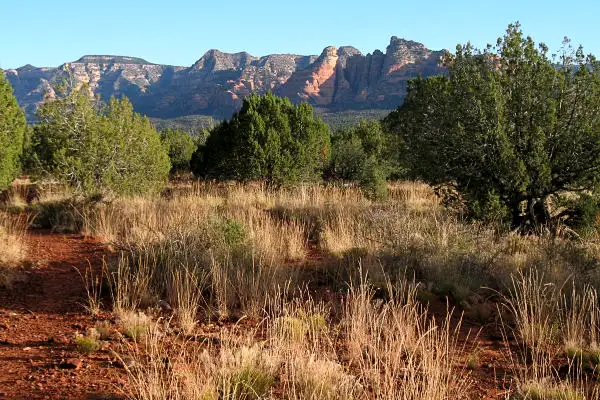 Down in Sycamore Canyon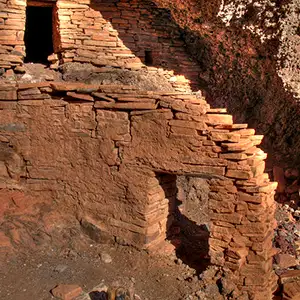 Sycamore Canyon Wilderness is a large (55,964 acres) property located in the canyons along the southern edge of the Mogollon Rim. The wilderness area stretches twenty miles north-south and up to seven miles wide (east-west) as it follows the drainages of Sycamore Creek and various smaller tributaries. This is an incredible setting in the land of red sandstone, white limestone and brown lava: high cliffs, pinnacles, spires, buttes and enough spectacular varied countryside to satisfy most folks.
Sycamore Canyon drops from north to south, from the Colorado Plateau through the eroded canyons of the Mogollon Rim to the edge of the Verde River. As much as most of this countryside is red rocks and desert, the stream flow is enough to support long corridors of riparian vegetation, including walnut, cottonwood and sycamore. There's enough water flow to support mule deer, elk, black bear, mountain lion, ring-tailed cat, bobcat, coyote, fox and the various species of rattlesnake and scorpion that like to live in this countryside. That said, this is not country that most folks enjoy hiking around in in the heat of summer.
In the early pioneer days of Arizona, some folks tried to homestead in Sycamore Canyon. Eventually, the desert living conditions and the iffy water supplies forced them out. There are still ruins of old homesteads scattered around the wilderness. You'll also find old ruins from the wetter days (800 years ago) when the Sinagua people lived here. The more prominent of the ruins have hiking trails leading to and passing by them. There's also an eleven-mile hiking trail along the pine-forested north rim of Sycamore Canyon, an area where water is very scarce but you can enjoy the experience of exploring a seldom seen area along the spectacular Mogollon Rim. Camping is allowed everywhere in Sycamore Canyon Wilderness except for a small posted area around Parson's Spring in the southern portion of the canyon.
Sycamore Canyon was Arizona's first designated Primitive Area. The Arizona Wilderness Act of 1984 changed its status to that of a fully designated National Wilderness. The wilderness straddles the boundaries between Kaibab, Coconino and Prescott National Forests. On the southeastern side, Sycamore Canyon Wilderness is separated from Red Rock-Secret Mountain Wilderness by a two-track dirt road along a powerline right-of-way.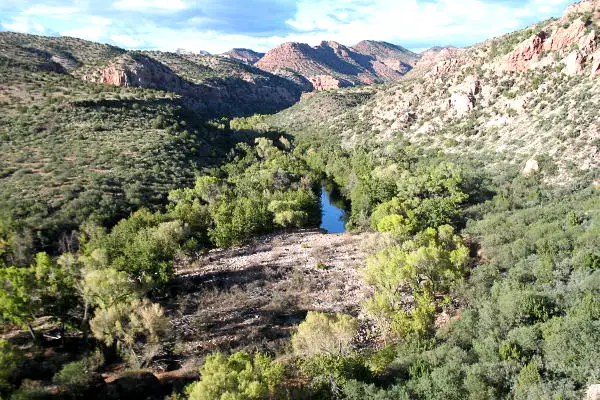 Sycamore Creek in the bottom of Sycamore Canyon Wilderness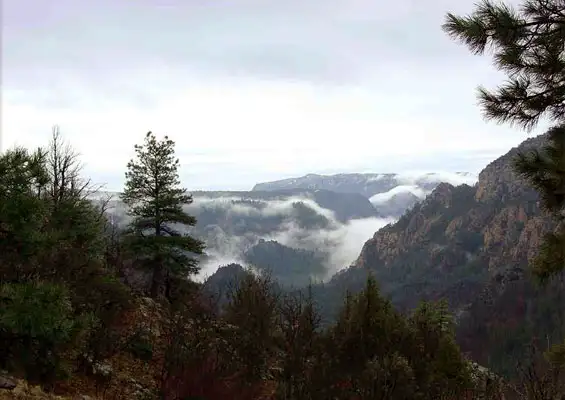 Sycamore Canyon Wilderness from the north rim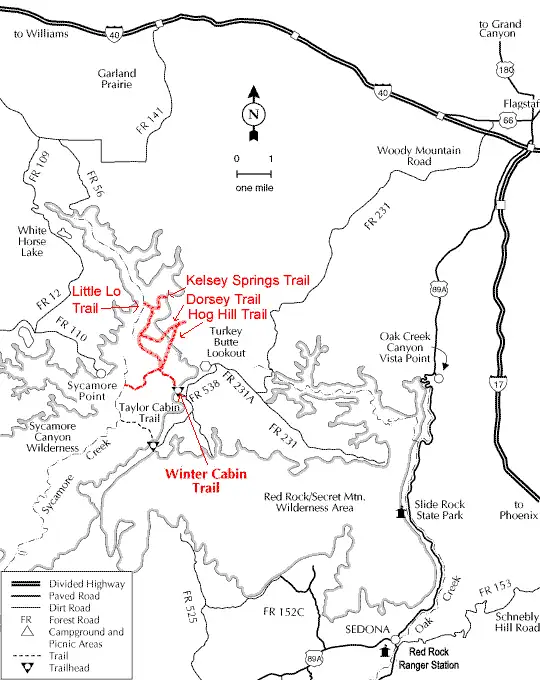 Some of the trails in Sycamore Canyon Wilderness
Sycamore Canyon Wilderness
Coconino National Forest -

US Forest Service

Photos and trail map courtesy of the US Forest Service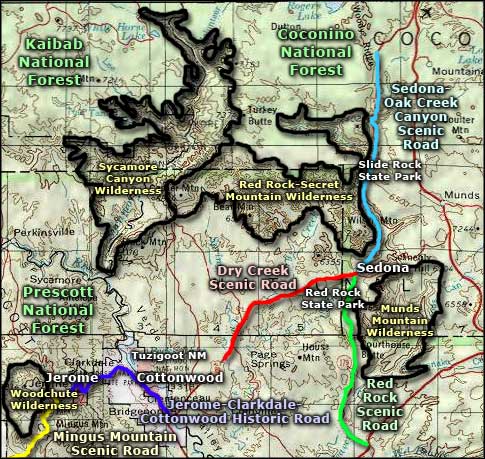 Related Pages
Map courtesy of National Geographic Topo!