Red Rock State Park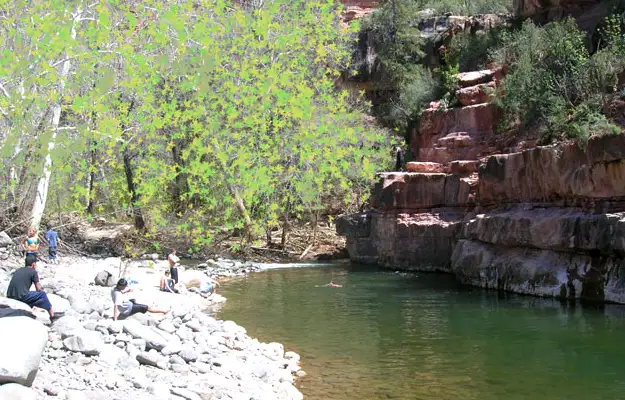 Red Rock State Park abuts Coconino National Forest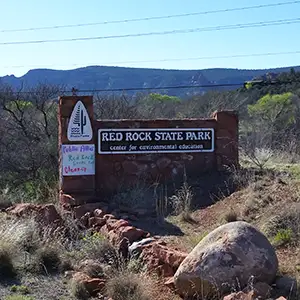 Red Rock State Park covers some 286 acres along Arizona's famous Oak Creek, southwest of Sedona in north central Arizona. Originally part of the Smoke Trail Ranch, Red Rock State Park contains a very rich and diverse riparian habitat that offers great opportunities for environmental education. The park has several guide books covering subjects like plants, shrubs, trees, reptiles and birds.
Red Rock State Park has a 5-mile network of interconnecting loop trails that lead from the rim rock vistas above the creek area into the very heart of the lush creek-side greenery and everything in between.
The Park offers a visitor center, picnic areas, ramada, picnic tables, barbecue grills, and restrooms. The Park Rangers also offer interpretive walks, although a lot of folks use the guide books and self-guiding signage throughout the area.
Winter hours: 8:00 AM to 5:00 PM October to March, and 8:00 AM to 6:00 PM in April. Summer Hours: 8:00 AM to 7:00 PM May through August, and 8:00 AM to 6:00 PM in September. Visitor center: 9:00 AM to 5:00 PM September to April and 9:00 AM to 6:00 PM May through August.
The usual rules and regs apply but add:
Stay on marked trails and roads.
Charcoal fires in grills only, no firewood collecting allowed.
No swimming or wading in the creek.
No pets allowed.
No fireworks, BB guns, bows and arrows, or firearms.
No rock climbing in the park.
Keep your noise to yourself and pack out all your trash.
Upper photo courtesy of the US Forest Service
Left photo courtesy of TheArmchairExplorer,
CCA-by-SA 4.0 License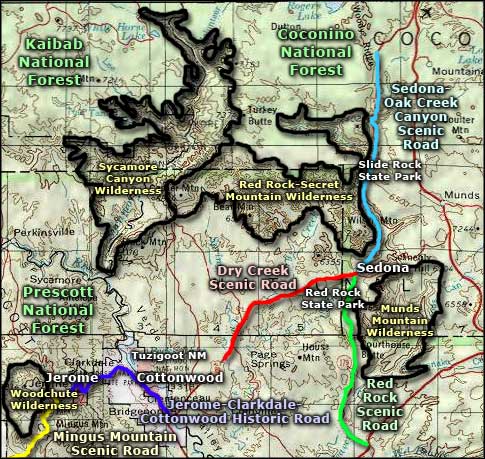 Related Pages
Map courtesy of National Geographic Topo!