Bull of the Woods Wilderness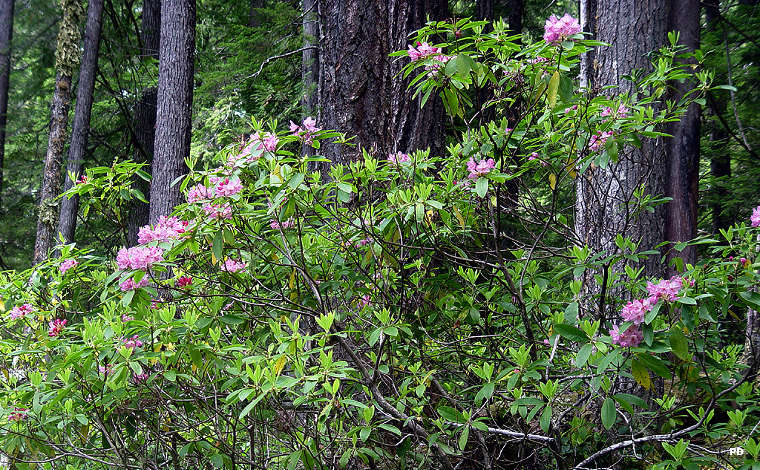 Rhododendrons flowering at Bull of the Woods Wilderness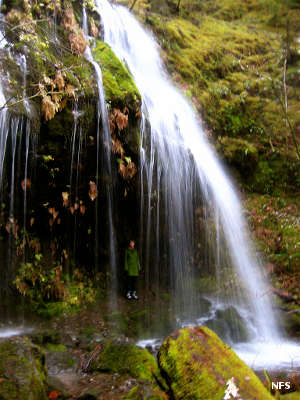 Bull of the Woods Wilderness is a 37,607-acre property in the southwest corner of Mount Hood National Forest. Directly across the forest boundary is Willamette National Forest and Opal Creek Wilderness. Bull of the Woods Wilderness was created in 1984 and was expanded in 2009.
The landscape of Bull of the Woods Wilderness is rugged, very rugged. There are about a dozen good fishing lakes scattered among the peaks and high ridges but each is separated from the others by those peaks and high ridges. Slopes in the area vary from 30° and 90°: the higher you go, the steeper it gets. The ridges have been cut by numerous streams as the wilderness contains the headwaters of the Breitenbush, Collawash and Little North Santiam Rivers. The vegetation is almost entirely evergreens: western hemlock, western red cedar and Douglas fir. There are strips of deciduous red alder along the creeks and rhododendrons scattered throughout the lower areas. This is also the countryside of the endangered northern spotted owl.
There are about 68 miles of trails in the wilderness area, most leading to the lakes but several leading to the old fire tower atop Bull of the Woods Mountain (5,523'). The Hot Springs Trail crosses the wilderness area for about 14.5 miles, passing Bagby Hot Springs where primitive soaking tubs have been built. Rangers allow folks to soak but not to camp in the area. The Elk Lake and Twin Lakes areas have seen the most human impact... and it's not pretty. In hiking around it's possible to come across an old mine site with miscellaneous equipment and shacks around. The big danger with these is the old constructions are falling down and there might be unplugged mine shafts in the immediate area.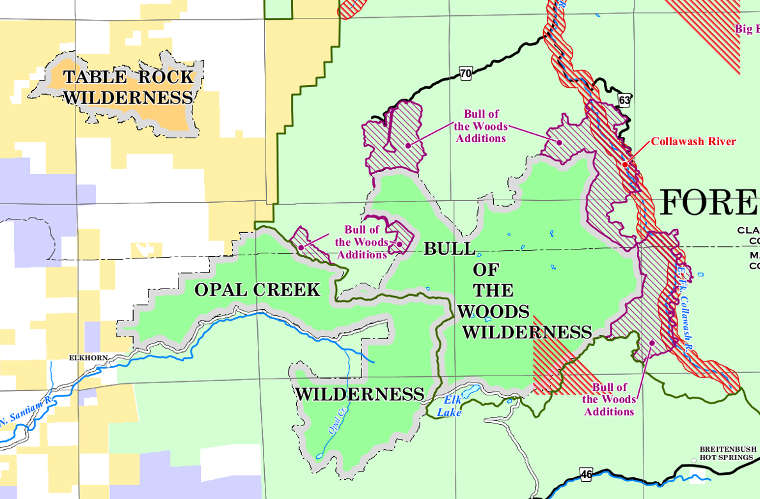 Bull of the Woods Wilderness map
Bull of the Woods Wilderness
Upper photo is in the public domain
Upper left photo and map courtesy of the US Forest Service