Opal Creek Wilderness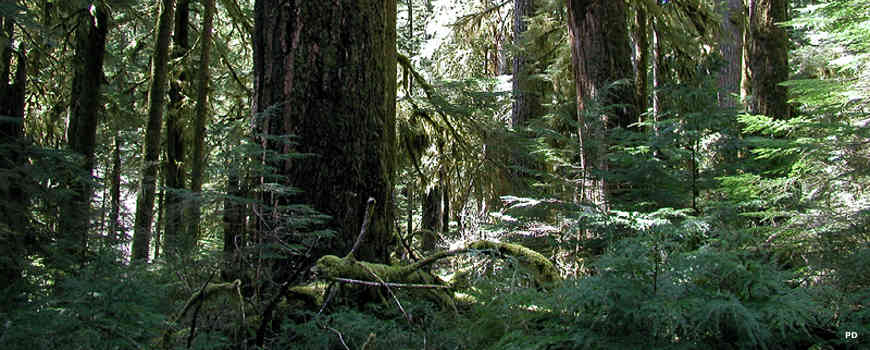 Old growth forest in Opal Creek Wilderness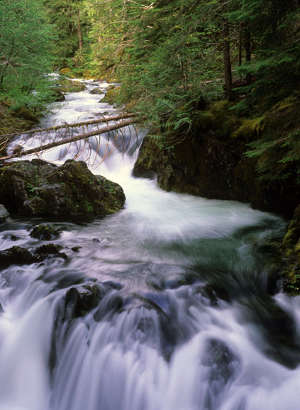 Little North Santiam River
Opal Creek Wilderness is a 20,266-acre property in the north end of Willamette National Forest. Opal Creek abuts Bull of the Woods Wilderness in Mount Hood National Forest to the northeast.
Opal Creek is home to the largest stand of old-growth forest remaining in Oregon. The wilderness was designated in 1996 after a twenty year battle between preservationists and timber interests. At the same time the wilderness was designated, the adjacent 13,538-acre Opal Creek Scenic Recreation Area was also designated.
The most abundant trees are mountain hemlock, western red cedar and Douglas fir. The most common hardwoods in the forest are red alder and big leaf maple. The wilderness holds the headwaters of Opal Creek and Battle Axe Creek, which join to become the Little North Santiam River. The topography of the area is one with plenty of steep and rugged forested hillsides.
Opal Creek Valley holds 5 lakes, some 50 waterfalls and 36 miles of hiking trails in eight routes. The trails are leftover roads from the early days of prospecting in the area and from fire access routes cut through the years. The trails are mostly single-destination routes, cut to serve a single purpose and no more. There is very little possibility of loop travel among the trails. Many of them end at old fire lookout sites, which means they climb to the high points in the area. I'm told the views from the summits of Whetstone and Henline are particularly nice.
Self-issued permits, free at the trailhead, are required between Memorial Day Weekend and Halloween. Some trailheads require a valid recreation pass. Depending on snow levels, the best season to visit is between April and October. Most folks reach the wilderness via Oregon Highway 22 to Marion County North Fork Road which becomes Forest Service Road 2209 at the forest boundary. FSR 2209 parallels the western boundary of Opal Creek Wilderness. There are three trailheads leading into the wilderness from FSR 2209 before you reach the gate closing the road. The road continues to parallel the boundary of the wilderness area for several miles but it's foot and horseback travel only. There are several more trails leading off into the wilderness along this route.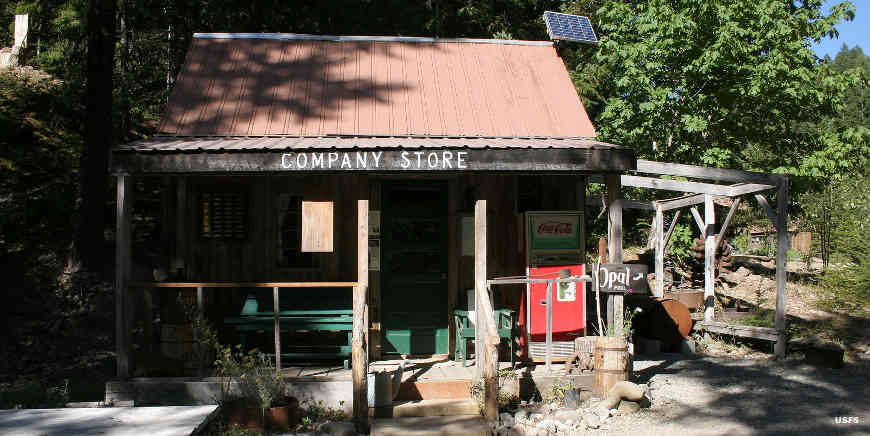 The historic company store at Jawbone Flats in Opal Creek Wilderness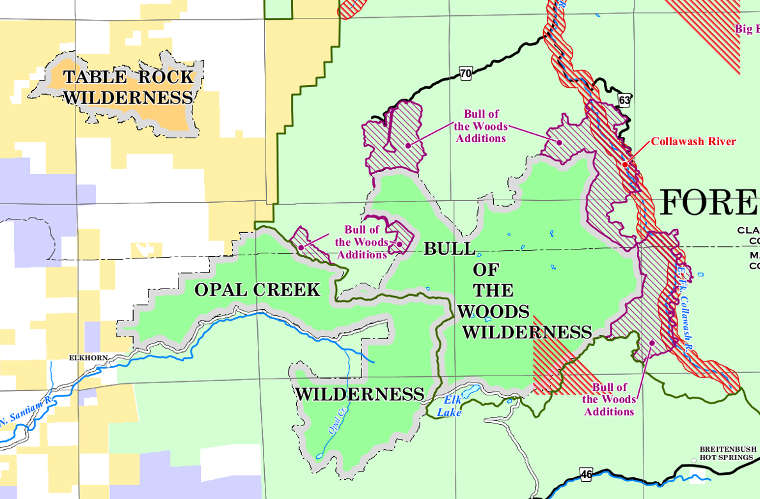 Opal Creek Wilderness
Willamette National Forest -

US Forest Service

Upper photo is in the public domain
Upper left photo courtesy of George Wuerthner, USFS
Lower photo and map courtesy of the US Forest Service