Organ Pipe Cactus National Monument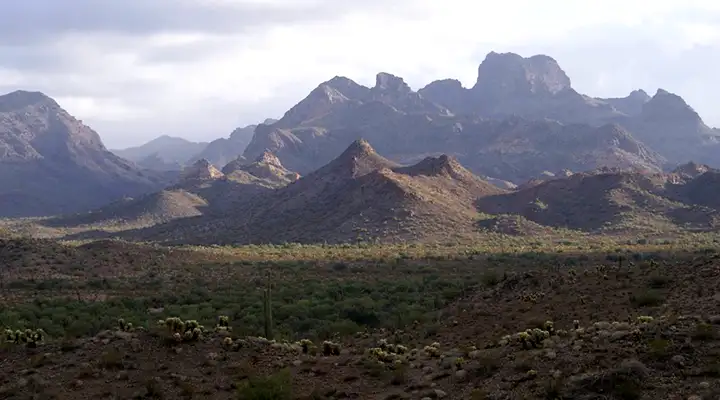 Bates Mountains, Organ Pipe Cactus National Monument
Organ Pipe Cactus National Monument is a large piece of the Sonoran Desert directly against the US-Mexico border in south-central Arizona. The majority of the National Monument is designated wilderness. Because of modern problems along the border area, most of that wilderness is off-limits to we, the people. The area was "temporarily" closed more than ten years ago... If you happen to be arriving via El Camino del Diablo Back Country Byway you'll need to have your permit (and other ID) in hand when the Border Patrol and/or Park Rangers stop you to see what you're doing.
Certain areas are still open to us, one of them being the 21-mile scenic drive around Ajo Mountain. Another is the first five miles of the North Puerto Blanco Scenic Drive and yet another is along the Armenta-Bates Well Roads, although these roads are sometimes closed in the spring for Sonoran Pronghorn fawning season. All of these scenic drives offer scenic overlooks and interpretive signage.
The namesake organ pipe cactus is more a native of Mexico than of the United States. Organ Pipe Cactus National Monument is about the only place the tropical cactus appears in the US. The cactus blooms at night in May, June and July. Each blossom lasts one night and they fade as the sun rises. If you want to catch the sight, you'll need to be up and looking around in the morning twilight.
Because of the on-going border problem, back country camping is not allowed any more in most areas. In Alamo Canyon, Alamo Campground has four primitive sites available (tents only, no RVs), register first at the visitor center. Stay limit: 7 days. The Twin Peaks Campground is 1.5 miles from the Visitor Center and offers 208 sites, most large enough for 40' RVs but there are no utility hookups. There are water hydrants scattered through the campground but regular running water is available only in the bathrooms.
To get there: Follow Arizona Highway 85 south through Ajo and Why. The Monument boundary is only four miles south of Why but the Kris Eggle Visitor Center is 18 miles past the boundary. The Mexican border is four miles south of the Visitor Center.
Organ Pipe Cactus National Monument is always open (no gates at the boundaries anyway). The Kris Eggle Visitor Center is open from 8 am to 5 pm every day except Thanksgiving and Christmas.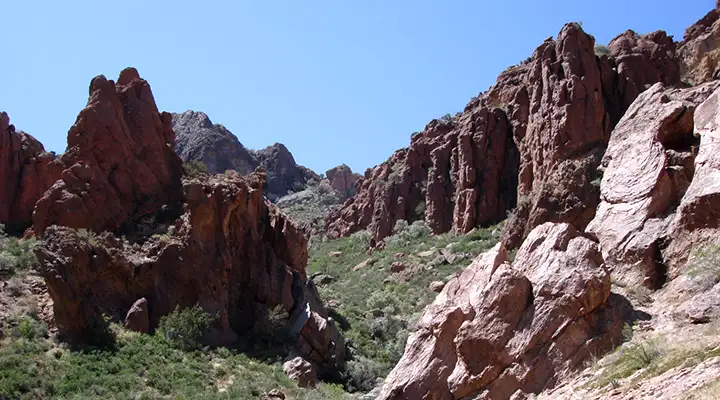 Arch Canyon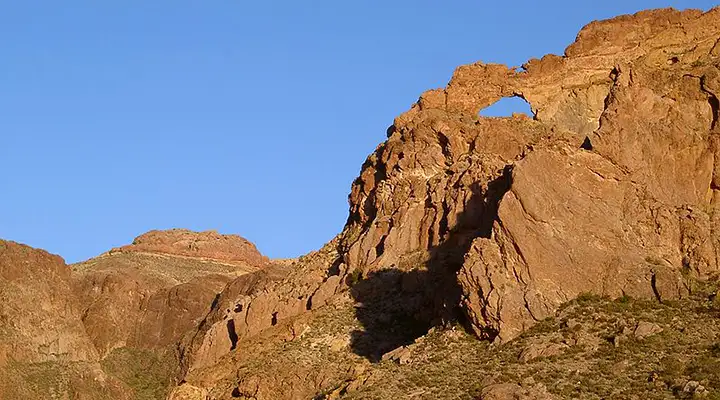 A couple of natural arches at Organ Pipe Cactus National Monument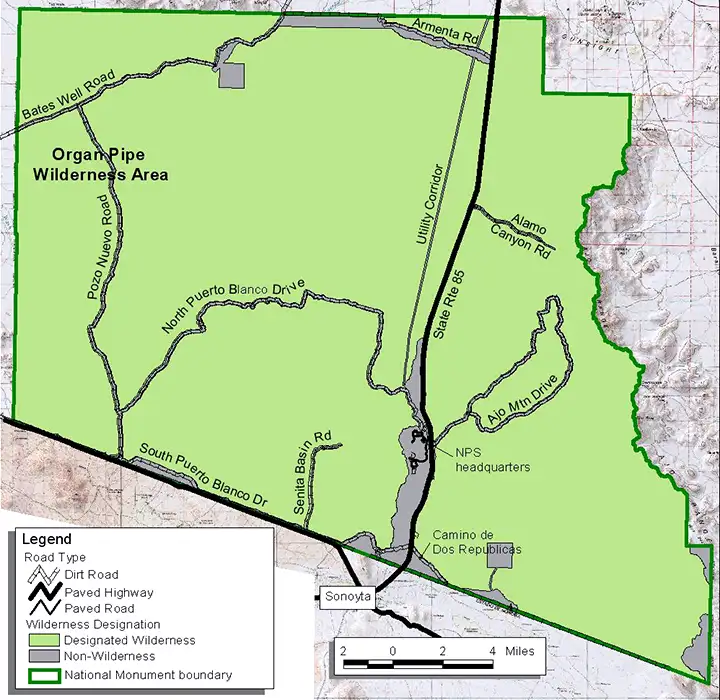 Organ Pipe Cactus National Monument

Photos and park map courtesy of the National Park Service