El Camino del Diablo Backcountry Byway

El Camino del Diablo Backcountry Byway at the western boundary of Cabeza Prieta NWR
El Camino del Diablo is/was a route for OHVs and 4WD vehicles only. I say "was" because it has disappeared from the BLM's official list since Mr. Trump took office. But back to thwe story:
El Camino del Diablo crosses the desert parallel to the Mexican border between Yuma and Organ Pipe Cactus National Monument. The history of the route goes back more than 500 years.
In the old days, this was along an old trade route between central Mexico and the lower Colorado River. The first non-native recorded to have followed the route was a Spanish soldier named Melchior Diaz in 1540. Father Eusebio Francisco Kino traveled through this area in 1694. Mexican gold miners used the route to get to California in the 1849 Gold Rush. Since that time, the US government estimates that between 400 and 2,000 people have died of thirst along El Camino del Diablo, earning it the reputation of the deadliest immigrant trail in North America. Other than that, the only distinguishing elements of the route are the long, hot, dry runs through the low desert and sand dunes of Yuma and Lechuguilla and the crossing of the Gila and Tinajas Altas Mountains, two low desert mountain ranges on the Barry M. Goldwater Bombing Range.
Several things make me think I don't want to drive this road. One is all the nonsense on a route in Arizona so close to the Mexican border. Two is the Barry M. Goldwater Bombing Range: you need a permit from the US Marine Corps Air Station in Yuma (520-341-3402) to cross the property. Otherwise, you might be considered "fair game." Three is the Cabeza Prieta National Wildlife Refuge: technically, El Camino del Diablo is not part of the Cabeza Prieta Wilderness but you need a permit from the US Fish & Wildlife Service anyway (520-387-6483). You'll probably go through the same rigamarole when you cross into Organ Pipe Cactus National Monument. But this route is/was on the list of official BLM Backcountry Byways... Gotta love this modern life.
El Camino del Diablo Backcountry Byway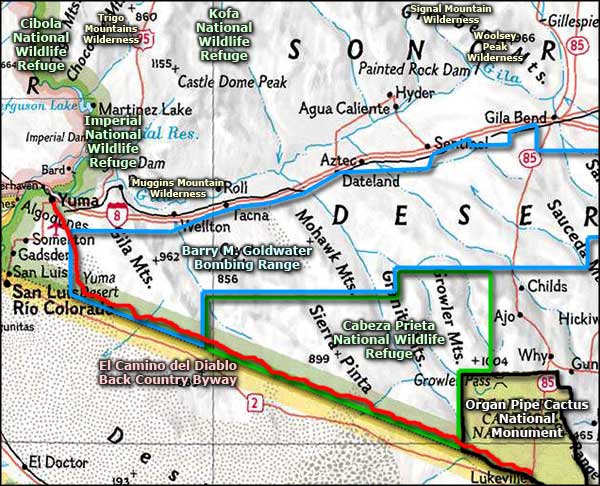 Related Pages
Map courtesy of National Geographic Topo!