Muggins Mountain Wilderness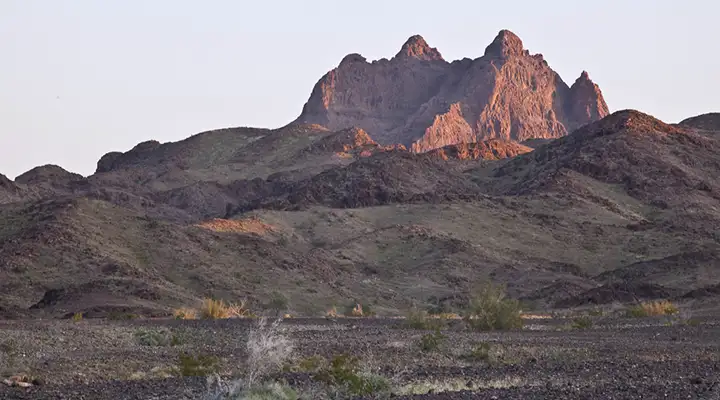 Muggins Mountain Wilderness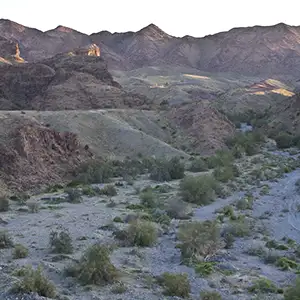 Muggins Mountain Wilderness is a 7,640-acre property at the western end of the Muggins Mountains of southwestern Arizona. Immediately to the north is the Yuma Proving Grounds, a military weapons and equipment test site.
These mountains being essentially volcanic remnants on the edge of the Colorado River Valley, they are not particularly tall. Muggins Mountain tops out at 1,424 feet, Klothos Temple at 1,193 feet. But these are sharp, vertical mountains with reasonably solid rock, and that can attract rock climbers.
The landscape is ancient ocean bottom and has been cut deeply with drainages like Muggins Wash and Twin Tanks Wash running right across the mountain range. The backside of the Muggins Mountain Wilderness is cut by the larger Morgans Wash. This is deep, dark desert: heavy on the ocotillo, creosote bush, paloverde and cactus. The Muggins Mountains, though, are considered very scenic for the area because of the shapes of the landforms and the colors in the geologic strata.
To get there: Get off Interstate 8 at Ligurta. Go east through Ligurta to Dome Valley Road and turn north. Go to County 7th Street and turn east. Go past the Dome Valley Transfer Station and look for the Muggins Mountain access road on the left.
7.5-Minute Topo Maps: Dome, Red Bluff Mountain, Wellton, Ligurta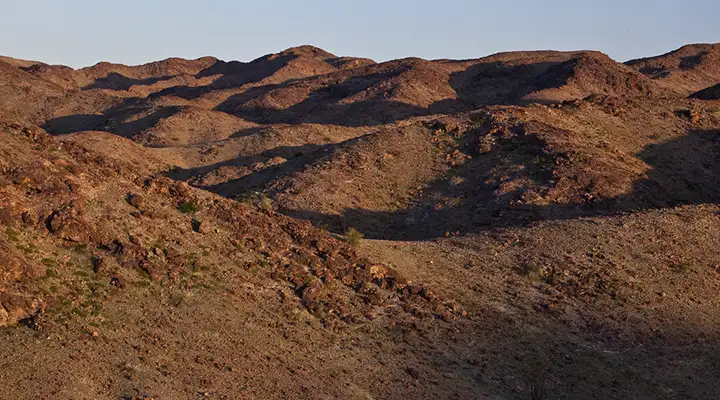 In the foothills of the Muggins Mountains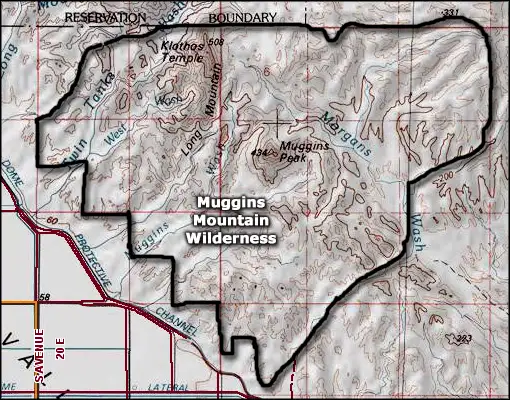 Muggins Mountain Wilderness
Bureau of Land Management

- Yuma Field Office

Photos courtesy of Chris Barns, Bureau of Land Management
Map courtesy of National Geographic Topo!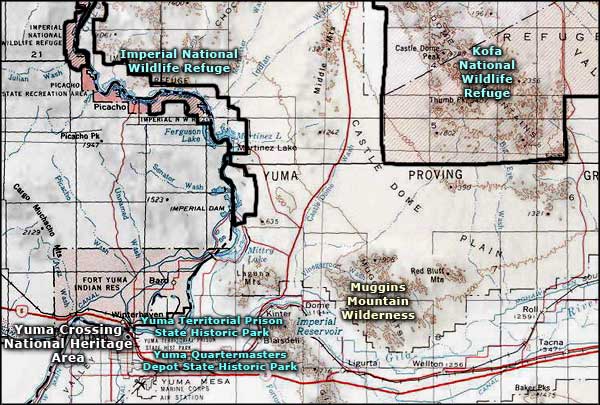 Related Pages
Map courtesy of National Geographic Topo!