Cohutta Wilderness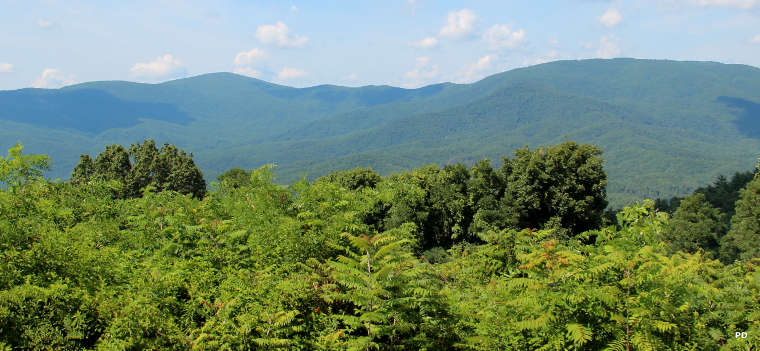 A view across Cohutta Wilderness from Cohutta Wilderness Overlook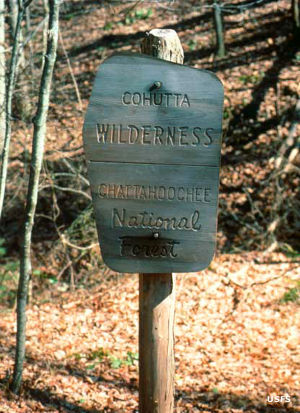 Cohutta Wilderness straddles the state line between Tennessee and Georgia. That means the wilderness also straddles the line between Chattahoochee-Oconee and Cherokee National Forests with about 35,284 acres in Georgia and about 1,746 acres in Tennessee. That said, Cherokee National Forest administers the entire wilderness area from an office in Tennessee. Cohutta Wilderness also borders Big Frog Wilderness to the north, separated by a road corridor that passes over the summit of Big Frog Mountain.
About 70% of the forest in this part of Tennessee and Georgia was logged off between 1915 and 1930. Since then the pine and oak have essentially reclaimed the upland areas while the creek bottoms are lined with hardwood forests of maple, buckeye, dogwood, chestnut, magnolia, holly and sassafras. The Conasauga and Jack's Rivers cross the wilderness area, sometimes bringing flash floods to the wilderness but always bringing some of the finest trout fishing to be had in the southern Appalachians. Hunters also come to the area in search of black bear, white-railed deer and wild boar. The wilderness is situated along the Appalachian Flyway and more than 100 species of birds have been seen on the property. There are also plenty of timber rattlers, copperheads and other snakes in the woods.
There are a number of trails giving access to the wilderness but a common problem of many is the need to wade through flowing water somewhere along the path. The Jack's Creek Trail, for instance, crosses the stream about 40 times in its 15.7-mile length.
Cohutta Wilderness is the second largest wilderness area in Georgia and often sees in excess of 60,000 visitors in a year, making Cohutta the most heavily used wilderness in the southern Appalachians. That has led to the US Forest Service issuing new regulations to reduce the size of groups in the wilderness and to reduce the impact of campfires in the area.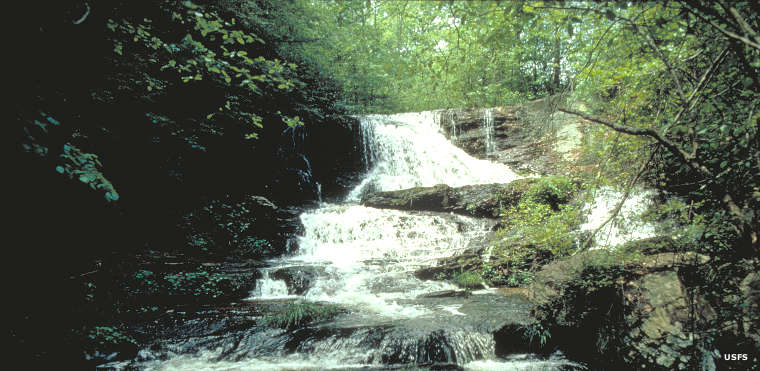 Could be the Conasauga River descending through Cohutta Wilderness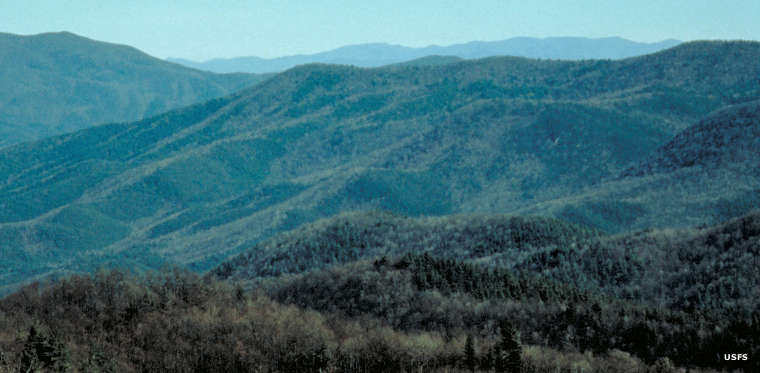 A view across Cohutta Wilderness from high up
Cohutta Wilderness
Cherokee & Chattahoochee-Oconee National Forests -

US Forest Service

Upper photo is in the public domain
Upper left photo courtesy of the US Forest Service
Other photos courtesy of Steve Boutcher, USFS