Big Frog Wilderness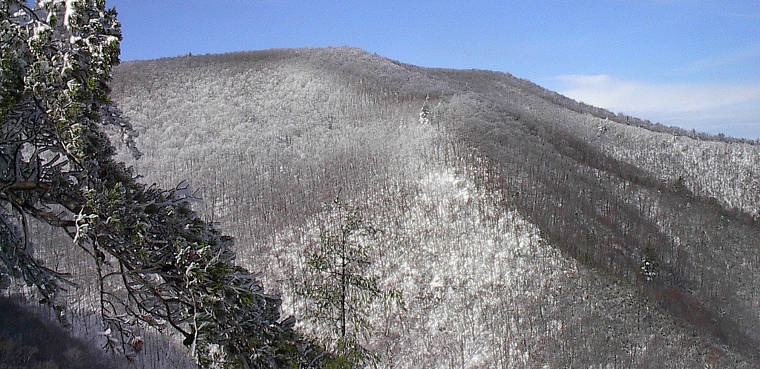 Big Frog Mountain
Big Frog Wilderness is an 8,132-acre property with about 136 acres in Georgia and about 7,996 acres in Tennessee. The wilderness was designated by Congress in 1984.
Big Frog Wilderness is dominated by Big Frog Mountain (elevation: 4,224'), a mountain higher than anything to the west until you reach the Black Hills in South Dakota or the Big Bend area in west Texas. The wilderness is separated from Cohutta Wilderness to the south by a utility corridor that traverses east/west near the summit of Big Frog Mountain. The Big Frog-Cohutta combination with several adjacent Primitive Areas makes up the largest Forest Service wilderness area in the eastern United States.
Lower elevations in the wilderness are mostly treed with Virginia pine while the higher elevations are mostly treed in hardwoods: red oak, white oak and hickory. The wilderness offers the hunter some wild turkeys and a few white-tailed deer. A pack of Russian wild boars was set loose in the wilderness in the 1960's and they have done well since. The wilderness also offers many domestic hogs gone wild... Timber rattlers are common in the woods, as is a shortage of water of any sort, even in the rainy season.
There are a number of trails in the wilderness that offer the hiker a variety of terrains to cross. Some trails are almost flat while others offer relatively steep (but short) elevation gains. Most trails are well maintained. The Big Frog Trail ascends to the summit of the mountain along a gently rising ridge and offers access to other trails that connect with it via ridgetops and streambeds along the way. From the summit of Big Frog Mountain the Hemp Top Trail heads south and about 0.8 miles in, it crosses into Cohutta Wilderness. The almost-300-mile-long Benton MacKaye Trail crosses the wilderness, too.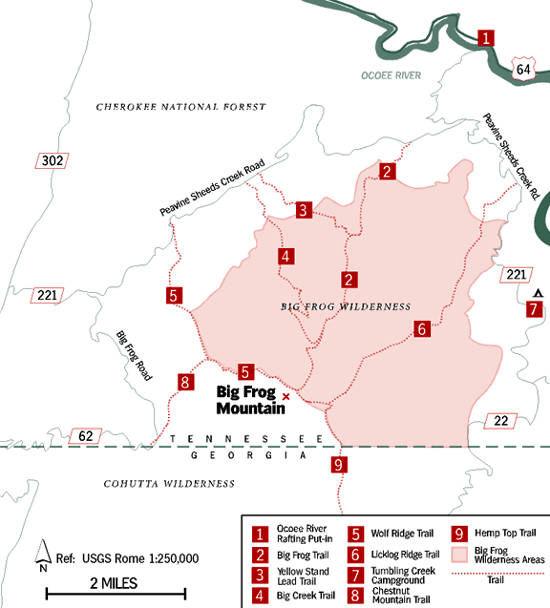 Big Frog Wilderness map
Big Frog Wilderness
Cherokee & Chattahoochee-Oconee National Forests -

US Forest Service