Charles C. Deam Wilderness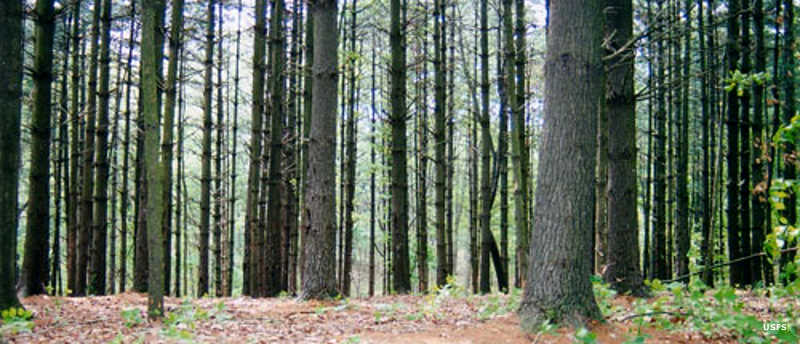 Grubb Ridge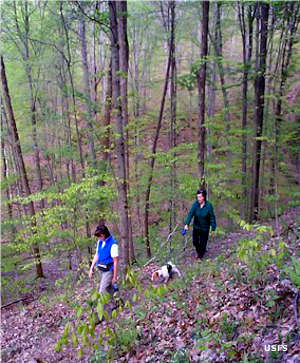 The Charles C. Deam Wilderness consists of 12,935 acres on the south side of Lake Monroe, near Bloomington, Indiana in Hoosier National Forest. The property is a favorite among hikers, backpackers and horseback riders with its 39 miles of trails, winding their ways through the forest across flat-topped ridges and past the occasional limestone cave. The stream beds are filled with geodes, the woods with squirrels, deer and other game. You need to be careful, though, because there is the occasional timber rattlesnake and copperhead in the brush. Summer also sees a thriving community of ticks, chiggers and luxuriant poison ivy.
Charles C. Deam Wilderness was once completely homesteaded, and the trails follow the old roadbeds that once connected homesteads and communities. Farming here was a very marginal occupation but the settlers held on until the Great Depression forced them out. As they left for greener pastures, the National Forest Service acquired their properties and slowly assembled the Hoosier National Forest. When the Civilian Conservation Corps came into being, they were given the job of rehabilitating the property and managing it for recreational users. When Ronald Reagan was President, the property became a designated wilderness. Since then, basic trail maintenance has happened (using a mule-drawn sled and hand tools) but not much else. Slowly, the property is returning to its original wild state.
The wilderness is divided into a north and south section, split by the Tower Ridge Road (which is non-wilderness). But it's along the Tower Ridge Road that you'll find easiest access to the old roadbeds that constitute the trails in the wilderness. There's parking at the Hickory Ridge Fire Tower, Grubb Ridge Trailhead and Blackwell Horse Camp only. Within 100 feet of ponds, trails, streams or Monroe Lake, camping is allowed only in designated sites. Away from those areas, you can camp anywhere. Group size is limited to a max of ten people and the stay limit is 14 days.
If you decide to go for a hike in the Charles C. Deam Wilderness, there are still headstones and grave markers in five cemeteries on the property, just in case you stumble across one and start wondering...
The wilderness was named in honor of Charles C. Deam, former Indiana State Forester.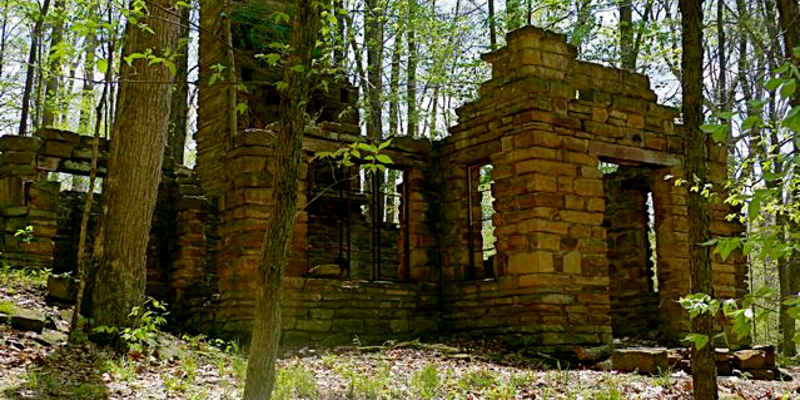 Stone cabin ruin beside the Axsom Branch Trail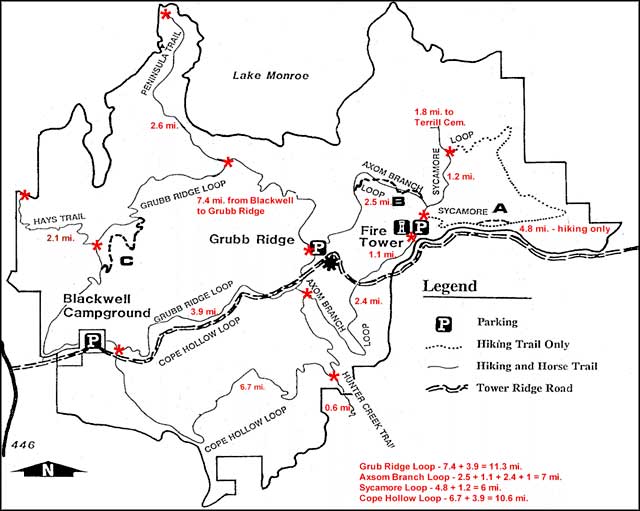 Photo of the Axsom Branch cabin ruins courtesy of Steve Skinner,
CCA-by-SA 3.0 License
Photo of Grubb Ridge courtesy of Roger Lester, US Forest Service
Map courtesy of the US Forest Service