Hoosier National Forest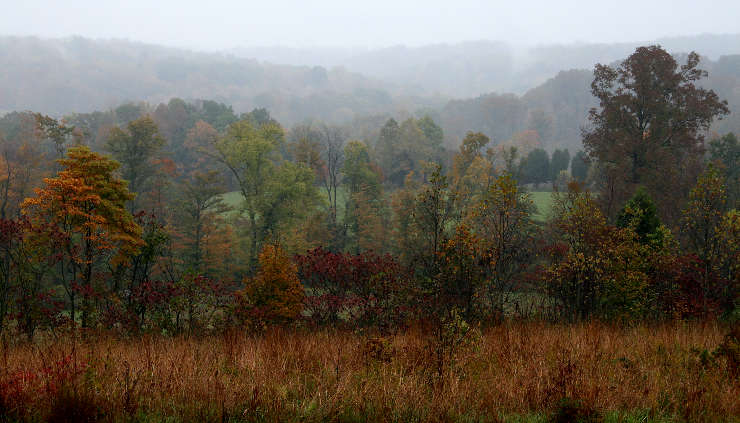 Hoosier National Forest
Hoosier National Forest is a 202,814-acre property (four non-contiguous sections) in south-central Indiana. Much of the forest grows over a karst landscape: limestone, sandstone, potholes, sinkholes, lots of water... Evidence points to the first humans passing through the area about 12,000 years ago. Successive cultures came and went until Euro-Americans began to arrive in numbers beginning in the late 1600's. Beginning in the mid-1800's, the forests were progressively more and more impacted by the timbermen as they strove to feed the construction of the growing cities north and south. By 1910 virtually all of southern Indiana had been clear cut and people were starting to leave. In the early 1930's some nasty erosion was happening and the Governor of Indiana appealed to the Federal government for help. That resulted in the creation of Hoosier National Forest in 1935.
Hoosier National Forest is home to the Charles C. Deam Wilderness, the only wilderness area in the state. Between 1811 and 1891 there was a colony of free African-Americans living in the woods south of what is now Chambersburg. Today the forest is a lush mature second-growth forest of hardwoods and pine with plenty of white-tailed deer and wild turkey running around.
Hoosier National Forest offers almost 266 miles of trails, many miles of which allow mountain biking. Nowhere in the forest are motorized vehicles allowed off-road. Campgrounds are located near the large lakes and trail system hubs. Five campgrounds are associated with horseback-riding trail systems. Common mammals on the forest include woodchucks, opossum, white-tailed deer, fox and gray squirrel. Among the birds who visit and hang out are pileated woodpeckers, waterfowl, shorebirds, songbirds and wild turkey. The karst geology lends itself to lots of caves (all of which are closed to the public) and lots of unusual cave species.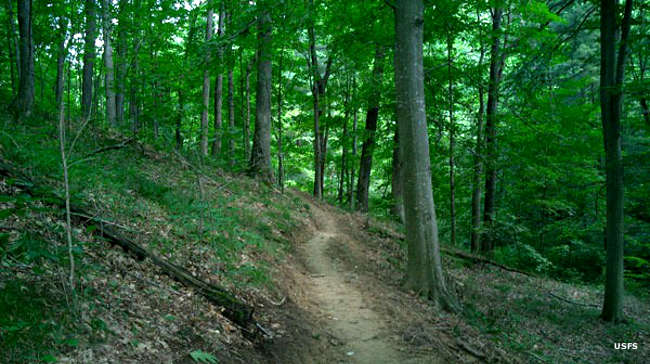 The Sycamore Trail on Hoosier National Forest
Hoosier National Forest
US Forest Service

Upper photo is in the public domain
Bottom photo courtesy of the US Forest Service