East Fork High Rock Canyon Wilderness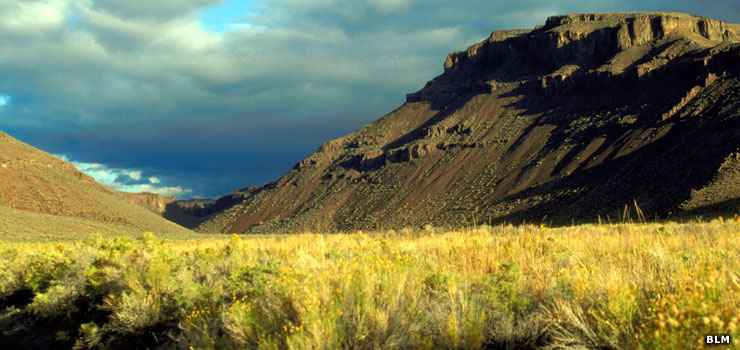 High Rock Canyon Wilderness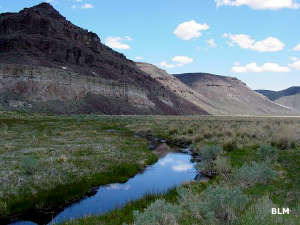 The 52,617-acre East Fork High Rock Canyon Wilderness is in the northern Calico Mountains, bordering the High Rock Canyon Wilderness to the south and west. This is an area of volcanic uplands cut by the drainages of the East Fork of High Rock Canyon and by High Rock Canyon itself. The canyons vary between 200 and 500 feet deep, eroded through yellow, brown, red, orange and gray layers of volcanic rock. Elevations in the wilderness vary between 4,900' and 6,600'. Other than one small stand of aspen and some willows, the vegetation consists mainly of sagebrush. The canyons are somewhat better watered here and support riparian areas and meadow complexes.
The wildlife consists of pronghorn antelope, mule deer, California bighorn sheep, mountain lion, coyote and sage grouse. A lot of raptors find the canyon walls ideal for nesting purposes.
The Applegate-Lassen Emigrant Trail passed along the western boundary of the wilderness and you can still find the remains of old homesteads from those days in the East Fork High Rock Canyon area. There are also several archaeological sites in the wilderness with artifacts found that were dated to go back thousands of years.
East Fork High Rock Canyon Wilderness is part of the Black Rock Desert-High Rock Canyon Emigrant Trails National Conservation Area.
BLM Map of the Area - 300KB.

Along the Applegate-Lassen Emigrant Trail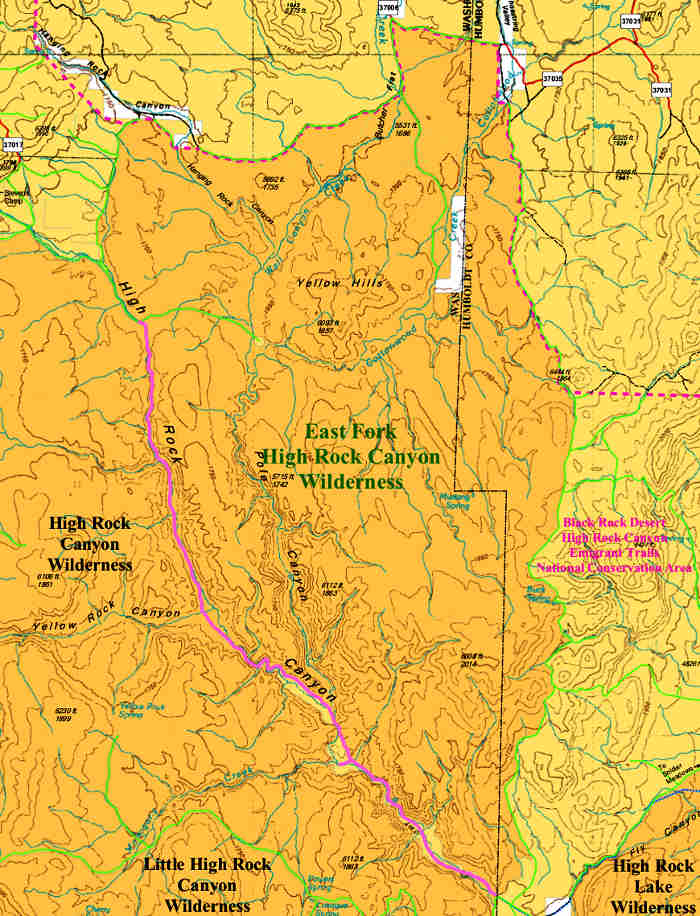 East Fork High Rock Canyon Wilderness map
East Fork High Rock Canyon Wilderness
Surprise Field Office -

Bureau of Land Management
602 Cressler Street, PO Box 460

,

Cedarville

,

CA

96104
530-279-6101
Photos and map are courtesy of the Bureau of Land Management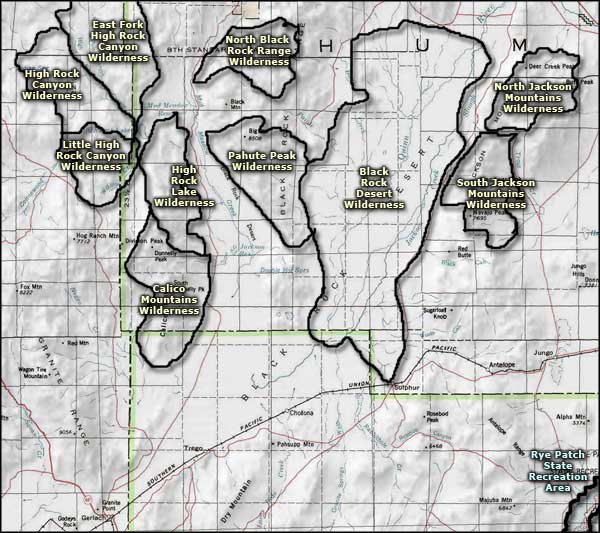 Related Pages
Map courtesy of National Geographic Topo!