Silver Peak Wilderness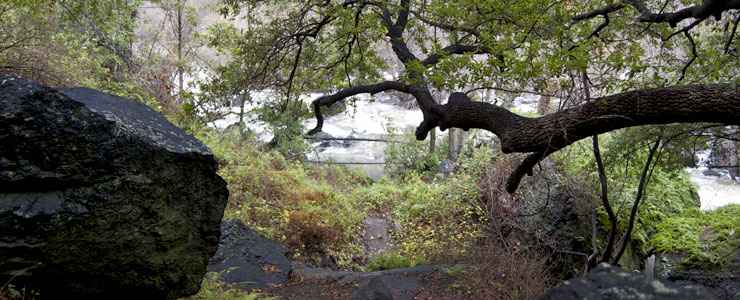 On the Salmon Creek Trail, Silver Peak Wilderness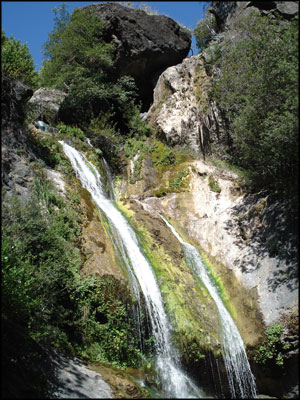 Silver Peak Wilderness is a 31,555-acre property in Los Padres National Forest. The wilderness straddles the Santa Lucia Mountains along the southern boundary of Monterey County from Fort Hunter Ligget on the east to Highway 1 and the Big Sur coastline on the west. The wilderness is split in half by the fire roads to Alder Creek through the Willow Creek drainage.
From the edge of the Pacific, Silver Peak Wilderness rises steeply to the summit of Silver Peak (3,590 feet) then travels eastward across sharp ridges and deep valleys.
There is an isolated stand of coastal redwoods on the wilderness, the southernmost stand of coastal redwoods on Earth. There is also a grove of rare Sargent cypress, Santa Lucia fir and gray pines. Most of the other big trees in the area are red alders, big leaf maples or California sycamores. Open slopes tend to be dominated by a ceanothus/manzanita chaparral with coastal live oak and gray pine mixed in. The streambeds often contain lush riparian zones with lots of ferns.
Salmon Creek Falls is a popular destination in the wilderness with the Salmon Creek Trail being the most popular access route to the inner wilderness area.
Views on the ridgetops extend from the Pacific on the west to the Salinas Valley on the east and the Big Sur coastline on the north. Because of the ruggedness of the terrain, the trails are rated as moderate to strenuous.
Silver Peak Wilderness
Los Padres National Forest -

US Forest Service