White Mountains Wilderness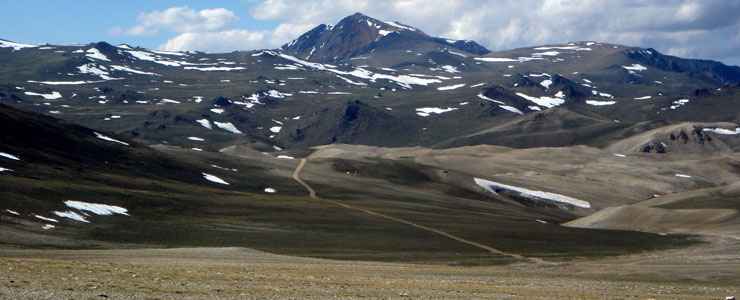 White Mountain, on the edge of White Mountains Wilderness
White Mountains Wilderness is a 230,123-acre property in Inyo National Forest and spilling over onto Bureau of Land Management property in the White Mountains of southern California. On the wilderness is Cottonwood Creek, a designated Wild and Scenic River. Cottonwood Creek is the only stream in the Great Basin area fully protected from its source in the alpine zone to its end in the Great Basin desert.
The White Mountains rise very sharply from Chalfant and Owens Valleys on the west to a ridgeline exceeding 13,000 feet in several places. At 14,246 feet, White Mountain itself is the highest peak in the Great Basin (and third highest in California) but the summit is not technically part of the wilderness. Nor is the jeep road that climbs to that summit. The rest of the crest isn't a ridgeline as such but a high series of narrowly connected plateaus above treeline, an area that contains the largest expanse of alpine tundra in far southwestern United States. At the northern end of the crest is Boundary Peak, highest point in Nevada.
This is an area of rolling plateaus, each surrounded by steep terrain and deep canyons. The habitat is perfect for the growing of mule deer, pronghorn antelope and desert bighorn sheep. Also on the property is the northern portion of the Ancient Bristlecone Pine Forest, sharing the countryside with more than 1,000 other native species and varieties of plants.
There are several 4WD roads that give access to the southern and eastern sides of the wilderness but there are only a very few trails on the property and none of those is maintained on any regular basis. Most visitors are going to the summit of White Mountain and the easiest way to do that is to either drive there or hike up the road there. The Ancient Bristlecone Pine Forest straddles the road, it's not an area where camping is allowed. Almost anywhere in the wilderness itself is fair game but overnight visitors will need to have a campfire permit.
The eastern slopes are another relatively easy climb to the summit and they show off numerous cirques left behind by the mountain-carving action of Ice Age glaciers. The western slopes are sharp and steep, rising up to 8,000 feet above the valley floors before easing off a bit on the angle.
White Mountains Wilderness
Inyo National Forest -

US Forest Service & BLM