South Maricopa Mountains Wilderness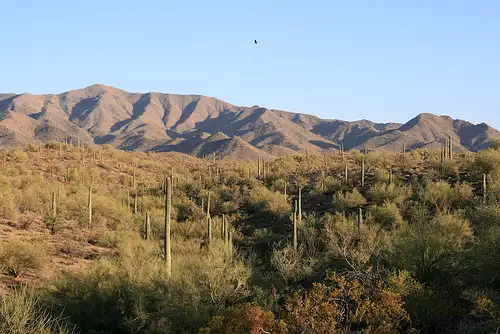 South Maricopa Mountains Wilderness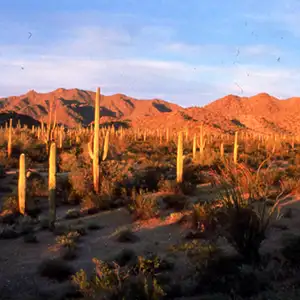 The South Maricopa Mountains are a typical low-elevation desert mountain range in the Sonoran Desert. The 60,100-acre property was designated wilderness in 1990, then it was included in the Sonoran Desert National Monument when that was designated in 2001.
Elevations in the South Maricopas range from a low of 1,280 feet at the western boundary on the bajada surface to about 3,270 feet along the upper mountain ridge. The wilderness includes about thirteen miles of the main mountain ridge line and extensive desert plains around it. The western portion of the wilderness is characterized by desert flats separated by alluvial plains fanning out from the mountains. The eastern part features an interior plains section almost completely hidden and screened by the surrounding ridges and peaks. The property is shared by two major vegetation communities: Creosote-Bursage community (a dense, nasty chaparral that covers the lowest parts of the wilderness) and the Paloverde-Mixed Cacti community (typical Sonoran Desert forests of saguaro, cholla, ocotillo, ironwood and paloverde).
Folks come for the hiking, horseback riding, backpacking and camping opportunities offered. There's not much in the way of rock climbing but while hiking you may come across desert bighorn sheep, bobcat, coyote, desert tortoise, mule deer, fox, Gambel's quail, the usual assortment of songbirds, reptiles, insects and arachnids and numerous raptors necessary to keep the populations under control.
To get there: you'll want to have a high clearance 4WD vehicle once you leave pavement. South Maricopa Mountains Wilderness is about 30 miles southwest of Phoenix, 16 miles east of Gila Bend. Interstate 8 parallels the southern boundary but offers no access points. From the north, there are several old jeep trails that head south from Maricopa Road, just be careful of the railroad tracks and restricted rights-of-way to cross them. There's no public access to the east or west boundaries.
7.5-minute Topo Maps: Blue Plateau, Big Horn, Conely Well, Bosque, Gila Bend, Estrella, Lost Horse Peak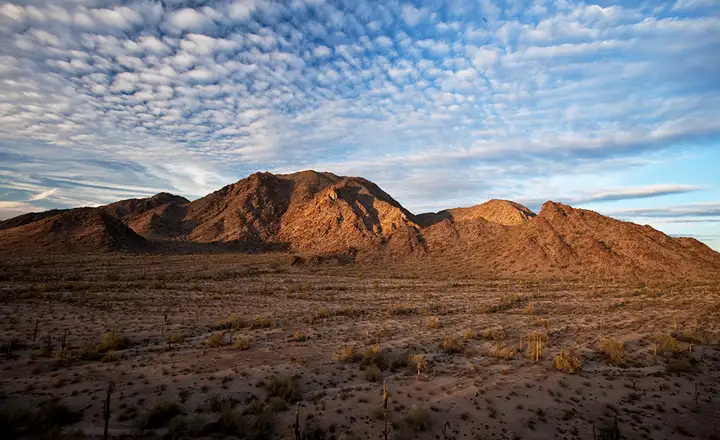 Looking across the desert in South Maricopa Mountains Wilderness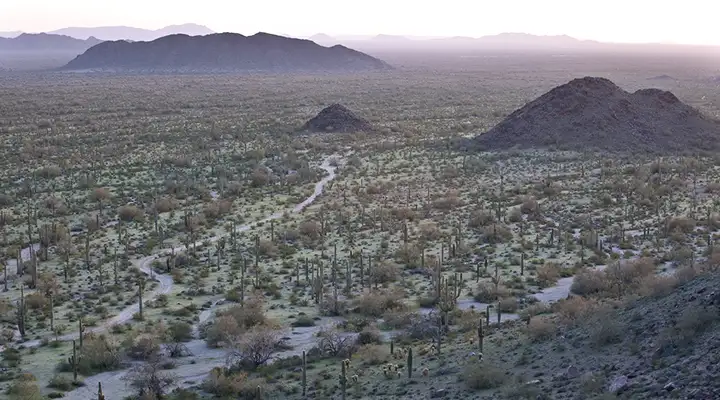 More of the Sonoran desert floor
Sunrise on the Sonoran desert
South Maricopa Mountains Wilderness
Bureau of Land Management

- Lower Sonoran Field Office

Photos courtesy of the Bureau of Land Management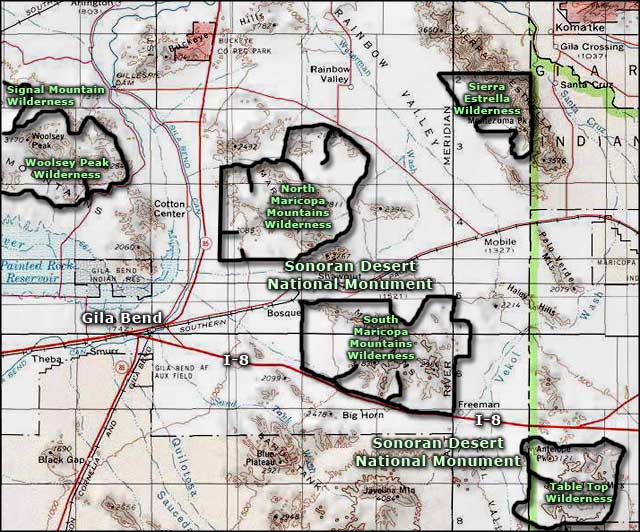 Related Pages
Map courtesy of National Geographic Topo!