Sierra Estrella Wilderness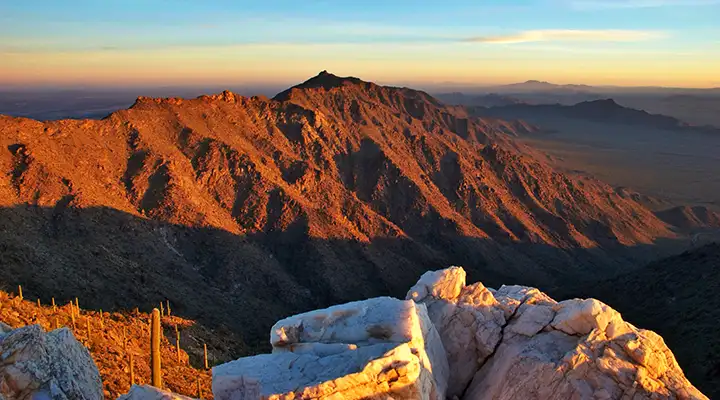 Hayes Peak from Quartz Peak in Sierra Estrella Wilderness
Sierra Estrella Wilderness is a 14,400-acre wilderness area in one of the most rugged mountain ranges in Arizona. The slopes are steep and short: Butterfly Mountain rises some 2,600 feet in only two miles. The canyons are rough and rocky, the upper ridge lines knife-edged. Everything on the property is designed to challenge human intruders. The primary trail on Sierra Estrella Wilderness leads to the summit of Quartz Peak. Most other hiking routes are either in the rocky/sandy washes, gullies and arroyos or along the ridge lines.
The lower reaches of Sierra Estrella Wilderness are sprinkled with cholla, ocotillo, saguaro, elephant bush and paloverde. At the tops of the mountains you'll find some small stands of shrub oak and juniper among all the exposed rock.
There are a few desert bighorn sheep roaming the area but you'll probably also find mule deer, javelina, mountain lion, coyote, desert tortoise, Gila monster, giant spotted whiptail lizard and the usual assortment of reptiles, insects, songbirds and arachnids to feed the reasonably large population of prairie falcons, golden eagles and Cooper's hawks that also live and breed here.
To get there: the only access allowed is along the western boundary as the rest of the wilderness boundary is against the Gila River Indian Reservation. You'll need high clearance 4WD as the approach roads are all extremely sandy/silty and the wash crossings tend to be deep and very rugged. Exit Interstate 10 at exit 121 and go south to Rainbow Valley Road and Riggs Road. From there you'll find several unmaintained dirt roads that go east to the wilderness boundary.
7.5-minute Topo Maps: Mobile NE, Montezuma Peak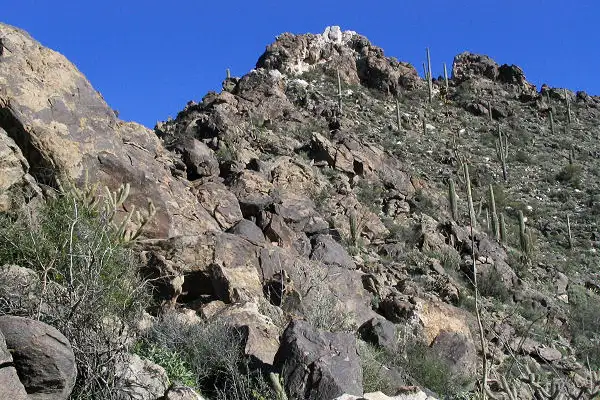 The upper ridge line of the Sierra Estrella Mountains in Sierra Estrella Wilderness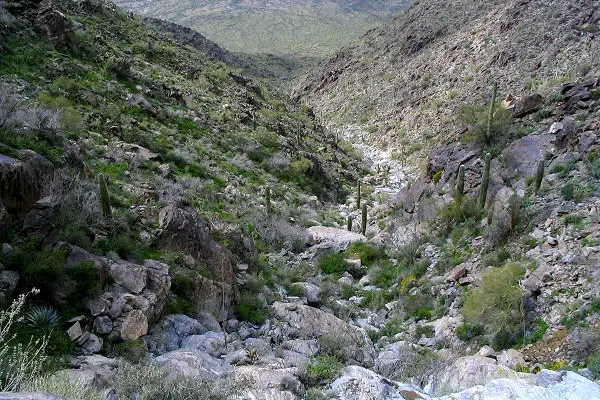 A typical scene at the bottom of Sierra Estrella Wilderness
Sierra Estrella Wilderness
Bureau of Land Management

- Lower Sonoran Field Office
Upper photo courtesy of Mike Sanchez,
CCA-by-SA 3.0 License
Other photos courtesy of the Bureau of Land Management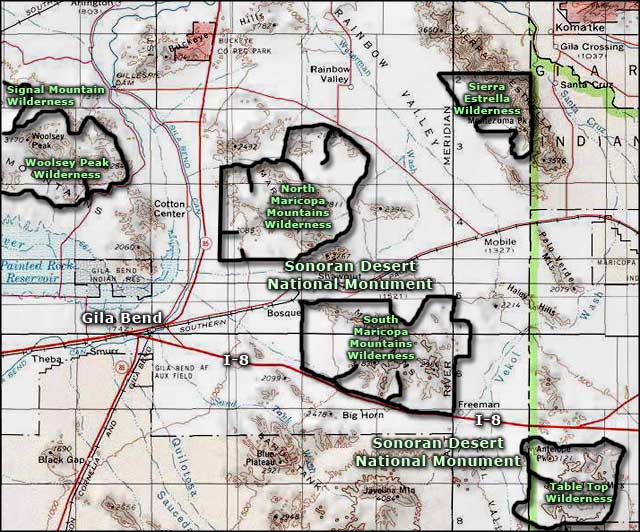 Related Pages
Map courtesy of National Geographic Topo!