Lizard Head Wilderness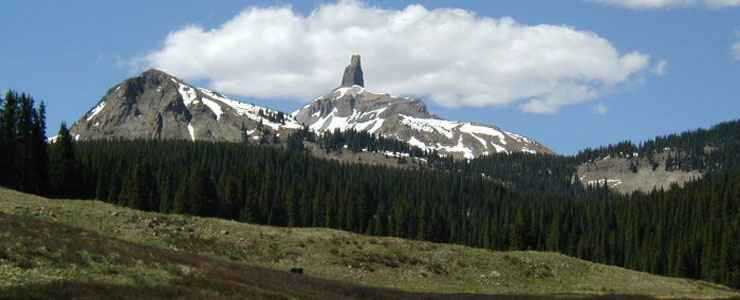 Lizard Head rises above the heart of Lizard Head Wilderness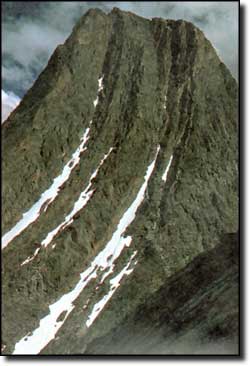 Straddling the line between San Juan and Uncompahgre National Forests, Lizard Head Wilderness is 41,309 acres of jagged mountain peaks connected by serrated ridges. At the eastern end of the Wilderness you'll find the Wilson Group of mountains: Mount Wilson (14,245'), Wilson Peak (14,017'), El Diente (14,159'), South Wilson (14,110'), and Gladstone Peak (13,913'). At the western end of the Wilderness is Dolores Peak (13,290') where you can stand on the summit in deep snow and look out over the barren red-rock, dry canyon country of southwestern Colorado and southeastern Utah.
The Wilderness' namesake, Lizard Head Peak (13,113'), is a nasty, rotten-rock 400-foot-high vertical pillar that many experienced mountaineers rate as Colorado's most difficult and dangerous climb. Climbing it is really not recommended.
The rest of the Wilderness though, is absolutely gorgeous: a land of wildflower-strewn alpine tundra feeding swift mountain streams that drop over several dramatic waterfalls, a spruce-fir-lodgepole pine forest below treeline, great stands of aspen below that... The fishing is excellent, the hunting is good, the human use is light on the more than 37 miles of strenuous trails. There are also several permanent snowfields in the mountains here and you can expect freezing temperatures at any time of the year.
Most of the Bilk Creek Trail is located in this Wilderness. This steep and scenic trail starts at the junction of Wilson Sunshine Road #623 and Wilson Mesa Trail. The Bilk Creek Trail passes several waterfalls and the ruins of the Morning Star mine. Eventually, it connects with the Lizard Head Trail. From the north, the Wilderness can be entered on the Silver Pick and Lone Cone Trails. From the south, Groundhog Stock Driveway and Navajo Lake Trail enter the Wilderness. You can camp just about anywhere but open campfires are forbidden in the basin around Navajo Lake.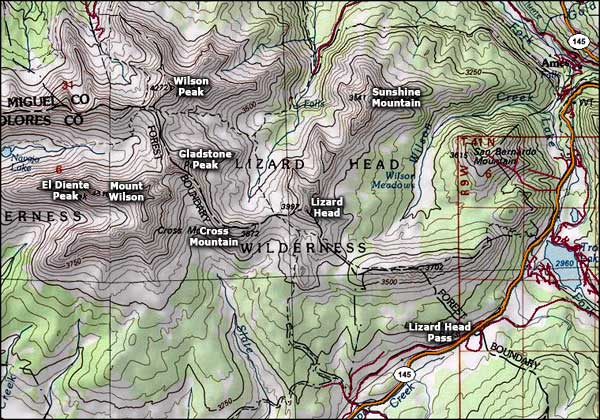 The heart of Lizard Head Wilderness
Lizard Head Wilderness
San Juan & Uncompahgre National Forests -

US Forest Service

Upper photo courtesy of NOAA
Upper left photo courtesy of the US Forest Service
Map courtesy of National Geographic Topo!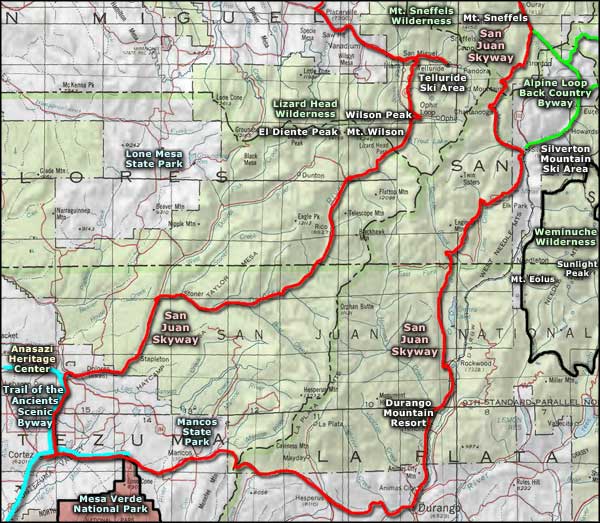 Related Pages
Map courtesy of National Geographic Topo!