Alpine Loop Backcountry Byway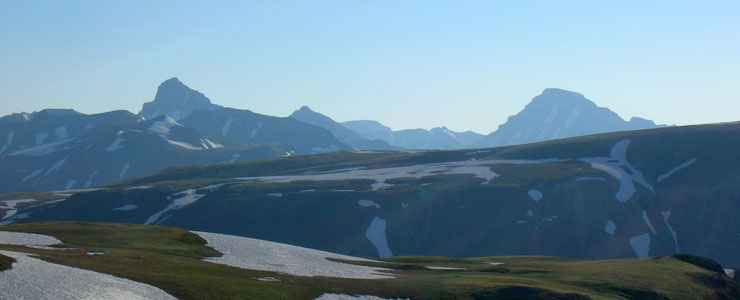 Wetterhorn and Uncompahgre Peaks, along the Alpine Loop Backcountry Byway
The Alpine Loop Backcountry Byway is a series of mostly dirt roads that cross the San Juan Mountains, connecting Lake City on the east with Ouray and Silverton on the west. This is some of the most beautiful countryside in Colorado and sections of this route are among the most challenging. 2WD vehicles with some clearance should be able to make it up the Engineer Pass Road almost to treeline with no problem, but once past treeline... On the Cinnamon Pass Road the complications begin just past Burrows Park. And as bad as the roads are over the passes, when you see those San Juan County Road 2 signs, get ready for really baaaad road. That said, with a proper vehicle under me I'd drive this whole Backcountry Byway again in a heartbeat.
The first time I drove the Engineer Pass Road was right around the summer solstice. The streams were still running high with snowmelt and the upper elevations still had lots of snow on them. When I got to Engineer Pass, the snowbanks were four feet high: the road had only been plowed a few days before. But the countryside was breathtaking, the views jaw-dropping and my need to be in and out in only a couple days very annoying. I could easily have spent a couple weeks touring this countryside. I did make the turn and go to the Matterhorn Trailhead for a hike in the Uncompahgre Wilderness above treeline. There were two high mountains there (Wetterhorn and Uncompahgre) that I could look at and drool over but didn't have time to climb. And I slept that night near Capitol City. I ate breakfast at the Whitmore Falls overlook and was crossing Engineer Pass before lunch. As annoying as it was to be traveling that quickly, it was a good thing: when I came to the road junction with US Highway 550 south of Ouray, incoming traffic was starting to get bad and the road was very narrow. However, it had been a drive to remember and, as I said before, I'd do it again in a heartbeat.
The Cinnamon Pass Road starts out along the shore of Lake San Cristobal, south of Lake City. The first several miles are paved and pass by some pretty large homes and a couple ranches. Then you hit the BLM boundary and the pavement ends. I only went in as far as Burrows Park, just past there I started coming to open trenches in the road (from spring water-flows) and the vehicle I was in wasn't up to it. So I parked at the parking area at Burrows Park and hiked around a bit on the trails there. The trails gave access to Handies Peak, Sunshine Peak and Redcloud Peak, three of Colorado's famous 14,000-foot mountains. Again, I wish I'd had more time: I'd have ticked off three more 14ers on my mountain list - but there's something about dancing to the tune of a day job...
I have more than 200 photos from these drives and over time I hope to build a few more pages here and include some of them. The drives were simply gorgeous and there weren't very many people out there on the road. I would imagine July, August and September see more traffic but it starts snowing in late September and the passes are often closed by the end of October. And as much as I whine about how bad the roads were in San Juan County, the countryside was exquisite: Colorado the way we've all dreamed it to be.

Deep in the San Juan Mountains of San Juan County, on the Alpine Loop Backcountry Byway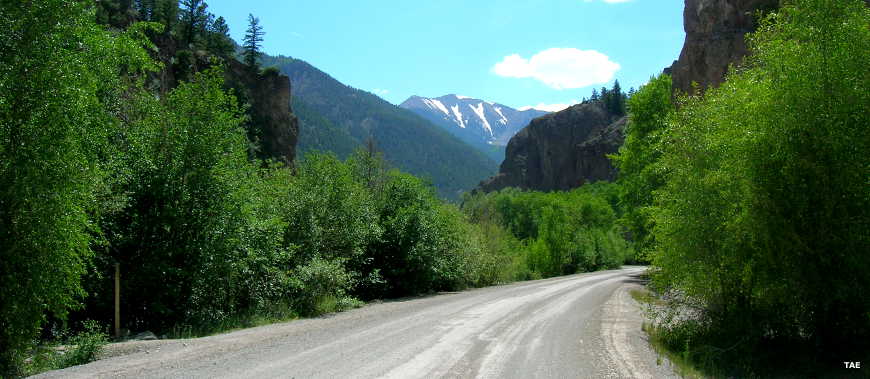 On the Engineer Pass Road just out of Lake City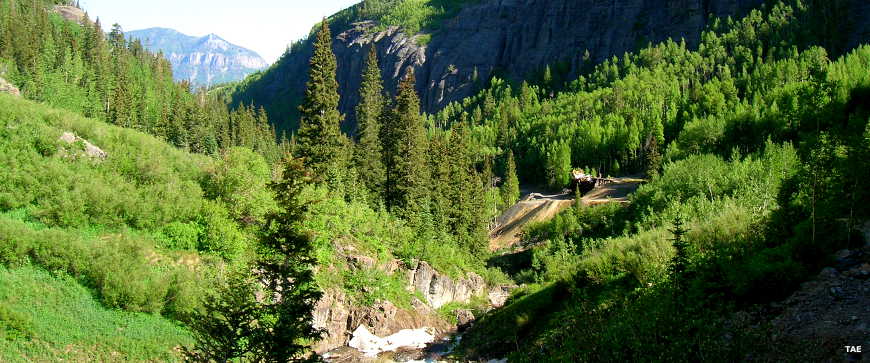 Engineer Pass Road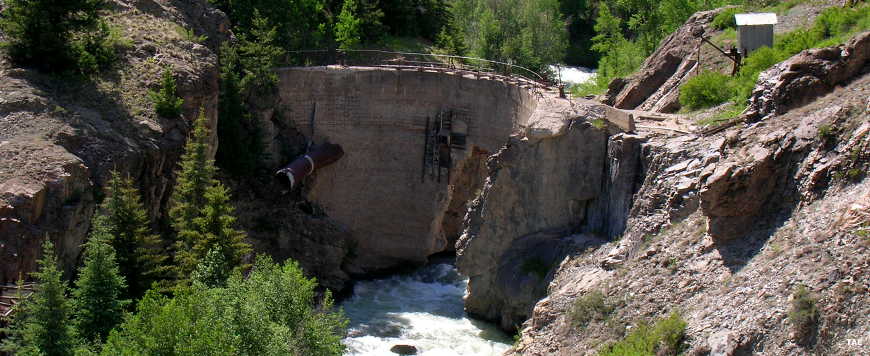 An old mine dam along the Engineer Pass Road

Lake San Cristobal at the beginning of the Cinnamon Pass Road

Coming up on Engineer Pass on the first day of summer

Looking west from the summit of Engineer Pass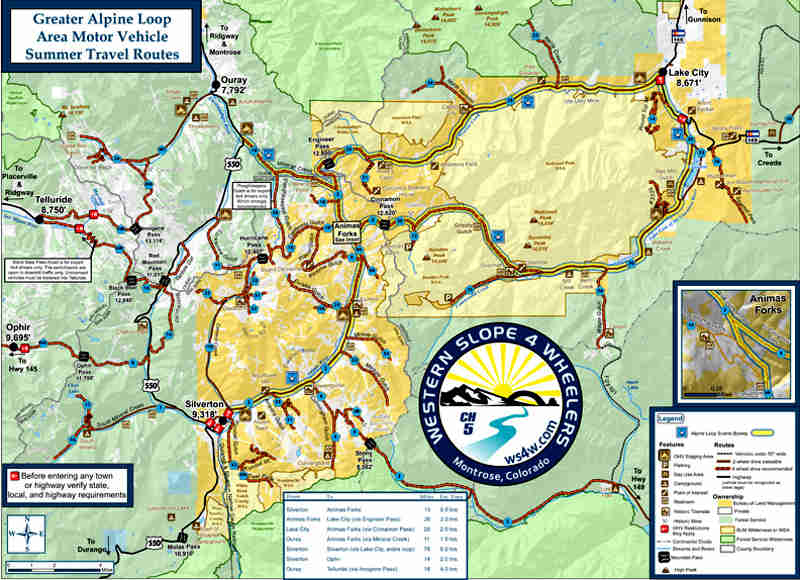 Photos courtesy of TheArmchairExplorer,
CCA-by-SA 4.0 License
Map courtesy of the Western Slope 4 Wheelers