Uncompahgre Wilderness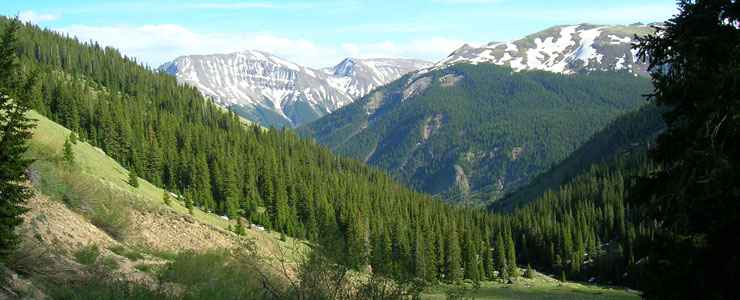 Along the Matterhorn Trail into Uncompahgre Wilderness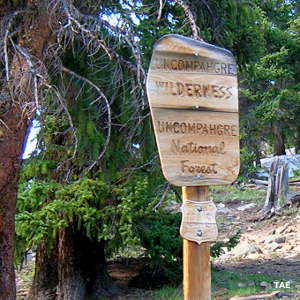 Uncompahgre Wilderness contains more than 102,700 acres of land, most of it part of Uncompahgre National Forest but a small section is Bureau of Land Management property.
Years ago this was known as the Big Blue Wilderness but the name changed when the wilderness area was last expanded with the inclusion of BLM land. Contained within the wilderness are Wetterhorn Peak (14,015 feet) and Uncompahgre Peak (14,309 feet), two of Colorado's most popular climbing peaks.
Elevations begin around 8,400 feet and rise to above 14,000 feet. The forest is a mix of lodgepole pine, spruce, Douglas fir and aspen but once you get above 11,500 feet, you're into the alpine tundra. The lower areas are usually snow-free by early June but some areas will hold snow all year round. There's more than 150 miles of hiking and horseback riding trails in the Uncompahgre Wilderness. Most of them are little maintained while the more popular routes (especially to the big mountains) get heavily eroded quickly. The Colorado 14er Initiative has been working to rebuild and relocate parts of the Wetterhorn Trail because it sees so much traffic and is in such bad condition. Many of the trails follow old logging and mining roads that were in place before the wilderness designation was added.
Most climbers access the Uncompahgre Wilderness via the Alpine Loop Backcountry Byway coming west out of Lake City. The Byway itself in this area is reasonably easy road to travel but I took a turn one day and headed up the Matterhorn Trail from near Capital City. The further I went, the happier I was that I had excellent clearance and good 4WD (with aggressive tires). I was a bit surprised to find only one other vehicle at the Matterhorn Trailhead but in my hike, I didn't see another soul (summer solstice day, 2008). I camped at the trail head that night and woke in the morning to find ice in my water bottles.

Matterhorn Peak in the Uncompahgre Wilderness

Heading for Uncompahgre Peak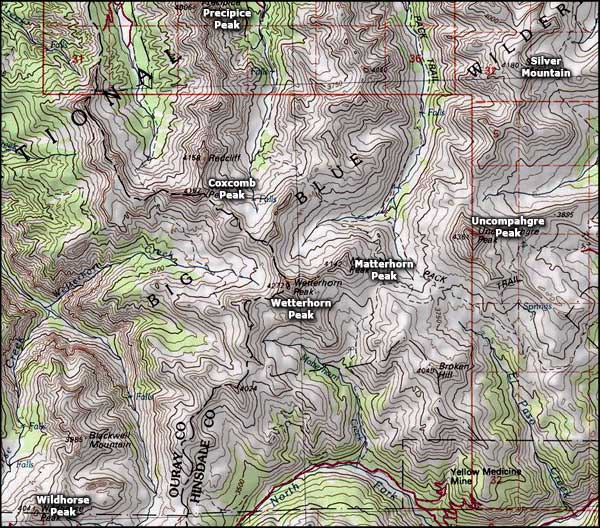 The heart of Uncompahgre Wilderness
Uncompahgre Wilderness
Uncompahgre National Forest & BLM -

US Forest Service & BLM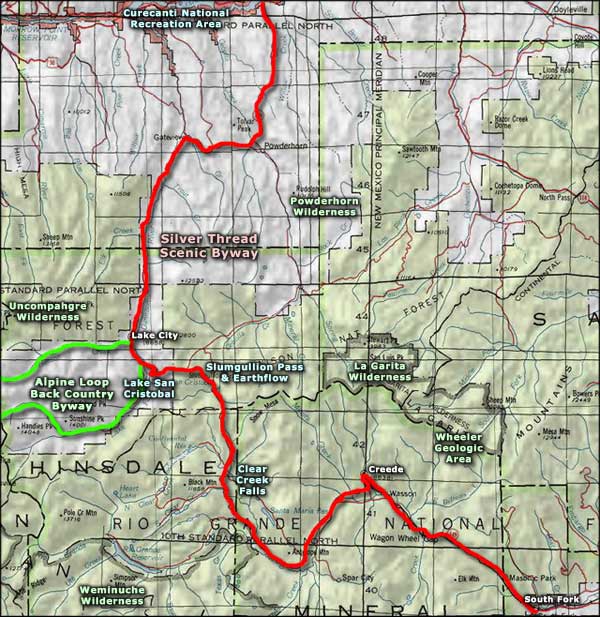 Related Pages
Map courtesy of National Geographic Topo!