Gunnison National Forest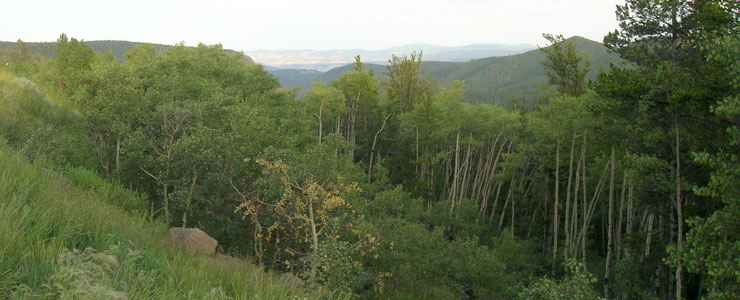 Gunnison National Forest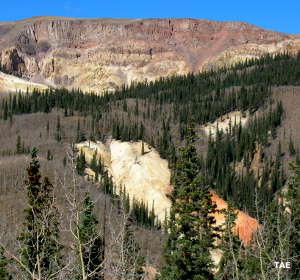 Gunnison National Forest was named for Captain John Gunnison, leader of a survey team that came through this area in 1853 in search of a feasible route across the Continental Divide for a railroad. The Gunnison party made it over to western Utah before being killed by the local Paiutes but these days his name is all over this countryside.
The present forest consists of over 1.7 million acres of public land and over 100,000 acres of private land within its boundaries. There are 2 peaks over 14,000' and another 20 over 13,000' in elevation. The Gunnison, Grand Mesa and Uncompaghre National Forests were administratively combined in 1976. The Forest Supervisor's office is in Delta, CO.
Most campgrounds in the Forest are designed to accommodate campers, tents and small trailers (up to 18 feet long). Length-of-stay limits are posted on the bulletin boards in the campgrounds and the usual limit is 14 days. User fees are charged in some recreation areas that are identified by signs at their entrances.
The Alpine Loop Backcountry Byway crosses the forest between Lake City, Silverton and Ouray. This rugged road travels through spectacular and colorful high mountain scenery, providing access to several ghost towns and the summits of Redcloud, Handies, Sunshine, Wetterhorn, and Uncompahgre Peaks (all 14ers).
People are also still discovering Anasazi ruins in the Forest. If you come across ruins, please leave them undisturbed and report your discovery to the appropriate Forest Service personnel. In this area, we are learning much about our Native American heritage through the study of previously unknown and undisturbed sites and artifacts.

Wetterhorn, Matterhorn and Uncompahgre Peaks (l to r)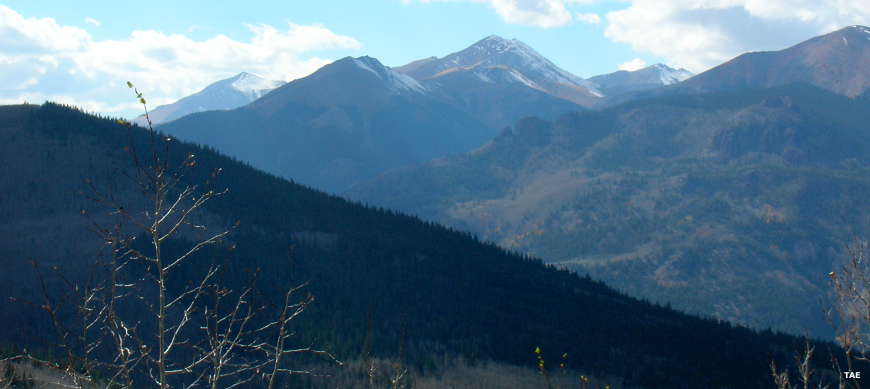 Grassy Mountain in the San Juans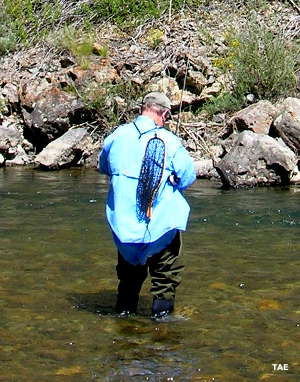 Things to see & do in the Forest
Alpine Tunnel - at 11,524 feet, the highest and most expensive railroad tunnel in Colorado. Built in 1880-1881 by the Denver, South Park & Pacific Railroad and costing between $120,000 and $300,000, this 1/3 mile of tunnel was only used until 1910.
Elk Creek - Headquarters for the Curecanti National Recreation Area with a Visitor Center offering exhibits explaining the cultural and natural history of the area.
Crested Butte - founded in 1879 as a coal mining town Crested Butte is known today for skiing, tourism and ranching.
Pioneer Point - one of the most striking viewpoints on the north rim of the Black Canyon of the Gunnison.
Kebler Pass Road - between Crested Butte and Paonia Reservoir, this road offers many views of the Raggeds, Ruby Range and the West Elk Mountains. This is also one of the prettiest drives in Colorado for fall colors. The aspen are bright and beautiful from mid to late September, ranging in color from yellow to pink to orange, and contrasted by the rich reds and oranges of the gambel oak.
Slumgullion Earthflow - a natural earth flow that began sliding downhill 700 years ago and formed the dam creating Lake San Cristobal.
Castle Peak - at 14,265 feet, the highest point on the Forest.
Taylor Park Reservoir - when full it offers 2,033 surface acres of excellent fishing and boating recreation. Downstream is Taylor Canyon offering fishing, rafting and camping in a canyon 20 miles long with walls up to 400 feet high.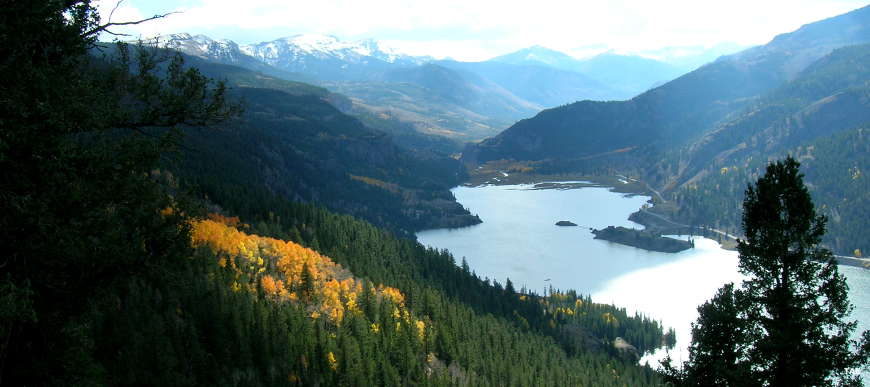 Lake San Cristobal and the San Juans
That road beside the lake begins the Cimarron Pass section of the Alpine Loop Backcountry Byway
130 miles of the Continental Divide National Scenic Trail is also on the Gunnison National Forest. There are hundreds of miles of other hiking trails also on the Gunnison National Forest ranging from easy day hikes, to moderate and rugged multi-day back country trips.
Forest Service maps and information are available from the Forest Service offices. Maps, books and postcards are sold by the Western Colorado Interpretive Association at the Gunnison and Delta Forest Service offices, as well as in Lake City at the joint Forest Service, Bureau of Land Management and Lake City Chamber of Commerce Information Office.
Lake Fork of the Gunnison, north of Lake City
Gunnison National Forest
US Forest Service