La Garita Wilderness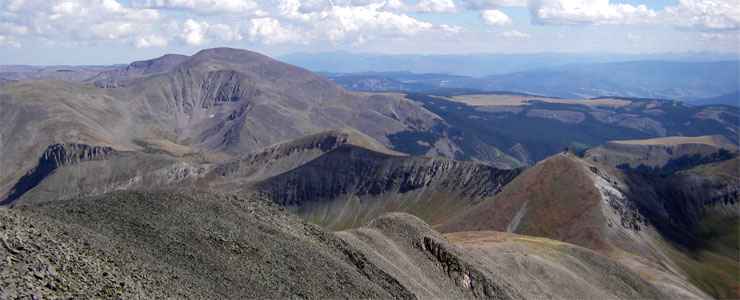 Looking south from the summit of San Luis Peak in the La Garita Wilderness
La Garita Wilderness contains some 129,626 acres that straddle the boundary between the Gunnison and Rio Grande National Forests. A large part of the wilderness area is the remains of the La Garita Caldera, a supervolcano that spewed volcanic lava, ash and other debris for about 1.5 million years (beginning around 28 million years ago) before finally exploding and collapsing into what we see today. That explosion is classed as the largest explosive eruption in the history of the planet with ash and debris falling as far away as the east coast of North America. The high point on the property is the summit of San Luis Peak at 14,104 feet. Nearby are Organ Mountain, Baldy Alto and Stewart Peak, all 13,000-foot-plus mountains easily reached by walking the ridges of San Luis.
La Garita Wilderness is one of the less visited wilderness areas in Colorado because it is relatively remote. In spite of that remoteness, there are about 175 miles of hiking and horseback riding trails on the wilderness. The Continental Divide runs for about 35 miles across La Garita Wilderness and the Continental Divide National Scenic Trail parallels that. 27 miles of that route are also part of the Colorado Trail, a long-distance route that connects Denver with Durango.
La Garita Wilderness sports lots of streams and ponds with beaver, mule deer, elk and moose (in some areas where the Colorado Division of Wildlife has been reintroducing them). Canada lynx have also been reintroduced in these forests. The tree coverage is mostly pinon pine and juniper in the lowest elevations with Ponderosa pine, then Douglas fir and aspen, then limber and lodgepole pine with mixed spruce, then krummholz, then alpine tundra as the elevation increases. A lot of La Garita Wilderness is above treeline and contains significant bare rock and alpine tundra.
On the southern side of the property is Wheeler Geologic Area: a zone of thick volcanic ash that has eroded into wildly colored spires and hoodoos. Once upon a time, Wheeler was a designated National Monument and was one of the most visited places in Colorado. Then in 1950, the federal government decided it was too remote so the classification was downgraded and the property was included in the La Garita Wilderness when the wilderness was born. There is a pretty wild road that almost reaches to the edge of Wheeler Geologic Area whose route was "cherry-stemmed" into the wilderness, but some years that road is so washed out as to be virtually undrivable, even by high-clearance 4WD. Most folks park about 8 miles away and hike the "short-cut" (the East Bellows Trail, FS790).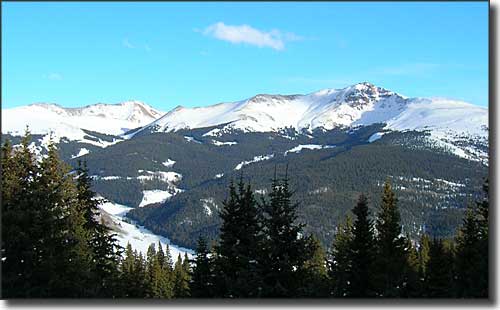 Baldy Cinco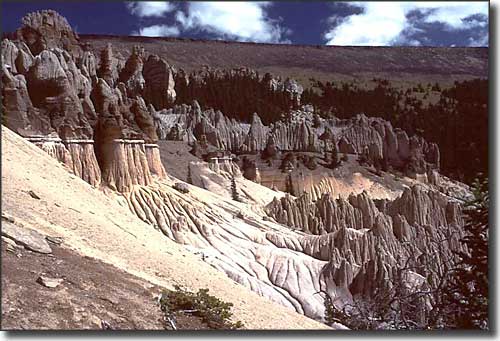 Wheeler Geologic Area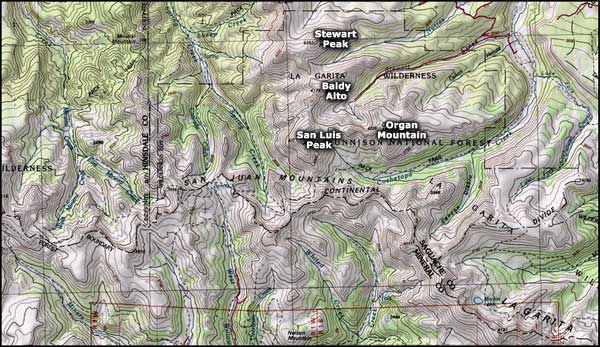 La Garita Wilderness
Gunnison & Rio Grande National Forests -

US Forest Service
Photo of Baldy Cinco courtesy of TheArmchairExplorer,
CCA-by-SA 3.0 License
Photo from the summit of San Luis Peak courtesy of Mikejonesman,
CCA-by-SA 3.0 License
Photo of Wheeler Geologic Area courtesy of G. Thomas
Map courtesy of National Geographic Topo!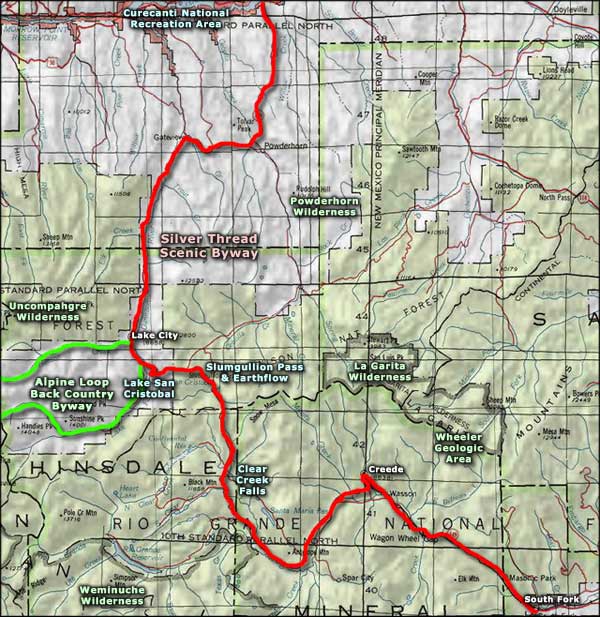 Related Pages
Map courtesy of National Geographic Topo!