Powderhorn Wilderness

Powderhorn Wilderness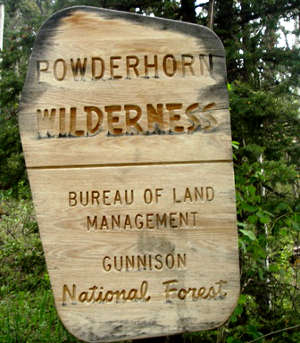 Located about 10 miles northeast of Lake City, Powderhorn Wilderness is a mix of Forest Service and Bureau of Land Management property. The BLM contributes about 46,277 acres to the wilderness area while Gunnison National Forest contributes the remaining 13,823 acres of the total 60,100 acres. Elevations on the property range from a high of 12,600 feet to a low of 8,699 feet. The lower elevations are forested with a Ponderosa pine/spruce/fir mix while the upper elevations of this property contain one of the largest undisturbed alpine tundra areas in the 48 contiguous states. With the lack of tree cover on the upper plateaus, the views reach as far as the San Juan, Sawatch and Elk Mountains.
The western and northern slopes of Powderhorn Wilderness are significantly steeper than the southern and eastern slopes. The upper plateau is also relatively flat with wide, shallow valleys and a lot of running water. There are several hundred mule deer and elk roaming the property in the warmer seasons and the trout fishing at Devil's and Powderhorn Lakes is excellent. You'll also find mountain lion, bobcat, beaver, coyote and smaller mammals. Every now and then a moose from the Spring Creek Pass herd will wander into the riparian areas. There's about 45 miles of trail that give access to nearly the entire wilderness area, although most of the trails come from the east and south.
The plateau that makes up most of Powderhorn Wilderness is a thick deposit of volcanic lava and ash, deposited during the days of San Juan Mountain building during the Tertiary era. This area is now the headwaters of several different creeks, most of which eventually empty into the Lake Fork of the Gunnison River.
There is a proposal in front of Congress to add another 3,390 acres of BLM property to the wilderness area. The proposed addition lies to the west and north of the already designated wilderness: between the wilderness boundary and the Silver Thread Scenic Byway north of Lake City.

Sunset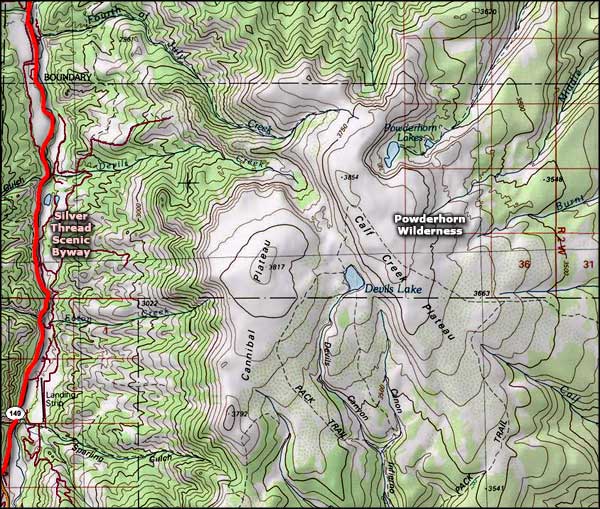 Powderhorn Wilderness
Gunnison National Forest & BLM -

US Forest Service & BLM

Upper photo of Powderhorn Wilderness courtesy of Brent Carlson, via Wilderness.net
Other photos courtesy of the Bureau of Land Management
Map courtesy of National Geographic Topo!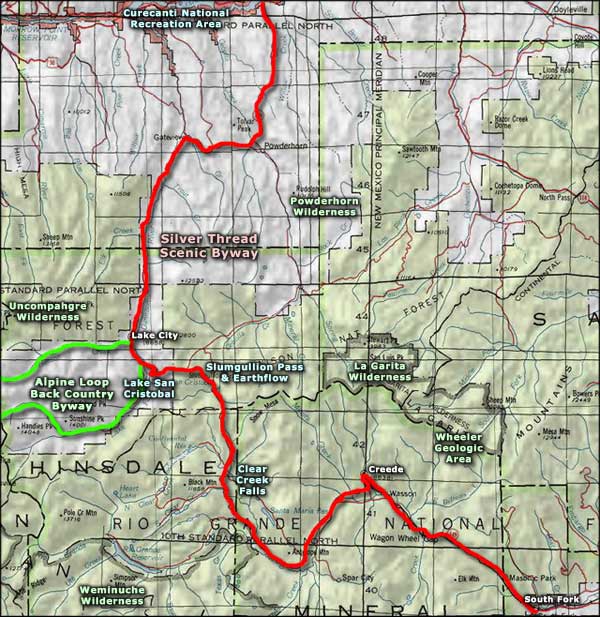 Related Pages
Map courtesy of National Geographic Topo!