Raggeds Wilderness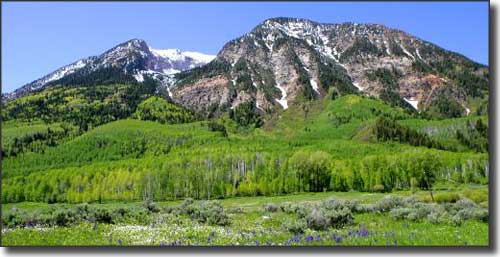 Marcellina Mountain in the Raggeds Wilderness
The Raggeds Wilderness is a very rugged area comprised of about 65,393 acres of dense forest and steep rocky mountains in Gunnison National Forest. The name comes from the Raggeds Mountains: a chain of peaks that jut into the sky along a ridge that resembles a heavily-serrated knife. There are more than 50 miles of hiking trails in the Raggeds Wilderness but the more popular ones will force you to ford streams more than once. And fording these streams in the high flows of early summer snowmelt is not fun. But the fishing is excellent and come hunting season... Fall also brings out the colors in the huge stands of aspen in these mountains.
A Forest Service road that leaves pavement near Paonia Lake and heads east to Crested Butte (as part of the West Elk Loop Scenic Byway) gives reasonable access to the south side of the wilderness. Another road that goes northwest from Mount Crested Butte crossing Schofield Pass and dropping into Marble gives access to the north and east sides of the Raggeds Wilderness. The map below shows you that a significant portion of this property is above treeline, and the one area with a heavy concentration of tree coverage goes by the ominous name of "Dark Canyon."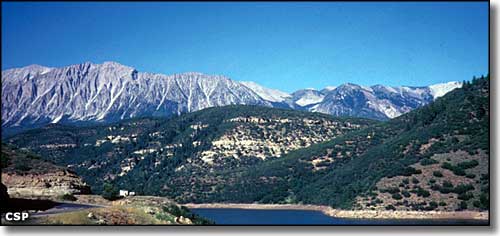 The Raggeds Mountains from Paonia State Park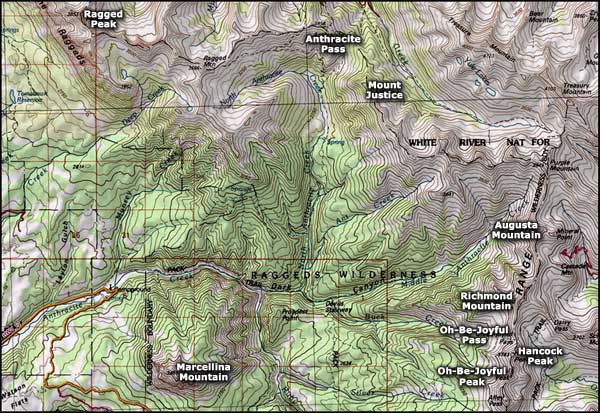 Raggeds Wilderness
Gunnison National Forest -

US Forest Service

Photos of the Raggeds Mountains courtesy of Colorado State Parks
Map courtesy of National Geographic Topo!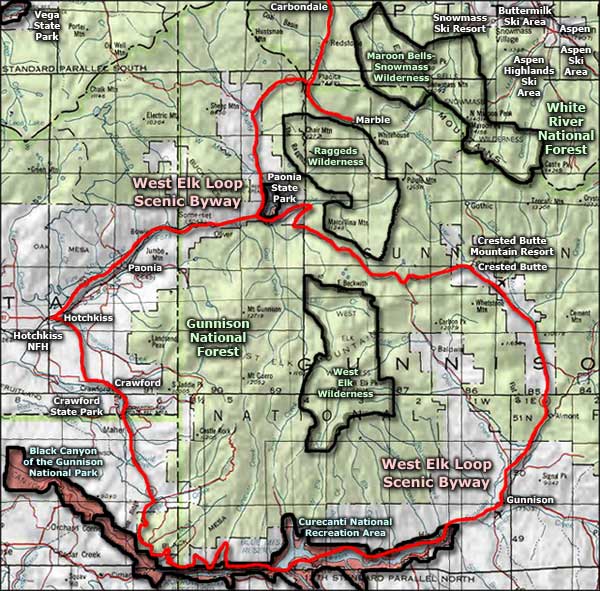 Related Pages
Map courtesy of National Geographic Topo!