Cache la Poudre Wilderness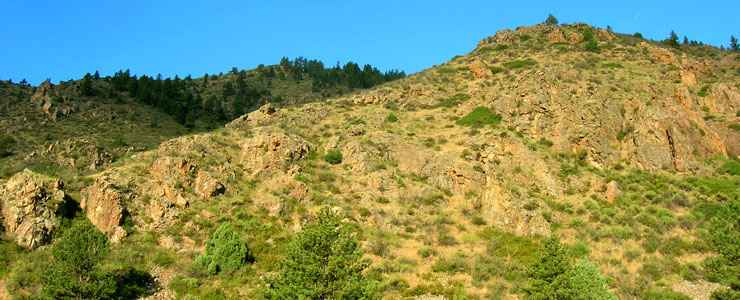 Near the northern edge of Cache la Poudre Wilderness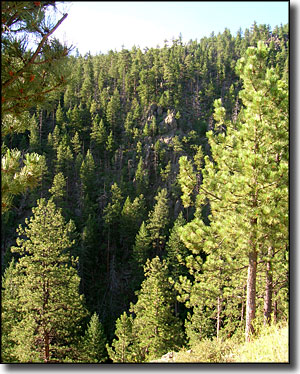 Named for the river that runs at its northern edge, the Cache la Poudre Wilderness in Arapaho-Roosevelt National Forest was added to the National Wilderness Preservation System in 1980.
The 9,400-acre Cache la Poudre Wilderness is characterized by steep, rugged terrain along the Poudre River and the Little South Fork of the Poudre. Nine virtually unreachable miles of the Little South Fork of the Poudre River along with the whole mainstem of the Poudre River above Poudre Park were designated a National Wild and Scenic River in 1986. Elevation ranges from 6,100' to 8,300' and the area is accessible most of the year.
Because of the rugged topography, public use is low and only two maintained trails exist in the Cache la Poudre Wilderness. The Kreutzer Nature Trail is about 2 miles long. The Mount McConnel National Recreation Trail is about 3 miles long and loops off of the Kreutzer Nature Trail. Parking for the trail head for both is in a signed parking area near one of the main area campgrounds. Expect to pay for parking. Also realize the trail around the east side of Mt. McConnel is in such bad shape as to be almost impassable.
Most travel is accomplished by fishermen, scrambling and bushwhacking along stream bottoms in search of legendary trout fishing, and by big game hunters on the ridges and along game trails. Cache la Poudre Wilderness is primarily montane: significantly vertical countryside. Ponderosa and lodgepole pine forests dominate the countryside and mule deer, bear, coyote and mountain lion inhabit the area.
The road south to Pingree Park (and Comanche Peak Wilderness) winds along near the western edge of Cache la Poudre Wilderness for its first few miles. I found a couple nice campsites along there but the topography of the landscape made hiking around for any distance really hard. The views though... almost to die for... and at the southwestern corner of the wilderness is the Baker Creek Picnic Area.
Fast Facts about the Cache la Poudre Wilderness
Size: 9,400 acres
Designated: 1980
Elevations: 6,100' to 8,300'
Miles of Trails: 5
Game Management Unit: 19
Latitude:

40.666667°N


Longitude:

105.45°W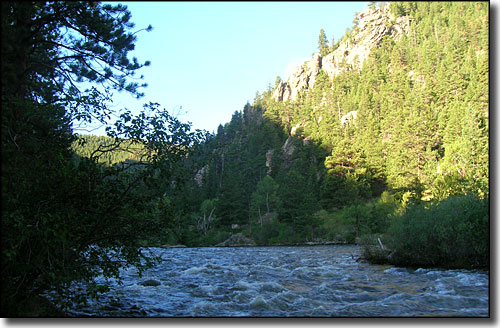 The Cache la Poudre River at the Wilderness boundary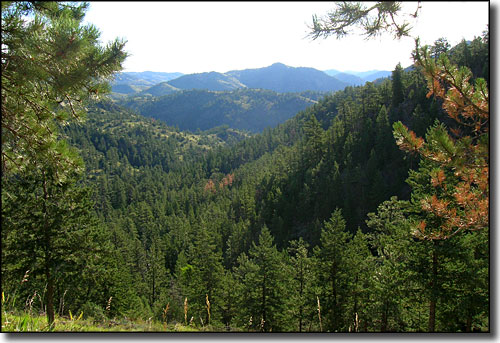 Looking into Cache la Poudre Wilderness from Pingree Park Road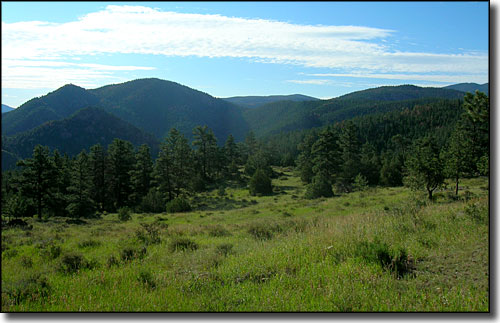 A view into Cache la Poudre Wilderness along Pingree Park Road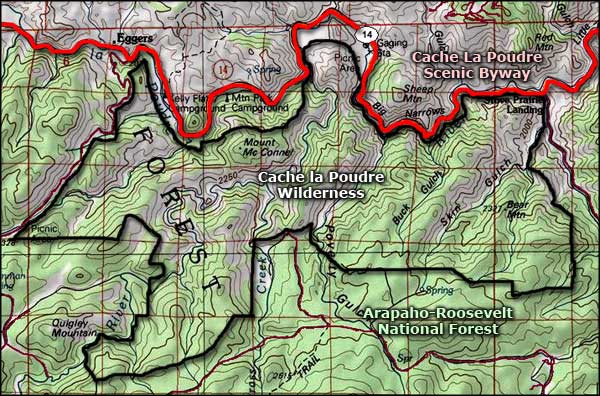 Cache la Poudre Wilderness
Arapaho-Roosevelt National Forest -

US Forest Service
2150 Centre Avenue

, Building E,

Fort Collins

,

CO

80526
970-295-6600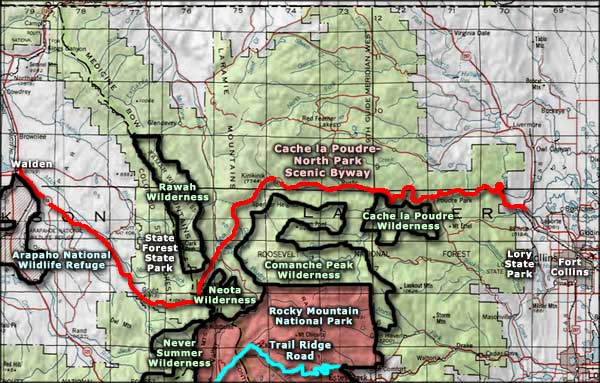 Related Pages
Map courtesy of National Geographic Topo!