Washakie Wilderness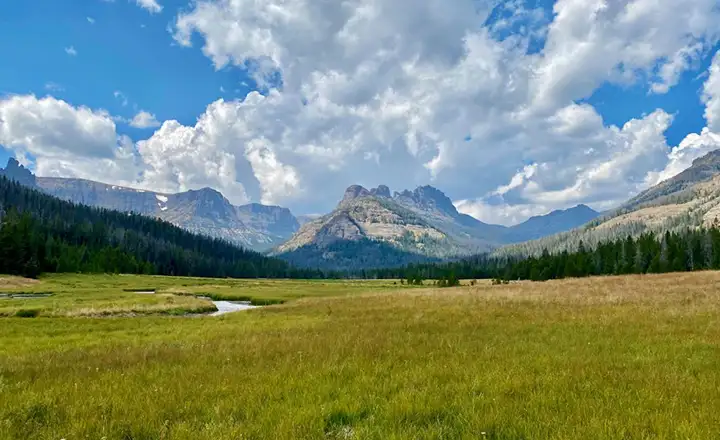 Washakie Wilderness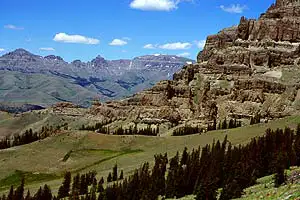 Washakie Wilderness was designated by Congress in 1964 and contains about 704,274 acres of rugged and beautiful countryside to the east and southeast of Yellowstone National Park in Shoshone National Forest. To the southwest is Teton Wilderness, to the southeast the Wind River Indian Reservation.
A large part of the property is taken up with the South Absaroka Range, a glacier-carved range of mountains whose highest point is at Francs Peak (13,153'). Supposedly, the climb of Francs Peak is reasonably easy and most folks make the round trip in a day. The mountains tend to be broad and flat-topped, surrounded by plateaus that separate deep valleys. The valleys have been eroded deeply into the volcanic strata, much of these mountains being volcanic in origin and dated from the time of the Laramide Orogeny (65-70 million years ago). Because of the horizontal nature of the strata, the years of erosion have left behind irregular step-like buttes and cliffs through much of the property. There are also layers of fossil-bearing rock and zones filled with petrified forests. About half the wilderness is forested, the remainder being a mix of grasslands, open meadows and barren rock.
Folks looking for mammals in these hills will find black bear, grizzly bear, elk, moose, mule deer, bighorn sheep, gray wolf, coyote, weasel, mountain goat, marten, ferret, beaver, marmot, raccoon, badger, bobcat and mountain lion. There are even a few bison wandering around. The larger streams carry good populations of rainbow, brown and brook trout but there is a particular shortage of lakes and ponds, so the smaller feeder streams tend to be short of fish.
Most hiking trails in the Washakie Wilderness are rated as easy to moderately strenuous. The relative openness of the forest makes for reasonably easy off-trail hiking. You'll want a good map, a compass, maybe even a good GPS device, but leave the cell phone home: it won't work in these hills. Primitive camping is allowed almost everywhere, as long as you stay at least 100 feet from any stream, lake, pond or other water source. You'll also want to be practicing extreme bear-aware discipline: the grizzlies have gotten numerous and are not afraid of people. Temperatures can vary as much as 50°F in a day, although once the winter gets below -20°F, it doesn't make much difference. And it can stay that cold for weeks on end.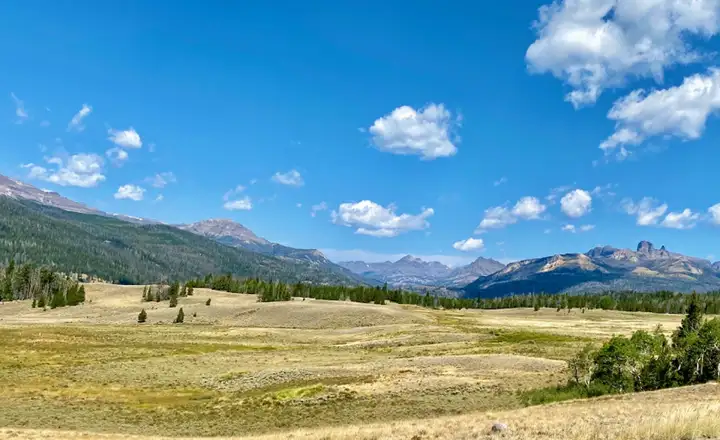 On the trail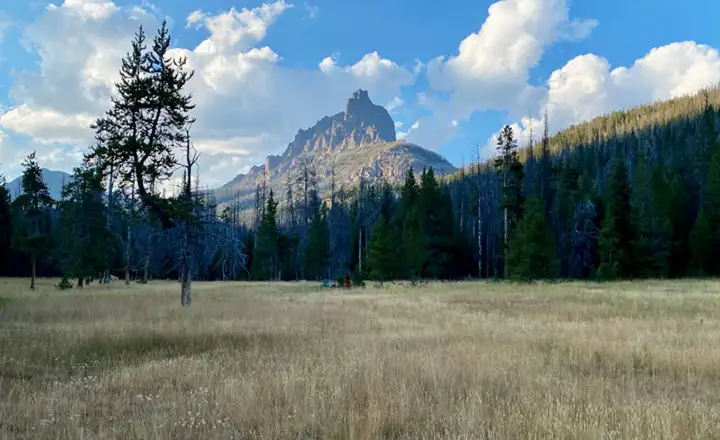 Cathedral Peak
Washakie Wilderness
US Forest Service

- Shoshone National Forest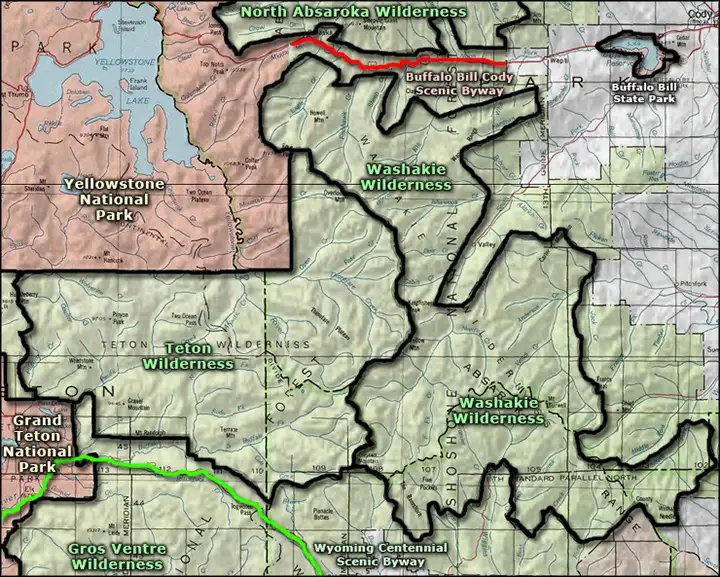 Related Pages
Map courtesy of National Geographic Topo!