Shoshone National Forest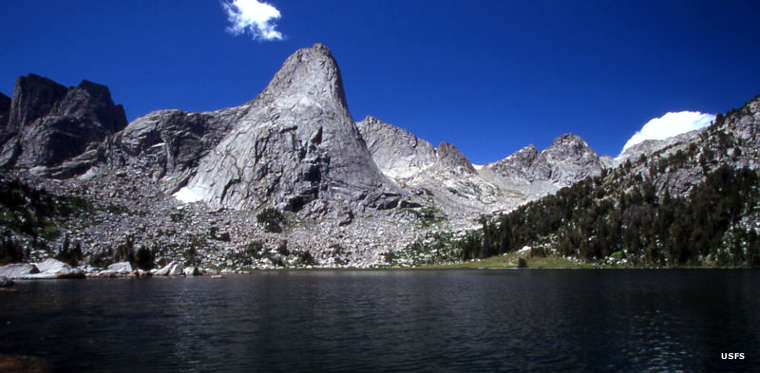 Pingora Peak in Shoshone National Forest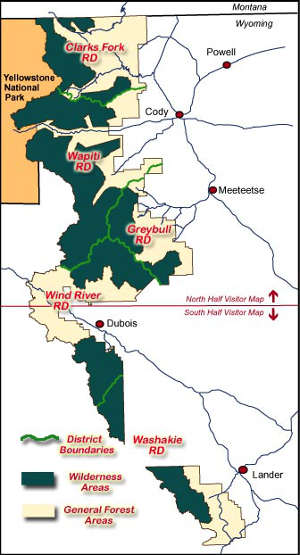 Shoshone National Forest was first designated as the Yellowstone Timberland Reserve in 1891, and became the Shoshone National Forest a few years later, making it the first National Forest in America. Part of the Greater Yellowstone Eco-System, this 2.4 million acres sports some of the Lower 48 states' most rugged, scenic and remote countryside. More than 1.5 million acres of Shoshone are designated wilderness. The terrain here varies from sagebrush flats to thick evergreen and aspen forests to open alpine meadows to stark peaks of glacier-carved granite.
The Forest stretches from the Montana border south to Lander, Wyoming, including parts of the Wind River, Beartooth and Absaroka Mountains. The northwest border is against Yellowstone National Park and the southwest border is along the crest of the Continental Divide. Elevations range from a low of about 4,600' at the mouth of Clarks Fork Canyon to the summit of Gannett Peak (13,804'), Wyoming's highest point.
There are two visitor centers on the Forest, one at the Wapiti Wayside on the Buffalo Bill Cody Scenic Byway (US 14, 16 & 20 between Cody, Wyoming, and the East Entrance to Yellowstone National Park), and the other at the Washakie Ranger District office in Lander, Wyoming.
This area was originally hunting grounds for the Shoshone, Crow, Nez Perce, Blackfeet, Arapaho, Comanche, Northern Cheyenne, and Sioux tribes. They traveled, traded and fought all over this countryside. Among the first Europeans to come here were Jedediah Smith, Jim Bridger, Tom Fitzpatrick and John Colter (three of these men have Wilderness Areas named for them now). Mining prospectors didn't have much of an impact here but lumbering and the production of railroad ties still goes on. Most business these days revolves around tourism.
Wilderness Areas on Shoshone National Forest
Today, if you want to go for a long hike in this forest, you want to be prepared for grizzly bears, black bears and gray wolves. So many of the regulations on this forest have to do with keeping your food safe from the bears. And if your food is safe, you are a bit safer, too. You'll also want to be prepared for the weather. The number of high mountain glaciers in the area testify to the fact that you can see snowfall in these mountains on any day of the year.
With 60% of the Forest being designated wilderness, dispersed camping is allowed in most areas. Now and then something will be closed to camping because of bear activity or to protect resources. However, the special recreation corridor between Cody and Yellowstone's East Entrance (the North Fork Canyon) requires that all camping within 1/2 mile north or south of the center line of that road (US Highways 14,16 & 20) be done within a developed campground. And before you head out into the bush, you'll want to check with the local ranger station in regards to any seasonal campfire restrictions and reports of bear activity: there's nothing that attracts a grizzly like the scent of fresh-caught trout over a small cook fire...
High in the Wind River Range
Shoshone National Forest
US Forest Service
Lower photo courtesy of Steve Boutcher, USFS
Other photos and maps courtesy of the US Forest Service