Piper Mountain Wilderness

Piper Mountain Wilderness
Piper Mountain Wilderness is a 72,192-acre property on the northwestern side of Death Valley National Park. The Inyo, Sylvania and Piper Mountains come together in the wilderness area. Large portions of the eastern side of the wilderness are composed of wide alluvial fans. Other lower areas are mostly dry hills and barren plains.
The wilderness is divided into three non-contiguous sections by a 4WD trail 7 miles long along the northeast-southwest Horsethief Canyon and along a 4WD north-south route between Chocolate Mountain and Death Valley National Park.
The vegetation is mostly sagebrush and pinyon-juniper woodlands but there are some conifers in the higher elevations. At the southern foot of the Inyo Mountains you'll find one of the northernmost stands of Joshua trees. Wildlife in the area includes desert bighorn sheep, mule deer, coyote and several species of raptors and reptiles.
There are two main routes used to access the wilderness. The first is off SR 168 about 20 miles north and east from Big Pine. The second is via the Big Pine-Death Valley Road, about 18 miles east and south from Big Pine.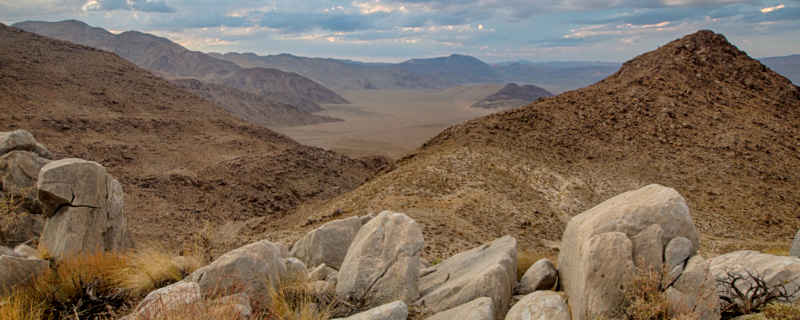 Where the Inyo, Piper and Sylvania Mountains meet
Piper Mountain Wilderness
Bureau of Land Management