Big Maria Mountains Wilderness

Big Maria Mountains Wilderness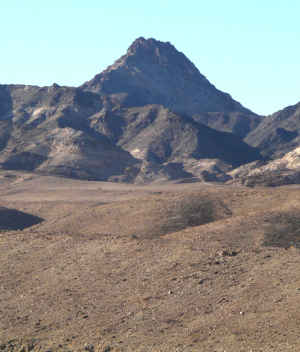 Deeper in the wilderness
The Big Maria Mountains are just west of the Colorado River and the Arizona border, and just south of the major drainage of Big Wash. The wilderness area is comprised of 45,384 acres of high desert: the dry and desolate landscape is dotted with foxtail cactus and California barrel cactus. The landscape is composed of gently sloping bajadas that rise to sharp, craggy peaks that rise above deeply dissected canyons.
The eastern edge of the wilderness parallels California Highway 95 and the Colorado River. The west and south boundaries follow power line corridors and contours along the base of the mountains. There is a small herd of deer that regularly cross the highway to get their drinking water from the Colorado River but not much else of any size on the property.
Most people access the property via Highway 95 but there is also access off of Interstate 10 via Midland Road and several power line roads. 4WD is recommended. There are no marked or maintained trails in the wilderness but there are the remnants of several two-track primitive roads leading into the wilderness. And the BLM says there may be private lands within the wilderness area: Beware! Setbacks: 30 feet from unmaintained dirt roads, 300 feet from paved roads. Park in the setback, not in the wilderness. Try to do your camping in previously used campsites.
Big Maria Mountains Wilderness
Bureau of Land Management