Caney Creek Wilderness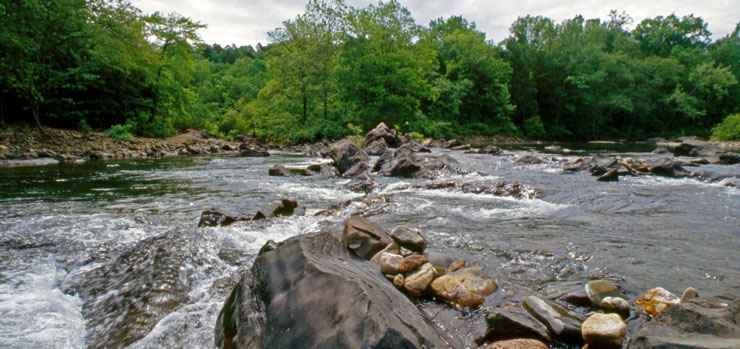 Along the Cossatot River on the Caney Creek Wilderness boundary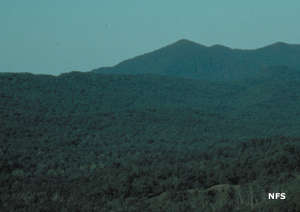 Caney Creek Wilderness is a secluded 14,460-acre property offering scenic overlooks, flowing streams and several hiking trails. The western boundary is along the Cossatot River and the two major streams on the property, Short Creek and Caney Creek, flow east-to-west across the wilderness to reach the river. Along the streams you'll find a forest of bottomland hardwoods, large pines and beech. The creeks are separated by high ridges that offer great views of the surrounding countryside.
The Caney Creek Trail follows Caney Creek for about 9.6 miles, crossing it 13 times. There are parking areas at both ends of the trail but the hiking in between gets more difficult in the steeper and higher sections. A third parking area gives access to the 4.7-mile Buckeye Trail which climbs Buckeye Mountain then drops off along a ridge before descending to Caney Creek. From the Shady Lake Campground the Tall Peak Trail goes about 3.2 miles to reach the old fire lookout atop Tall Peak, inside the wilderness. Horses are allowed on the Caney Creek Trail but it is not maintained nor recommended for horses. The other trails are not at all suitable for equestrian use. There is a rock cairn at the Buckeye Trail intersection with the Caney Creek Trail. There are other rock cairns marking trails in the wilderness, too, but they are few and far between.
To get there: Go south from Mena, AR on US Highway 59 & 71 for about 19 miles. At Vandervoort is the intersection with Arkansas Highway 246. Turn east on that and go about 17 miles to the intersection with Forest Road 38. Turn and go north on FSR 38 for about 7 miles to the eastern trailhead of the Caney Creek Trail. The Buckeye Trailhead is another mile north. To get to the western Caney Creek Trailhead make the turn east onto SR 246 at Vandervoort and go about 11 miles to FSR 31. Turn north on that and go about 10 miles to the trailhead.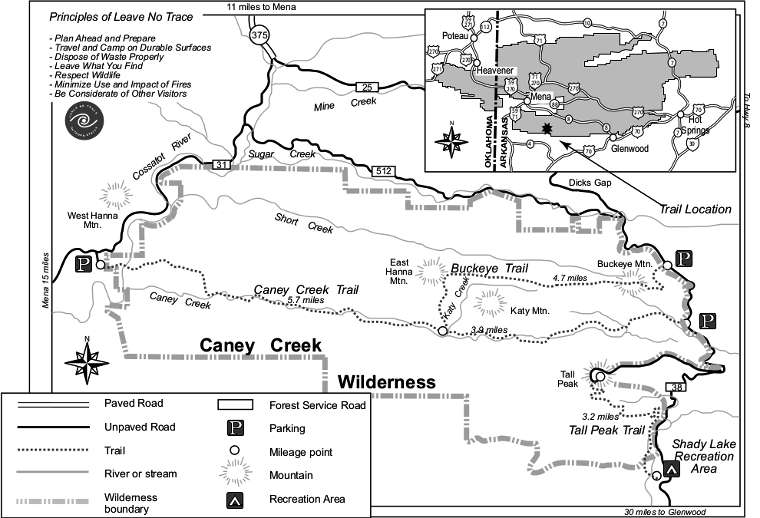 Caney Creek Wilderness
Ouachita National Forest -

US Forest Service

Upper left photo courtesy of Steve Boutcher, US Forest Service
Upper photo and map courtesy of the US Forest Service