Russian Wilderness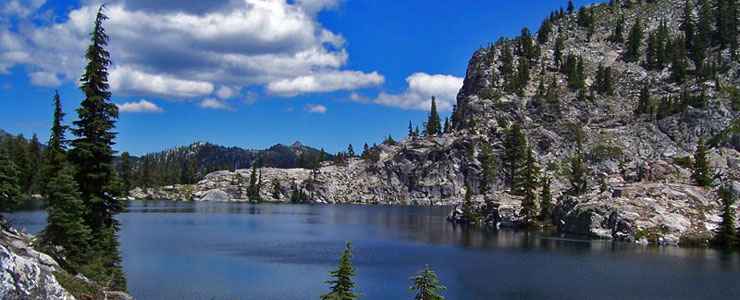 Russian Lake, Russian Peak, Russian Wilderness
Russian Wilderness is a 12,700-acre property within Klamath National Forest. Russian Wilderness protects the Russian Mountains, a portion of the high crest of the Salmon Mountains. Among all the metamorphic and granitic rock in the wilderness are more than 20 named lakes at different elevations, plus the headwaters and major watersheds of the Scott River and the North Fork Salmon River.
Elevations on the wilderness range from a low of about 2,500 feet to the high of 8,196 feet on the summit of Russian Peak. This is an area dominated by glacier-carved granite crags similar in age and affect to the remnants of the glaciation exhibited in the Sierra Nevadas. There are a number of cirques and U-shaped valleys in the mountainous wilderness and rocky pinnacles and bluffs rise above the forest canopy in many areas.
There are almost 100 miles of trails in Siskiyou Wilderness, some steep and seldom used, others well-maintained mountain pathways. The Pacific Crest Trail travels along the Salmon Mountain Crest for about 18.5 miles. The Bigfoot Trail traverses the wilderness with about 5 miles of trail between Syphon Lake and Russian Creek, crossing the Salmon Mountain Crest along the way. Overall, human use of the wilderness is light.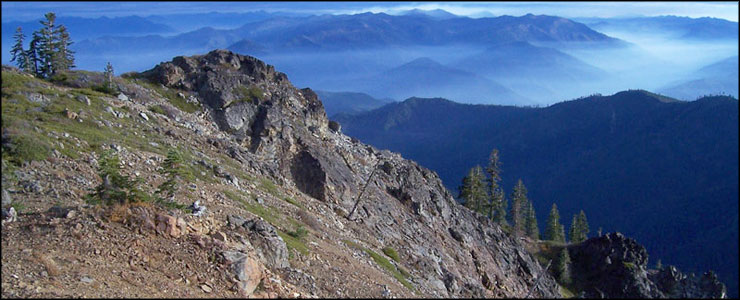 The Salmon Mountains in Russian Wilderness
Russian Wilderness
Klamath National Forest -

US Forest Service