Cape Romain National Wildlife Refuge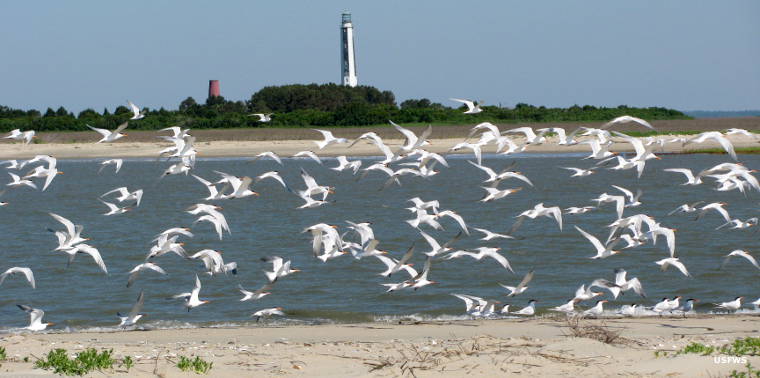 Terns in the air at Cape Romain National Wildlife Refuge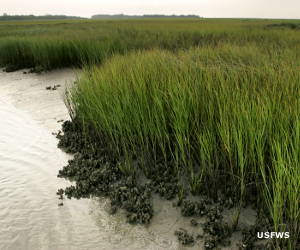 In Cape Romain Wilderness
Cape Romain National Wildlife Refuge is a 66,306-acre property about 30 miles northeast of Charleston, South Carolina. The refuge was established along a 22-mile stretch of the South Carolina coast in 1932 as a migratory bird refuge. The landscape is mostly saltwater swamp and small islands that just barely rise above the mean high tide line, a mix of barrier islands, coastal waterways, sandy beaches, maritime forest and fresh and brackish water impoundments. About 29,000 acres of the refuge also designated National Wilderness Area. The staff at Cape Romain have become especially involved in efforts to help the threatened loggerhead sea turtle recover.
With the incoming tide bringing juvenile fish, crustaceans and other invertebrates to mix with the outflow of several small rivers, the refuge area is one of the most life-productive environments on Earth. Cape Romain has been named one of 500 Important Bird Areas by the American Bird Conservancy and a Western Hemisphere Shorebird Reserve Network Site of International Importance.
The Cape Romain area was occupied by humans as long as 2,000 years ago, as evidenced by shell middens they left behind. The first English settlers destined to settle in South Carolina landed on Bulls Island first, then continued further south to found Charleston. Later, Bulls Bay and the creeks behind Bulls Island are said to have been pirate hideouts. During the Revolutionary War British warships stopped at Bulls Island to restock supplies and during the Civil War, Confederate blockade runners slipped ashore through tidal creeks in the area.
Two lighthouses were built on Bulls Island: one in 1827, the other in 1857. The second was in operation until 1947 but both are still standing, still landmarks for sailors in the area. Bulls Island was purchased by a New York banker and stockbroker, Gayer Dominick, in 1925. He worked on the property to improve the waterfowl hunting and built a large house, the "Dominick House" to use as a vacation home and hunting lodge. Dominick conveyed the property to Cape Romain National Wildlife Refuge in 1936. The refuge concessionaire, Coastal Expeditions, offers a ferry ride and three-day tour of Bulls Island with visitors staying in the Dominick House.
Cape Romain NWR is home to the Sewee Center, an ecological and environmental education center with a small resident population of red wolves. Red wolcves once ranged from Florida to Pennsylvania to central Texas but predator eradication programs pushed the red wolf to the edge of extinction by the 1930's. Red wolves are among the most endangered species in North America and Cape Romain and the Sewee Center have played an integral role in efforts to recover the species from the 14 animals that made up the original captive population. Today there are more than 275 red wolves, about 200 in captivity with the rest freed into the wild at Alligator River National Wildlife Refuge in North Carolina.
Headquarters office hours are Monday through Friday, 8 am to 4 pm, except closed on all Federal holidays. The nearby Sewee Center is open Wednesday through Saturday, 9 am to 5 pm, except closed on all major holidays.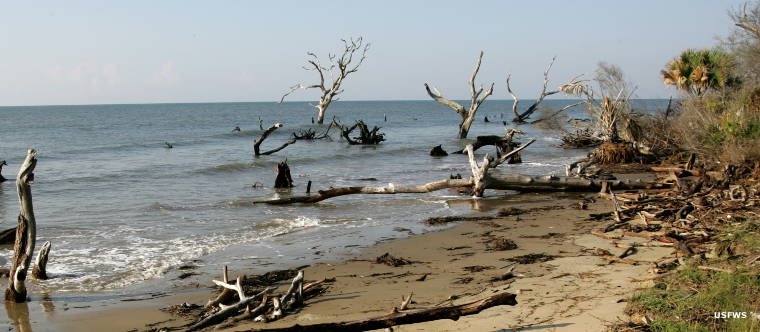 An example of beach erosion at Cape Romain NWR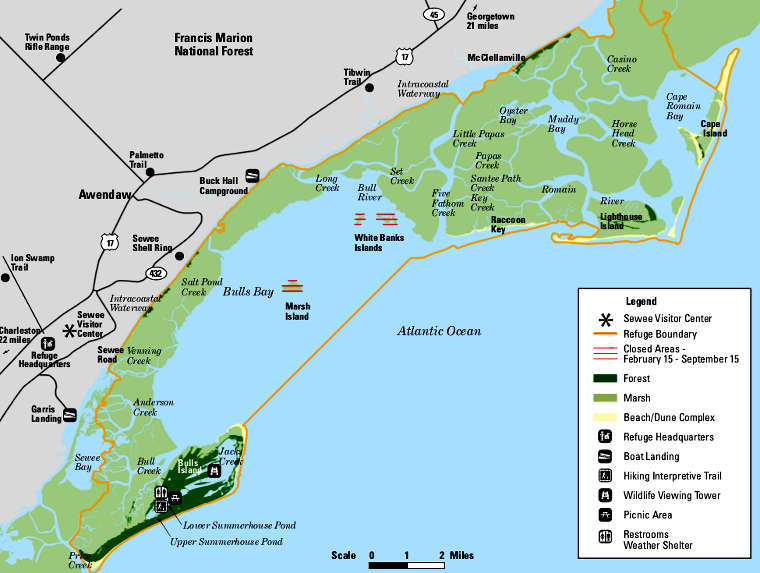 Cape Romain National Wildlife Refuge
Photos courtesy of the US Fish & Wildlife Service