Alligator River National Wildlife Refuge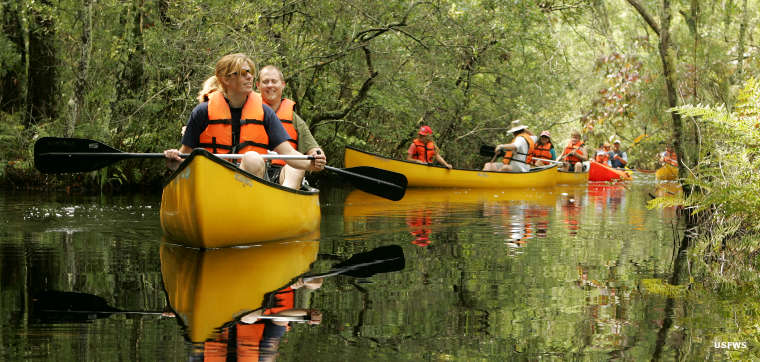 Canoers exploring Alligator River National Wildlife Refuge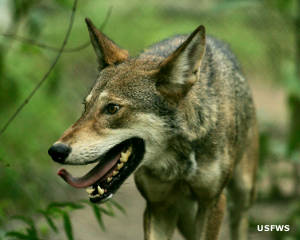 An endangered red wolf
Alligator River National Wildlife Refuge is a 152,000-acre refuge established in 1984 to preserve and protect one of the few remaining large parcels of the coastal North Carolina pocosin landscape and its unique wetlands and species. A primary objective of refuge personnel has been the plugging of man-made drainage structures in the refuge in order to return water levels to what they were before the Euro-American invasion and subsequent settlement upset the natural balance so much.
The Alligator River landscape is a mix of bog, hardwod swamp, high and low pocosin, fresh and brackish water marshes and Atlantic white cypress swamps. The forested areas are covered in a mix of cypress, sweetgum, maple, pond pine and red bay. The understory is a mix of carnivorous pitcher plants, cranberries and other flowers and shrubs. Wildlife on the refuge includes black bear, American alligator, white-tail deer, river otters, red-cockaded woodpecker and the last population of red wolves in the wild. Visitors should also be aware that there are plenty of insect pests, poison ivy, poisonous snakes (timber rattlers, copperheads and cottonmouths) and other natural hazards to make an in-depth visit a potentially life-changing experience.
The Visitor Center is open Monday through Saturday, 9 am to 4 pm, and Sundays from noon to 4 pm. The administrative offices are open Monday through Friday, 7:30 am to 4 pm, except closed on all Federal holidays. The refuge is open every day, from sunrise to sunset. Roads in the refuge are graveled, speed limit is 35 mph and parking is allowed only in designated parking areas and directly along roadways. No overnight parking in the refuge is allowed, this is a day-use only property.
Hiking is allowed in all areas open to the public. Biking is allowed only on designated public access routes and horseback riding is allowed only on signed public access roads also open to motor vehicles. Fishing and hunting are allowed as per state and federal regulations. Dogs off-leash, vehicles off-road and the collecting of plants, animals, artifacts, antlers or minerals are forbidden.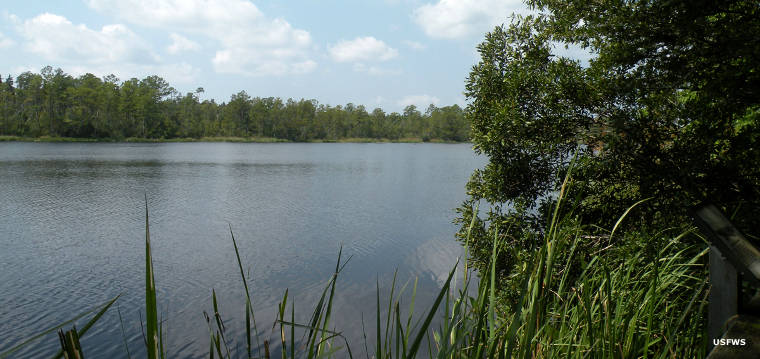 A freshwater pool on the refuge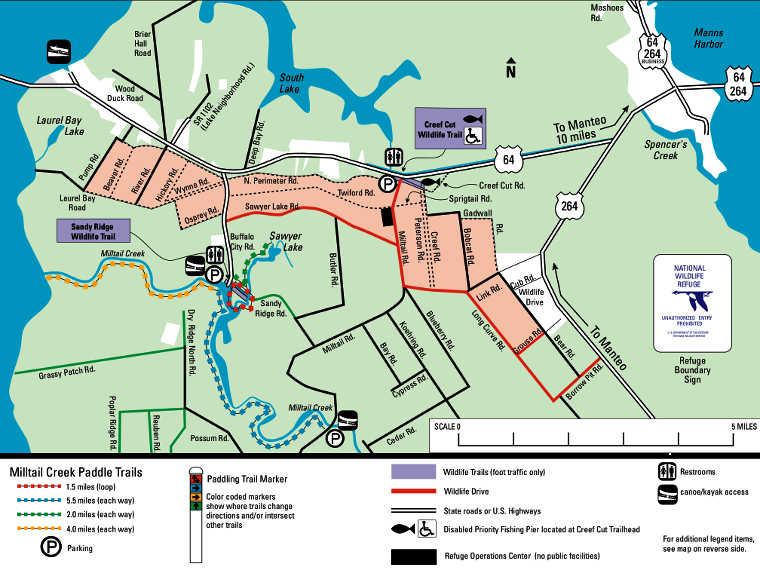 Alligator River National Wildlife Refuge
Photos and maps courtesy of the US Fish & Wildlife Service