Chiricahua National Monument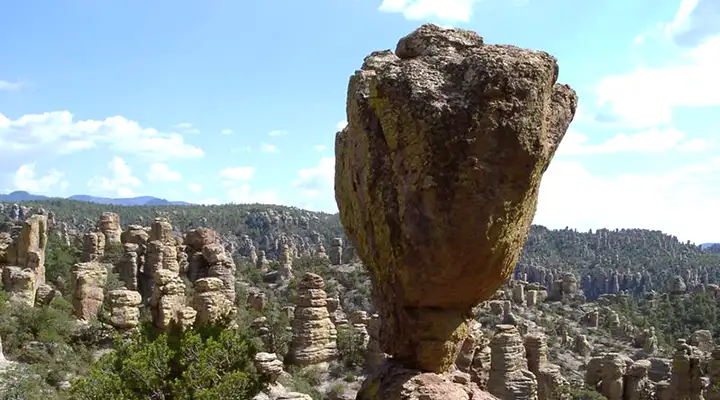 A balanced rock at Chiricahua National Monument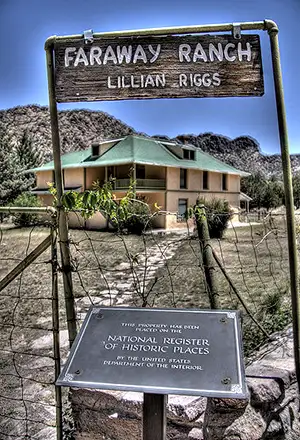 Chiricahua National Monument is an 11,985-acre property in the Chiricahua Mountains of southeastern Arizona. The Chiricahua Mountains are an inactive volcanic range about forty miles long and twenty miles wide. The mountains are part of the Mexican Highland section of the geological Basin & Range Province. The peaks are sharp and the countryside rugged as the slopes rise from the flat desert floor to more than 9,000 feet in elevation. What is preserved inside the boundaries of the National Monument is a large "Wonderland of Rocks:" spires, balanced rocks, pinnacles and columns of rhyolite (volcanic ash dumped on the site during the Turkey Creek Volcano eruption about 27 million years ago). The Chiricahua Mountains sit in the place where the Rocky Mountain and Sierra Madre ranges come together. This is also where the Sonoran and Chihuahuan Deserts overlap. That makes for huge biodiversity among the plants and animals. Five major drainages (several with intermittently flowing creeks) also helps in keeping the heavily forested slopes green and white-tailed deer, coatimundi, javelina and more than 300 species of birds alive.
Chiricahua National Monument was founded in 1924. Many of the buildings on the monument that are still in use were built by the Civilian Conservation Corps between 1934 and 1940. The CCC also improved the scenic drive and created most of the hiking trails. Also included on the property is the Faraway Ranch Historic District. Faraway Ranch was homesteaded by Neil and Emma Erickson in the 1880s. Over the years, their home in Bonita Canyon evolved from a simple homestead to a thriving guest ranch. The guest ranch was in operation from 1917 until 1972.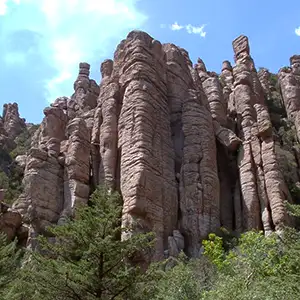 Bonita Canyon Campground offers 25 individual campsites. Everything is offered first-come, first-served. Maximum vehicle length: 29 feet. Primitive camping is available in the surrounding Coronado National Forest. There is also an 8-mile paved scenic drive and 17 miles of day-use hiking trails. 87% of the property has been designated wilderness but the scenic drive connecting the monument headquarters with the top of Massai Point has been tunneled through the wilderness area.
Chiricahua National Monument is always open. The visitor center is open from 8 am to 4:30 pm every day of the year except Thanksgiving and Christmas Days.
To get there: Follow Arizona Highway 186 south out of Willcox for 32 miles. At the junction with State Road 181 turn left and go four miles to the monument entrance. FYI: The nearest gas station is in Willcox...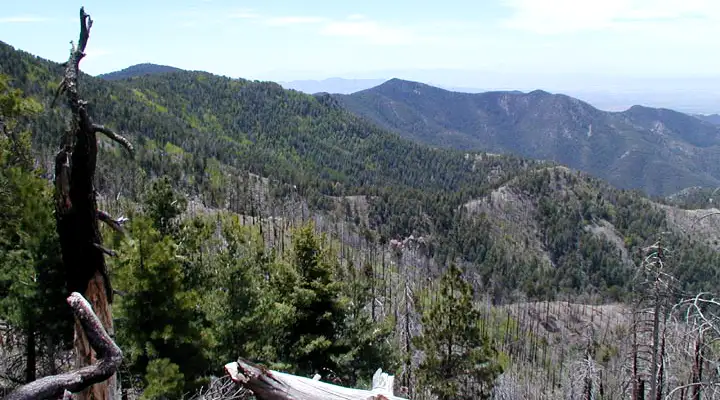 Chiricahua National Monument Wilderness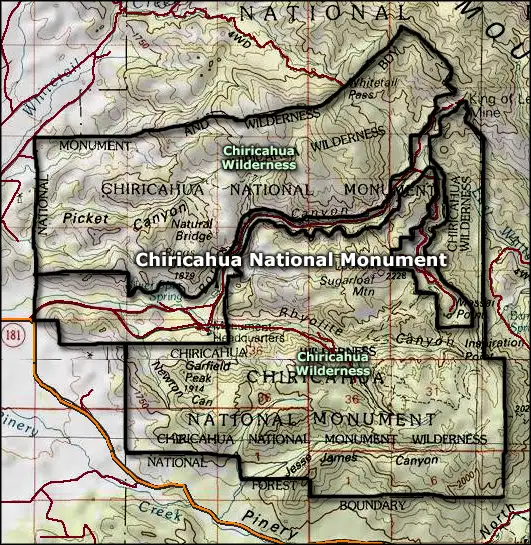 Chiricahua National Monument
Top and bottom photos courtesy of Wikipedia userid Pretzelpaws,
CCA-by-SA 3.0 License
Upper left photo of Faraway Ranch courtesy of Wikipedia userid Caddymob,
CCA-by-SA 3.0 License
Lower right photo courtesy of the National Park Service
Map courtesy of National Geographic Topo!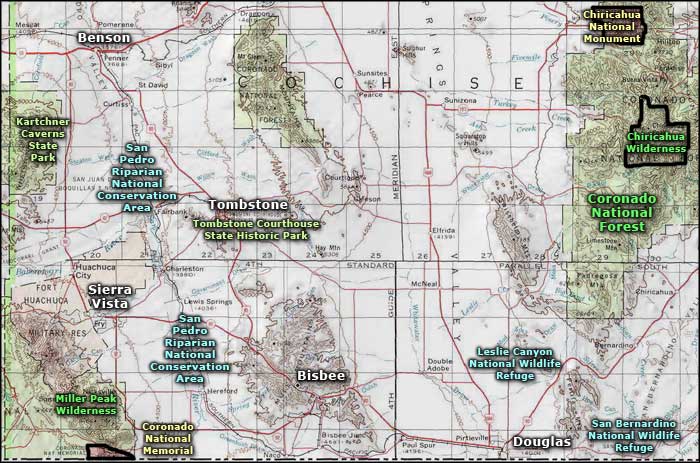 Related Pages
Map courtesy of National Geographic Topo!